The more you work in an NLE, like Premiere Pro, the more you'll want to cut back on repetitive tasks and generally speed up your workflow. David Smith is here to help you do exactly that when editing.
Una omissione davvero clamorosa da Premiere Pro, in passato è stata la capacità di tagliare le modifiche in modo dinamico nella timeline, basandosi invece su il pannello di rivestimento per questo flusso di lavoro. Questo non è un grosso problema direte voi? Beh no, sono d'accordo ... tranne che per i tempi di youre cercando di rendere il vostro bruciano tastiera con la velocità della tua modifica, quindi il suo enorme.
Quindi, consente di avere un po '
Fase 1 - Creare le Modifica
Se si dispone già di un progetto, grande! In caso contrario, tagliare rapidamente qualcosa insieme, assicurandosi i clip hanno maniglie di corso, in modo che è possibile tagliare loro.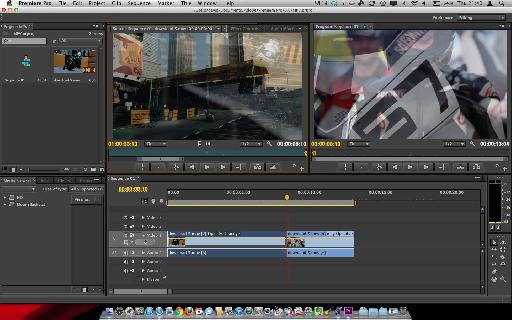 Fase 2 - Engage Trim Dinamico
Il modo Ritaglio dinamica è molto semplice da attivare. Destro del mouse sul punto di montaggio tra le clip e un menu a discesa appare, elencando tutte le scelte di assetto dinamico.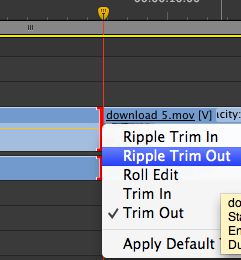 Scegli RippleTrim Out per ondulazione punto della clip uscente fuori. Per attivare la finestra dinamica Trim, fare doppio clic sul punto di montaggio.
Fase 3 - Ripple Uso delle preselezioni
La finestra dinamica Trim viene aperto nella finestra del programma, visualizzando sia il telaio fuori e la nel telaio. La modifica deve essere tagliato, è indicato da una barra blu.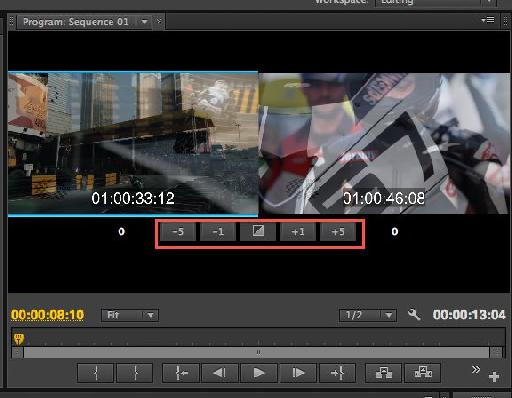 Facendo clic sul pulsante -1 sposterà il punto Out del clip di un fotogramma, accorciando la clip. Cliccando sul 5 si sposta il punto di uscita in avanti 5 fotogrammi, allungando la clip. Utilizzare i pulsanti per spostare il punto di montaggio in una posizione appropriata. SUGGERIMENTO: Per tenere traccia della distanza del punto di montaggio si è spostato, dentro e fuori i numeri di riferimento del cambio tenere traccia per voi nella finestra.
Fase 4 - Ripple utilizzando sequenze di tasti
Swap per la clip in arrivo cliccando sul di esso nella finestra dinamica Trim, quindi diventa blu.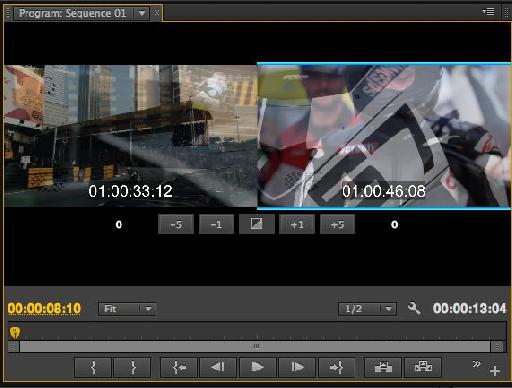 Questa volta invece di utilizzare i tasti di preselezione, utilizzare l'opzione-cursore a sinistra per tornare indietro di 1 fotogramma, o Maiuscole-Opzione-cursore a destra per andare avanti 5 fotogrammi se si preferisce le scorciatoie.
Fase 5 - Rotolo come veri professionisti
Posizionare il cursore tra le due clip nel visualizzatore, lo vedrete girare rosso, e indica lo strumento Roll. Clicca e entrambe le clip diventano blu, in modo da entrambi i punti saranno modificati.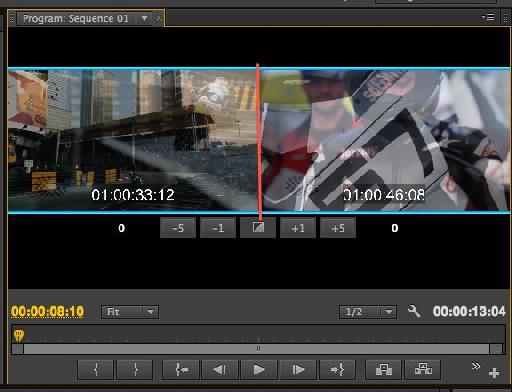 Dimentica i pulsanti preimpostati o le sequenze di tasti. Questa volta useremo J, K e L, invece, e devo ammettere che questo è il mio metodo preferito. Per lanciare i due modifiche 1 fotogramma a destra, tenere premuto K e premere L una volta. È possibile ripetere questa sequenza di tasti come spesso e più velocemente si è in grado. Usare K e J invece muove la modifica di un fotogramma a sinistra.
Se sei sentite coraggiosi, provate a premere J o L in modo che le clip giocano, quando il tempo si sente premere diritto K per interrompere la riproduzione, e vedere come i punti di modifica rotolo per le cornici si fermò sul. Questa tecnica permette di modificare in tempo reale come si guarda, che è un metodo molto chiazza di petrolio da utilizzare.
Fase 6 - Rotolo di Durata
Se si ha la fortuna di sapere esattamente quanti fotogrammi la modifica deve rotolo, e in quale direzione prima di iniziare a tagliare, allora è possibile utilizzare il tastierino numerico per inserire durate. Tipo 1 per spostare 1 secondo a destra oa -12 a 12 frame spostare sinistra e così via. Come ho detto, se siete fortunati, non succederà spesso.
Fase 7 - Aggiungere una transizione e recensione
Fare clic sul pulsante di transizione nella finestra dinamica Trim per aggiungere la transizione di default per il punto di montaggio.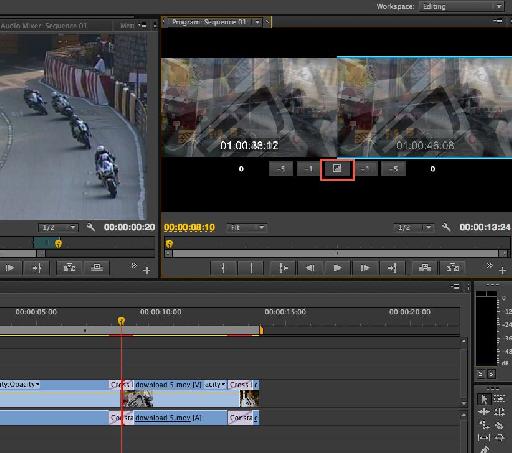 Premere la barra spaziatrice in qualsiasi momento di giocare in anteprima la modifica che si stanno facendo.
Passo 8 - passare alla successiva modifica
Ora che la modifica è perfetta (si sposta sopraelevazione fino a quando non è OK?), Premere il tasto Freccia Su o Freccia Giù (Pagina su o giù) per spostare la finestra dinamica Trim sul prossimo, o torna alla modifica precedente nella linea temporale, e ricominciare.
Questa è davvero una gradita aggiunta per Adobe Premiere Pro, e anche se la finestra Trim è ancora disponibile, Ill è attaccare con questo da ora in poi.