Become a master of distortion, and better still, the distortion effects plug-ins you'll find in the box with Avid's Pro Tools! Joe Albano gives you a tour of these with audio examples to boot.
Distortion ist eine der am häufigsten verwendeten Werkzeuge in der modernen DAW Toolbox zur Versorgung Spuren und mischt sich mit allem, was von subtilen Glanz schmackhaft Grunge um Over-the-Top-grind. Es gibt Unmengen von großen Drittanbieter-Plug-Ins, die diese nützliche Verarbeitung, aber die meisten DAWs auch mit ihren eigenen Satz von Steckern kommen zum Hinzufügen die gewünschte Körnung und Pro Tools ist keine Ausnahme.
Pro Tools Fülle von Pulverizing Plug-Ins
Es gibt mehrere eingebaute Verzerrung Plug-Ins unter dem Harmonic Kategorie in Pro Tools einfügen Menüs gefunden. Die, die Ill Blick auf sind: Elf Freie; SansAmp PSA-1;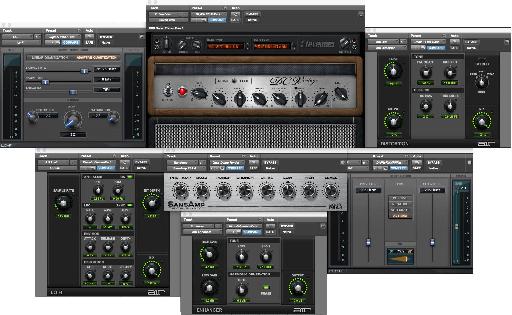 1 Pro Tools Distortion-PlugIns.
Diese Gehe zu
Ich werde nicht beenden die klassische Spinal Tap Witz, denn Avid hat sie für uns getan, Benennung ihrer High-End-Gitarren-Amp-Modeler Eleven. Während Eleven ist kein frei sind, ist Eleven Kostenlos, mit dem gleichen Layout, aber nur zwei generische Amps vom Fass (Klassiker Crunch and Modern Overdrive), anstatt die Dutzende von spezifischen klassischen Modelle in seinem großen Bruder enthalten. Eleven Freie liefert alles, was Sie brauchen, um eine saubere hat elektrische Gitarren-Track und machen es klingen wie es durch eine echte amp aufgezeichnet, mit Simulationen der beiden Vorverstärker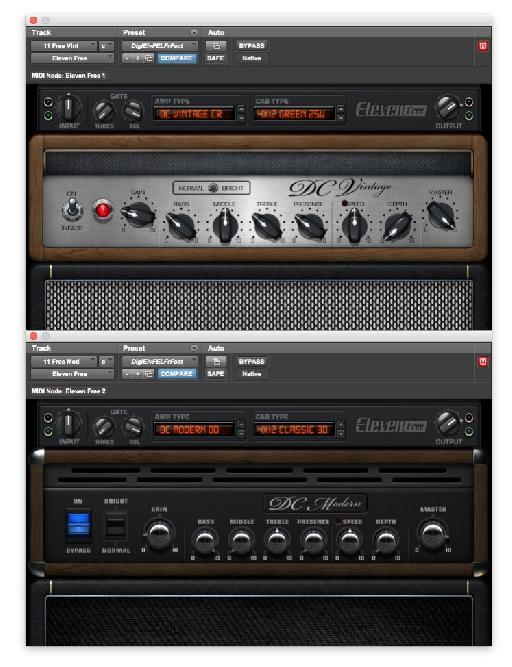 2 Eleven Free.
Audio Beispiel 1 Eleven Frees modellierten Amps:
[Audio-id = "34447"]
Modellieren eines Modeler
Pro Tools SansAmp PSA-1 ist ein digitales Modell eines analogen Amp Modeler. Das Original-Rack-Gerät (noch verfügbar von Tech 21) verwendet FET-Transistoren, um die Röhrenverzerrung des klassischen Amp-Schaltungen zu simulieren, und das Plug-in hat eine ausgezeichnete Arbeit der Modellierung der Vorlagen Vielzahl von Verzerrung Töne. SansAmp ist nicht nur für Gitarre, es hört sich toll an, in viel kleineren Dosen kann es warm up bass, Schlüssel und andere Spuren.

Figur 3 SansAmp PSA-1.
Audio Beispiel 2 SansAmp an der Gitarre
[Audio-id = "34445"]

Fuzzy Logic
Die AIR Distortion Stecker, anstatt Dreharbeiten für Rohrklemme, wie die beiden vorangegangenen, zielt auf den Klang der Transistor Verzerrung, wie bei vielen klassischen Pedale. Die verschiedenen Steuerelementen können Sie den Charakter der Verzerrung zu formen, aus eher eine Overdrive (IC clippingthink Tube Screamer) zu den klassischen Fuzz-Sound (bipolar / Germanium transistorsthink Fuzz Face). Dies kann man auf eigene gut klingen, oder als Front-End für eine (clean) Röhren-Amp-Simulation. Und wieder, tun sie nicht nur denken guitarit können einige schöne Crunch zu allen möglichen Titel hinzuzufügen.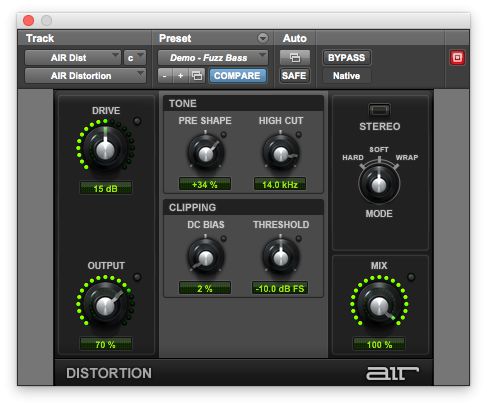 Bild 4 AIR Distortion.
Audio Beispiel 3 AIR Distortion auf der Gitarre
[Audio-id = "34446"]
Digitale Dezimierung
Pro Tools hat nicht eine, sondern zwei Lo-Fi-Plugins, eine von der ursprünglichen Sammlung und eine von der Spezial Air Division. Lo-Fi-Plug-Ins (wie Bit-Brecher bekannt in anderen DAWs) erstellen ganz böse digitale Verzerrungen in erster Linie durch die Reduzierung Bit Auflösung, die von einer Licht fizz zu einer vollständigen Trennung spitty gehen kann, und die Verringerung der Sample Rate, die digitale Aliasing erzeugt, Hinzufügen von Seitenbändern, die einen metallischen Rand verleihen kann (dies kann einen Sound in Echt synth Gebiet dauern). Jeder der beiden Plug-Ins auf Hahn hier fügt seine eigenen Falten, mit der AIR-Version mit zusätzlichen Goodies wie LFO und Envelope Mod.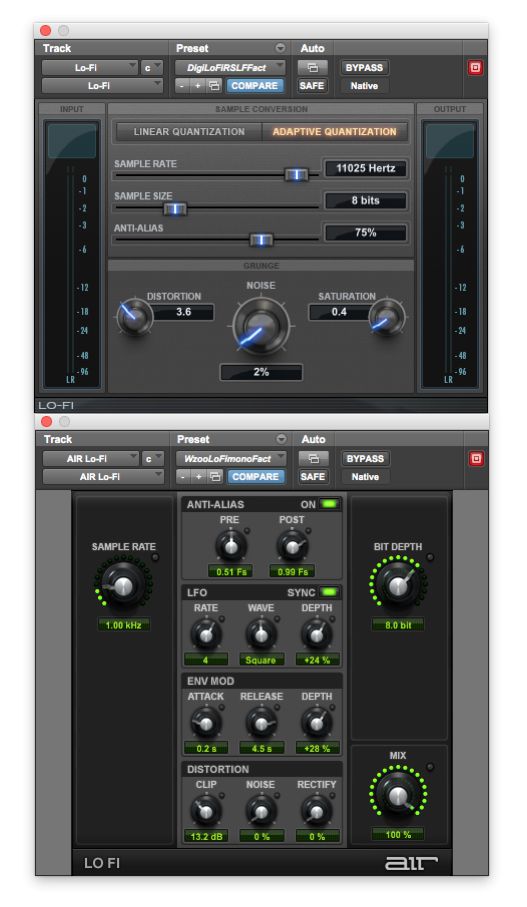 Bild 5 Lo-Fi
Audio Beispiel 4 Lo-Fis digitale Verzerrungen:
[Audio-id = "34448"]

Double Down
Recti-Fi verzerrt die Welle durch Gleichrichtung, die der Polarität der eine Hälfte der Welle dreht, so dass alle positiven oder alle negativen Zyklen. Mit der Option Alt-Max, und die Kombination der gleichgerichtete Signal mit dem Original, kann einen Effekt wie jener klassischen Oktave Verdoppler Bodeneffekte zu erhalten.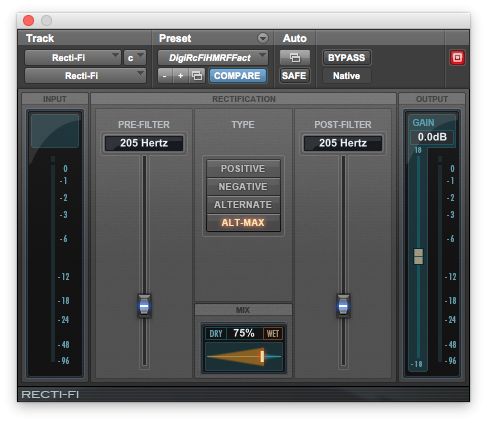 6 Recti WLAN.
Audio Beispiel 5 Recti-Fis Oktave verdoppelt Wirkung:
[Audio-id = "34450"]
Ich Bin So Aufgeregt ...
Schließlich ist die AIR Enhancer nicht wirklich eine Verzerrung Plug-in, per se, seine ein Erreger (sie verwendet werden, um akustische Erreger bezeichnet werden). Erreger sind entworfen, um ein wenig subtilen Helligkeit oder Anwesenheit auf ein Signal hinzuzufügen, aber sie tun dies, indem kaum wahrnehmbaren Mengen Klirrfaktor, damit ihre Aufnahme hier. Wenn zu hart gedrückt, Enhancer, wie jeder Erreger, werden die harmonischen Verzerrungen hinter dem Effekt zeigen, aber in vernünftigen Mengen verwendet wird, kann es eine schöne Frische, um Signale zu fügen, als Alternative zu den EQ.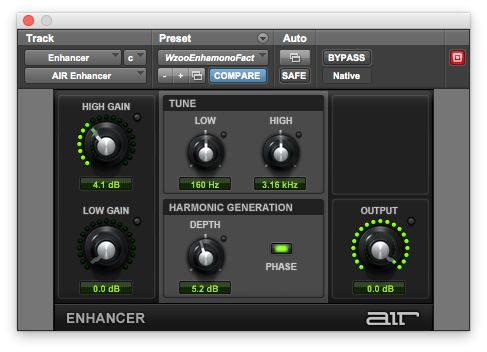 7 Enhancer.
Beispiel 6 Audio Enhancer spannende akustische Gitarre:
[Audio-id = "34449"]

Also das ist Pro Tools Sammlung von Verzerrung Werkzeuge. Alles in allem bieten sie fast jede Art von Kante, crunch, schleifen, fizz, oder sheen man sich wünschen kann, und während Dritt Stecker sind immer eine willkommene Ergänzung zu dem Stall von Effekten, können diese sicherlich den Job zu erledigen, wenn saubere gerade nicht schneiden.