Take a look inside Avid's Instrument Expansion pack for Pro Tools 10 and you'll find some succulent software instruments to get your teeth into. Mike Watkinson uncovers the luxurious Velvet.
In Fortsetzung unserer Blick auf Avids
Models
Um fair zu sein ist es meist die Vergangenheit über die wir hier reden - was kein Roland RD-700? Die vier Modelle von Velvet angeboten, zusammen mit langwierigen Haftungsausschlüsse, sind:
Fender Rhodes Suitcase 73

Fender Rhodes Mark 1

Fender Rhodes Mark 2 (or 'Dyno Rhodes')

Wurlitzer A200

Also keine Überraschungen gibt! Persönlich würde ich immer gerne ein Hohner Pianet T zu sehen, nicht weil es eine inhärent großartigen Sound ist, sondern weil es Pop-up auf ein paar klassische Aufnahmen, wie ich das Walross bin.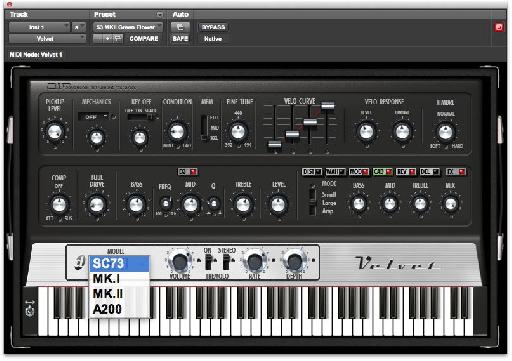 Die Tastatur-Modelle in Velvet angeboten.
Front Panel
Velvets Vorderseite, neben einem Pop-up-Menü zum Ändern Modelle und die wichtigsten Lautstärkeregelung bietet das klassische Stereo-Tremolo-Effekt geliebten aller Rhodes Fans - wenn du nicht weißt, was ich meine, Kasse Jeff Beck Ursache Wir haben als beendet Lovers aus seinem 1975 Album by Blow Blow-.
Auf der linken Seite der Tastatur ist die Tastatur-Erweiterung Schalter. In seine voreingestellte Position Velvet schränkt die Tasten, die Sie auf den Bereich der ursprünglichen Instrument spielen können - einen authentischen Touch - aber der Schalter ermöglicht den Zugriff auf das gesamte Spektrum, falls erforderlich.

Die Tastatur-Erweiterung Schalter.
Setup
Was hört nie auf, mich über Instrumente wie Velvet beeindrucken ist die Länge, die Entwickler gehen, um nicht nur ein gut klingendes Instrument, sondern alle Unvollkommenheiten des Entwurfs, dass die Instrumente geben, ihren Charakter wiederherzustellen. Im Setup-Abschnitt ist einer der vielen Kontrollen bot ein markiertes Mechanik, mit denen Sie unterschiedliche Mengen des mechanischen Geräusche mit elektrischer Pianos hinzuzufügen, entweder mit dem Deckel ein-oder ausschalten können. Es gibt auch einen Zustand Steuerung von Mint Bad - perfekt für Neuerstellung des eBay Fehler Sound! Die Key Off Steuerung kann zur Steuerung der Lärm von den Pickups sowohl beim Loslassen der Tasten und mit dem Fußpedal erfasst werden.

Der Abschnitt Setup.
Antwort
Wenn Sie jemals eine der E-Pianos hier vertretenen gespielt haben, werden Sie wissen, dass ein Instrument sehr unterschiedlich sein zu einem anderen je nach Alter und Zustand, die Sie spielen es auf eine andere Weise (erinnere mich an die Ray Charles Szene aus den Blues macht Brothers?) So Velocity Curve Regler und Velocity Response Kontrollen geben ein hohes Maß an Kontrolle über die Art und Weise Velvet reagiert auf einem MIDI-Keyboard, und geht einen Weg zur Nachbildung dieses Phänomen, vor allem, wenn Sie mit einem gewichteten Controller-Keyboard.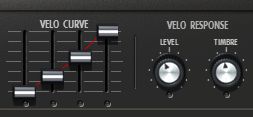 Controlling Dynamikansprache.
Preamp und Effekte
Die Preamp-Sektion enthält eine Vielzahl von Kontrollen, um die Ton-und EQ der Klang zu formen. Ein Knopf Kompressor und Tube Drive Kontrollen vorhanden sind, um authentische grit den Ton hinzufügen. Die Effekt-Sektion beinhaltet:
Distortion

Wah

Modulation (phaser, flange, chorus)

Cab (cabinet)

Reverb

Delay

Die Kabine Effekt ist besonders wichtig, wenn Sie versuchen, den Klang eines Suitcase Rhodes Verstärker und Lautsprecher wieder auferstehen werden.

Preamp und Effekte Sektionen - zeige Cab-Einstellungen.
Alle Bedienelemente können Standard-MIDI-Controller mit der rechten Maustaste auf eine beliebige Steuerung in Samt und dazu eine der folgenden abgebildet werden:
Choose a MIDI controller from the assign submenu

Choose 'Learn' and move the desired control on your hardware MIDI controller

Good news if you want to use the wah effect with a MIDI expression pedal!

Presets
Jedes der vier Modelle vertreten haben hier 70 Presets zur Verfügung, wenn Sie sofortige Befriedigung zugreifen möchten! Kein schwierig, die Inspiration für A200 Super-Dreamer und Mark II Green Flower schätze
Klingen
Vor allem Velvet klingt fantastisch in einer Solo-oder Ensemble-Kontext. Es muss gesagt werden, dass trotz der breiten Palette von Steuerelementen you cant nichts zu kreativ, um den Klang - dafür benötigen Sie, um Effekte außerhalb Velvet suchen. Aber die Flexibilität der Kontrolle über Gefühl und Reaktionsfähigkeit machen dieses eine extrem spielbare Software-Instrument, und eine, die Sie daran erinnern, warum die Originale waren so beliebt.