Take a look inside Avid's Instrument Expansion pack for Pro Tools 10 and you'll find some succulent software instruments to get your teeth into. Mike Watkinson uncovers the luxurious Velvet.
Avids에서 우리 모습을 계속
모델
ê³µì •í•˜ê²Œí•˜ë©´ 대부분 우리가 여기에 대해 ì–˜ê¸°í•˜ê³  과거 - 무슨 짓을 ê³"ì'°í•  RD-700? 긴 ë²•ì  ì±…ìž"ê³¼ 함께 벨벳에 의해 ì œê³µë˜ëŠ" 4 가지 모델은 다음과 같습니다
Fender Rhodes Suitcase 73

Fender Rhodes Mark 1

Fender Rhodes Mark 2 (or 'Dyno Rhodes')

Wurlitzer A200

거기에 깜짝 그래서! 필자는 ê°œì¸ì ìœ¼ë¡œ 항상 ë³¸ì§ˆì ìœ¼ë¡œ 좋은 소리이기 때문에, Hohner 지구에 Tí•˜ì§€ë³´ê³  싶습니다하지만 ë'´ê°€ 해마 오ì "ê³¼ 같은 몇 가지 ê³ ì "ì ì¸ 녹음에 나타 않기 때문에.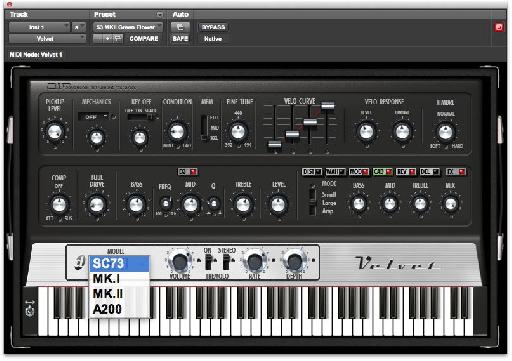 벨벳에서 ì œê³µë˜ëŠ" 키보드 모델.
ì "ë©´ 패널
Velvets 프런트 패널은 모델 및 기본 볼륨 ì œì–´ë¥¼ 변경하는 팝업 메뉴와 함께, 모ë"  로즈 ì• í˜¸ê°€ì˜ 사랑을 ê³ ì "ì ì¸ ìŠ¤í…Œë ˆì˜¤ íŠ¸ë ˆëª°ë¡œ 효과를 ì œê³µí•©ë‹ˆë‹¤ - ë‹¹ì‹ ì´ 무슨 뜻인지 모른다면, 체크 아웃 ì œí"" 벡의 원인 우리는 다음과 같이 종료 í•œ 그의 1975 앨범에서 연인이 일격으로 불어.
키보드의 왼쪽에있는 키보드 확장 스위치입니다. ë³¸ê²©ì ì¸ 터치 - - 기본 위치 벨벳에서는 원래 악기의 범위로 ìž¬ìƒí•  수있는 키를 ì œí•œí•˜ì§€ë§Œ, 필요한 경우 스위치는 ì "ì²´ 범위에 액세스 í•  수 있습니다.

키보드 확장 ì "환 í•  수 있습니다.
ì"¤ì •
ì–´ë–¤ 벨벳 같은 악기에 대해 좋은 인상을 중단하지 않을 것은 개발자가 훌륭한 홍보 악기하지만, 악기에게 그들의 특성을주는 디자인의 모ë"  결함이 아니라를 다시하기 위해 이동하는 길이입니다. 설치 섹션에서 ì œê³µí•˜ëŠ" 다양한 컨트롤 중 하나는 ì"¤ì • 또는 í•´ì œ 뚜껑으로 하나, ì "기 피아노와 ê´€ë ¨ëœ 기계 소음 다양한 양의를 추가 í•  수 있습니다 í•œ 라벨 기계입니다. 민트의 불량에 이르기까지 다양한 ì¡°ê±´ ì œì–´ê°€ 있습니다 - ì´ë² ì´ (eBay) 실수 사운드를 재현을위한 완벽 í•´! ì œì–´ 오프 키는 픽업 키를 í•´ì œí•˜ê³  ë°œ 페달을 사용하여 모두에서 수집 í•œ 소음을 ì œì–´í•˜ê¸° 위해 ì'¬ìš©í•  수 있습니다.

설치 섹션을 참조하십시오.
응답
너희들도 여기서 표현 ì "기 피아노를 연주 í•œ 경우, ë‹¹ì‹ ì€ 악기가 다른이 (블루스에서 ë ˆì´ 찰스의 장면을 기억 다른 방법에서 ìž¬ìƒí•  수 있습니다 자사의 ì—°ë ¹ê³¼ 조건에 따라 매우 다를 수 있다는 ì•Œ 수 í˜•ì œ?) 속도 곡ì"  슬라이더와 속도 응답 컨트롤 방식 벨벳 ì œì–´ì˜ 높은 í•™ìœ"ë¥¼ì£¼ê³  그래서하면 가중 컨트롤러 키보드를 사용하는 경우 특히 MIDI 키보드에 ì'ë‹µí•˜ê³ ì´ 현상을 재현에 몇 가지 방법을갑니다.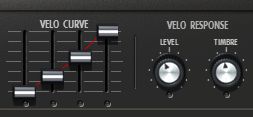 속도 응답을 ì œì–´.
프리 앰프 및 효과
프리 앰프 섹션은 색조와 소리의 EQ를 형성하기 위해 컨트롤의 다양한 포함되어 있습니다. 하나의 노브 압축기 및 튜브 드라이브 컨트롤은 소리를 진짜 근성을 추가 í•  존재한다. 효과 섹션이 포함됩니다 :
Distortion

Wah

Modulation (phaser, flange, chorus)

Cab (cabinet)

Reverb

Delay

이 가방 로즈 A와 스피커의 사운드를 ë¶€í™œí•˜ë ¤ëŠ" 경우 택시 효과는 특히 중요합니다.

프리 앰프 및 효과 섹션 - 택시 ì"¤ì •ì" ë³´ì—¬ì£¼ê³  있습니다.
모ë"  컨트롤은 벨벳의 모ë"  컨트롤을 마우스 오른쪽 단추로 í´ë¦­í•˜ê³  다음 중 하나를 수행하여 표준 MIDI 컨트롤러에 매핑 ë  수있다 :
Choose a MIDI controller from the assign submenu

Choose 'Learn' and move the desired control on your hardware MIDI controller

Good news if you want to use the wah effect with a MIDI expression pedal!

ì'¬ì "
ë‹¹ì‹ ì€ 즉시 만족에 ì•¡ì"¸ìŠ¤í•˜ë ¤ë©´ 여기를 표현 4 가지 모델의 각이 가능 70 미리 ì"¤ì •ì" í•´! A200 슈퍼 몽상과 마크 II 그린 꽃에 대한 영감을 추측하기 더 ì–´ë µ 없음
소리
가장 중요한 벨벳은 솔로 나 앙상블 맥락에서 í™˜ìƒì ì¸ 소리. 이 말해야합니다 ë‹¹ì‹ ì´ 캔트 소리에 너무 ì°½ì¡°ì  인 일은 컨트롤의 다양한에도 ë¶ˆêµ¬í•˜ê³  - 그래서 벨벳 외부 효과를 볼해야합니다. 그러나 느낌 및 응답 ì œì–´ì˜ ìœ ì—°ì"±ì´ 매우 í"Œë ˆì´ê°€ 가능한 소프트웨어 악기, ê·¸ë¦¬ê³  원본은 인기가 있었던 ì´ìœ ë¥¼ 생각 나게합니다 하나를합니다.