Nudging regions or selections, that is moving them left or right by a predetermined amount, is a fundamental part of the editing process. In a previous Quick Tip we looked at nudging in Logic Pro...
미리 ì •í•´ì§" 금액을 기준으로 왼쪽 또는 오른쪽으로 움직이는 지역이나 ì" 택, 이끌어하면 편집 프로세스의 중요한 부분이다. 이ì " ë¹ ë¥¸ 팁 우리는 로직 프로에서 이끌어 쳐다보지만, 이것에서 우리는 프로 도구에 ì´ˆì  - 슬쩍 찌르다, ë‹¹ì‹ ì´ 슬쩍 찌르다 수있는 무엇을 찔러 값을 ì¡°ì •í•˜ëŠ" 방법에 대해 설명합니다.

01 - ì" 택과 지역별
ë‹¹ì‹ ì´ ì" 택한 지역, 편집 커서, 편집 ì" íƒí•˜ê³ , 그것의 시작과 끝 포인트를 슬쩍 찌르다 수 있습니다. 누르면 (플러스)와 - (마이너스) 숫자 키패드 nudges에 ì "ë‹¬í•˜ê³  ë'¤ë¡œí•˜ê³ ,이 작업합니다
A selected region (the whole region moves)

An edit selection (the whole selection moves)

The edit cursor (i.e. single click with the Selector tool)

02 - ì" 택 ì¡°ì •
옵션 키를 추가하면 지역이나 ì" 택의 왼쪽 (또는 주도) 가장자리를 ì¡°ì •í•  수 있습니다. ëª…ë ¹ 키를 추가하면 지역이나 ì" 택의 오른쪽 (또는 후행) 가장자리를 ì¡°ì •í•  수 있습니다.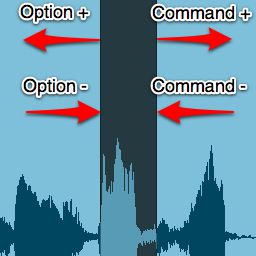 ì" 택의 가장자리를 이끌어
03 - ì¡°ì • 지역별
영역 경계 아래로 개최되는 이러한 키 중 하나와 함께 ì" 택 영역을 이끌어 ë•Œ ì†ì§ˆí•˜ê³  있습니다. ë…ë¦½ì  영역의 ì" 택ì" ì´ë™í•˜ë ¤ë©´ 영역을 ì" 택하ëŠ" 데, Shift 키를 누르십시오. 지역 위치를 ìœ ì§€í•˜ë©´ì"œ 기본 오디오를 ì´ë™í•˜ë ¤ë©´ Control 키를 누르십시오. 이러한 ëª…ë ¹ì€ ì" 택 영역에 ì ìš©í•˜ê³ , 충분히 큰 ì" 택 내에 포함되어있는 모ë"  지역 것입니다.
04 - 타임 라인 ì" 택
위의 ëª…ë ¹ì€ 또한 타임 라인 ì" 택ì" 변경하지만, 경우에만 링크 타임 라인과 편집 ì" 택은 도구 모음에서 ì'¬ìš©í•  수 있습니다.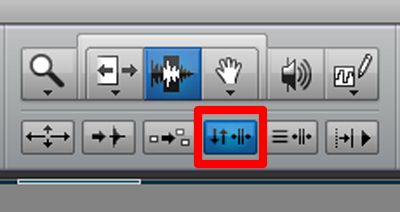 링크 타임 라인과 편집 ì" 택ì" 사용
05 - ëª…ë ¹ 키보드 포커스 모드
활성이 모드 (이미지 참조) 간단하게 QWERTY의 다른 세트로 키보드 기반의 단축키 재생에 와서. 뒤로 및 앞으로 이끌어 이러한은 다음과 같습니다 (쉼표) 및 (기간) -. 아마도 더 쉽게 기억으로
ëª…ë ¹ 키보드 포커스 모드 자체는 키보드 단축키 ëª…ë ¹ 옵션 1 (숫자 키패드)으로 활성화됩니다. 이 모드를 ë¹"활ì"±í™"í•˜ë ¤ëŠ" 경우 각각 ëª…ë ¹ 옵션 2 3 그룹 목록에 키보드 포커스 모드 또는 지역리스트로 이동합니다. ëª…ë ¹ 키보드 포커스 모드에서되는 ìž¥ì  중 하나는 링크 타임 라인과 편집 ì" 택ì" í•´ì œí•˜ë©´ 위에 나열된 이끌어 ëª…ë ¹ì€ 오직 타임 라인 ì" 택에 영향을 ë¯¸ì¹  것입니다.
링크 타임 라인과 편집 ì" 택이 í•´ì œë˜ì–´ìžˆëŠ" 경우에는 ì •ê¸°ì ìœ¼ë¡œ 이끌어 키보드 단축키는 단지 편집 ì" 택에 영향을 ë¯¸ì¹  것입니다.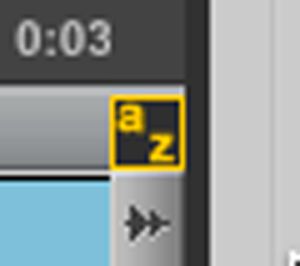 ëª…ë ¹ 키보드 포커스 모드 활성화
06 -으로 이동 값 변경
으로 이동 값을 ë³€ê²½í•  수있는 것은 ë¬¼ë¡ , 파라마운트 중요하다. 으로 이동 ê°' 팝업 ì" 택기ëŠ" 도구 모음 (이미지 참조)에이 옵션의 ë²"ìœ"ë¥¼í•˜ê³  있습니다. 메뉴의 하단에 메인 시간 척도를 따라합니다. 이 났는데도 사용하면이 기본 시간 스케일을 변경하면 사용 가능한 값의 범위는 변경됩니다. 또는 수동으로 메뉴에서 시간 단위 중 하나를 (이미지 참조)을 ì" 택하여 값을 다른 ì"¤ì •ì" ì" íƒí•  수 있습니다. 마지막으로 찔러 값을 ì" 택합니다.
누르면서 ëª…ë ¹ê³¼ 옵션을 누른 와 - (숫자 키패드) 키보드 단축키로 찔러 값을 ë³€ê²½í•  수 있습니다.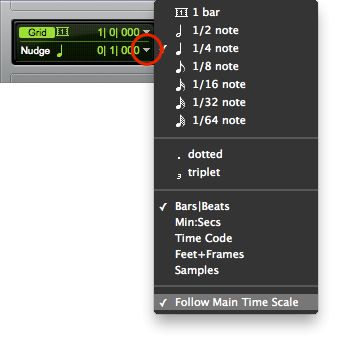 툴바으로 이동 값 팝업 메뉴
에 대한 자세한 도움말 및 ìœ ìš©í•œ ì •ë³´ ê°€ì ¸ì˜¤ê¸° 9 101 프로 도구