Most people believe Pro Tools only has 2 windows! There's actually 14 possibly windows, and with so many to switch between Window Configurations becomes very useful.
ProTools ha solo due finestre, giusto? Mix e Edit, passare tra le due con comando - =. Facile. In realtà , Pro Tools ha 14 finestre, accessibile dal menu Finestra, quindi un modo di organizzare le è richiesto. Questo è dove Configurazioni Finestra entrare

Gestione delle finestre di base
L'Elenco finestre configurazioni è accessibile dal menu Window (Finestra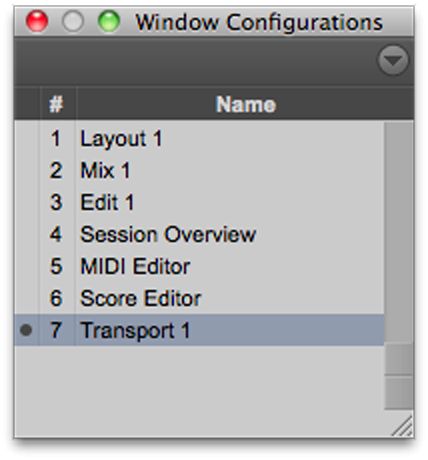 La finestra elenco di configurazione.
È possibile creare rapidamente un elenco di configurazioni di finestre a cui potete accedere cliccando sul loro nome nell'elenco delle finestre configurazioni. Si noti che l'Elenco finestre Configurazioni sé non è memorizzato come parte di qualsiasi Configurazioni finestra! C'è anche una scorciatoia da tastiera per la scelta di configurazioni di finestre. Sul tastierino numerico, periodo tipo (.) Seguito dal numero della configurazione, poi seguito dal tasto asterisco.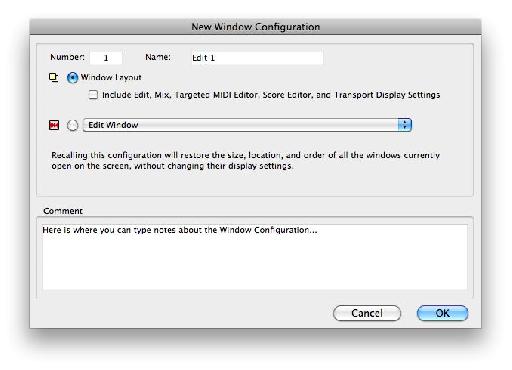 La nuova configurazione della finestra di dialogo, con le opzioni di default.
Aggiunta di impostazioni alla configurazione del Window
Se si desidera memorizzare anche le impostazioni di visualizzazione come parte della Finestra di configurazione, barrare la casella Includi editare, mixare, mirate MIDI Editor, Score Editor, e impostazioni di visualizzazione dei Trasporti. Ad esempio si potrebbe desiderare di avere due visuali del mixer, uno con inserti e invia nascosti, l'altra con loro visibili. Questa è una grande opzione per il richiamo immediato di tali impostazioni.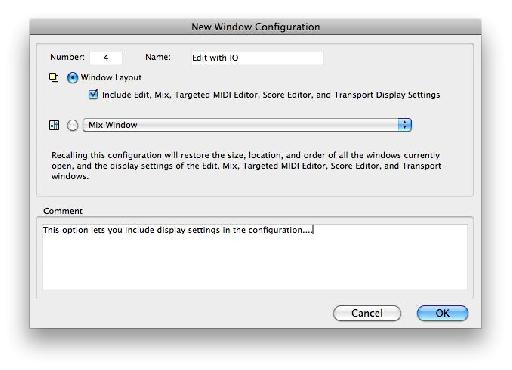 Memorizzare le impostazioni di visualizzazione come parte della Finestra di configurazione.
Impostazioni Solo
Il pulsante di opzione secondo la finestra Nuova Finestra di configurazione viene utilizzato per applicare le impostazioni di una finestra specifica. Per esempio, impostare la finestra di mix per visualizzare le tracce e gli elenchi di gruppi e hanno Mix stretta abilitato. Ora è possibile ripristinare le impostazioni memorizzate per la vista corrente di quella finestra, scegliendo questa finestra di configurazione. Se la finestra in questione non è aperto (e ridimensionabile), poi quando si sceglie questo tipo di configurazione di Windows si riaprirà la finestra con le dimensioni che era quando è stato chiuso, ma con le impostazioni memorizzate.

Questa funzionalità può essere utilizzata con il Mix, Edit, MIDI Editor, Score Editor e finestre dei trasporti, ed è particolarmente utile con l'ultimo di questi, come è possibile memorizzare diversi punti di vista diversi di trasporto come configurazioni di finestre.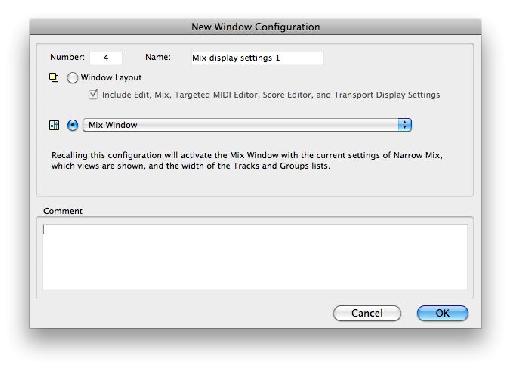 Memorizzare le impostazioni per la finestra Mix.
Altre opzioni
Dal menu a tendina in alto della lista Finestra di configurazione è possibile creare nuove configurazioni, aggiornare la configurazione attuale finestra, o impostare configurazioni finestra di aggiornamento automatico (cioè, tutte le modifiche vengono automaticamente memorizzati). Anche qui (e non disponibili nel menu Finestra), sono le opzioni per modificare la selezione corrente o eliminarle (clearing).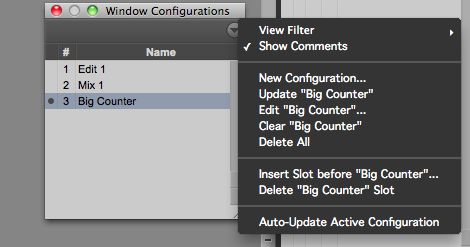 La finestra di configurazione Lista menu a discesa.
Coloro che hanno sperimentato Screensets in Logic Pro potranno godere della flessibilità offerta dalla finestra Configurazioni, ma può chiedersi dove l'equivalente di Screensets blocco si trova. Configurazioni finestra in Pro Tools sono bloccati di default, e sono solo cambiato con l'aggiornamento, la modifica o l'eliminazione di loro, da uno dei menu.