When it comes to mixing your tracks, Reason features a big powerful mixer inside the box! Mo Volans demonstrates how to make the most of it with these mixing tips and tricks.
La razón es ahora una aplicación de audio en toda regla y más que capaz de manejar funciones de mezcla, incluso para los proyectos más complejos. Si usted está abordando las sesiones con mayor número de pistas y un montón de procesamiento, es posible que tenga algunos consejos que le ayudarán a mantenerse organizado y trabajando en su máximo potencial. Heres 5 consejos para mantenerte en forma ...
Consejo 1 - Extracción del mezclador
Si usted es serio acerca de su mezcla, es muy probable que usted ha invertido en una configuración de pantalla dual. Incluso basadas en laptop productores y músicos están optando por una pantallas secundarias, los bienes inmuebles extra que le da una gran visión de conjunto de la mezcla.
Razón no siempre atender a las configuraciones de múltiples pantallas, pero ahora usted puede separar casi cualquier parte de su proyecto y se mueven a su alrededor. Me parece que en pista pesada proyectos de desmontar el mezclador es la manera perfecta de llevar un registro de qué se está encendiendo. Usted puede hacer lo mismo con el estante de hardware, si quieres. De cualquier manera, usted debe encontrar que le ayuda a mantenerse en la cima de una sesión compleja mezcla.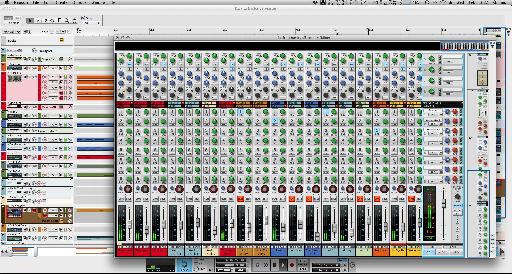 (Fig. 1) Desmontaje de la mesa de mezclas puede hacer maravillas.
Tip 2 - Designación de autobuses Retorno
Esto puede parecer muy simple pero nombrando buses Reasons retorno hará que su proceso de mezcla mucho más suave. Puede surgir un problema cuando haciendo rápidamente nuevos autobuses durante el proceso de mezcla como se les da nombres predeterminados.
Ive me encontré en situaciones con 4 o 5 autobuses regreso todos nombrados Combinator. Esto es casi inútil cuando se trata de averiguar qué tipo de efecto que realice el envío y usted tiene que consultar constantemente a la parrilla.
Nombra estos chicos malos a medida que avanza y se ahorrará un dolor de cabeza. Trate de darle a cada uno un nombre destacado bus, o por lo menos llamar a algo que te va a recordar exactamente qué grupo de efectos que esté utilizando.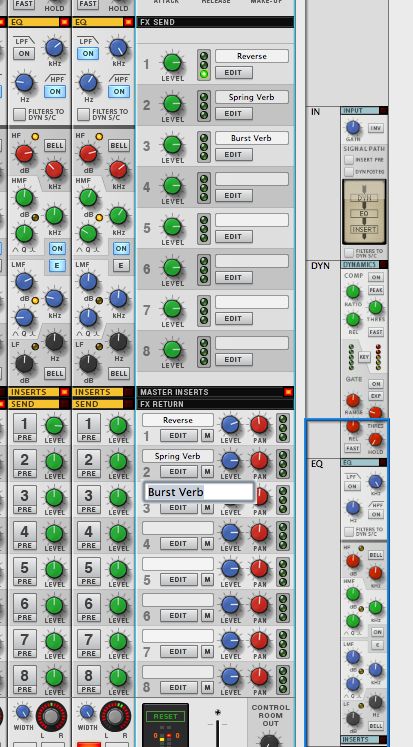 (Foto 2) Nombrar los buses de retorno!
Consejo 3 - Get Into The Compressor Buss
Razones Buss compresor es un procesador asesino. Siguiendo el modelo de la legendaria consola SSL G Series compresor, es simplemente una herramienta de mezcla esencial. Esto es muy similar a las ondas y los modelos de UAD el mismo hardware.
Si usted havent ya ha utilizado este compresor impresionante, su tiempo para entrar en la mezcla. Incluso si usted no está ejecutando una cadena de mastering vivir esto se puede utilizar con una proporción modesta y unos decibelios de reducción de ganancia para agregar la cohesión y el equilibrio a la mezcla. No te preocupes por encima de procesar el sonido en general es casi tan transparente como se pone.

(Fig. 3) Razones Buss Compressor poderoso.
Consejo 4 - Divisores y fusiones
Cuando se trabaja con un gran número de pistas, usted va a terminar con un gran número de efectos, procesadores e instrumentos. Este es un hecho. ¿Cómo hacer frente a la multitud de dispositivos en el proyecto decidirá la suavidad con la sesión se ejecuta.
Me parece que si se trata de varios dispositivos, a menudo tendrá que ejecutar la misma salida (o entrada) de señal a la misma ubicación. Por ejemplo, si usted está usando un tambor de un solo golpe como una fuente de cadena lateral, es posible que desee utilizar para desencadenar varios compresores simultáneamente.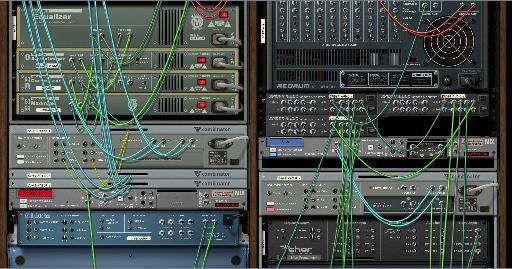 Pic (4) Razones Araña en acción.
Para ello, puede utilizar dispositivos de araña Razones para duplicar, dividir y combinar flujos de audio. Hasta los canales del grupo se aplica correctamente, se trata de la mejor manera de manejar múltiples fuentes de audio.
Consejo 5 - La organización de su mesa de mezclas
Un consejo final es el flujo de trabajo para mantener a su mezclador organizado y lo más compacto posible. Una forma de hacerlo es a colapsar cualquier área de la mesa de mezclas te enviaban utilizando actualmente. Con sólo hacer doble clic en un área específica de la consola, se derrumbará fuera de la vista y le dará un área mucho más manejable para trabajar.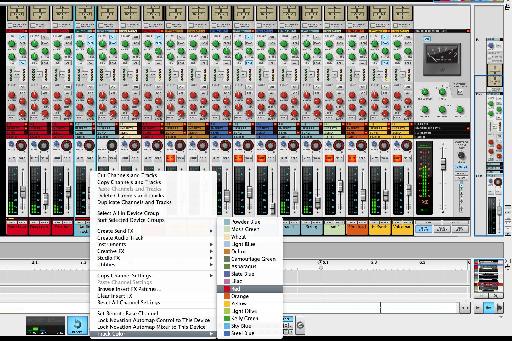 (Fig. 5) Contracción y colorear las distintas pistas.
Usted también debe tratar con el color y el nombre de las pistas que están trabajando sobre la marcha. Esto casi es evidente, pero debe ayudarle a preparar una sesión mucho más clara de mezcla.