5 Consejos para obtener el máximo provecho de la Softube amperios en la Razón 8
Getting a great guitar or bass sound is easier than ever, thanks to the new modules in Reason 8. Developed in association with processing experts Softube, they can work their magic on almost anything.
# 1 - Dont limitar sus opciones
El hecho de que estos están etiquetados Guitarra digital y procesadores de bajo no significa que sólo se puede utilizar en esos instrumentos. De hecho, puede ser aún más interesante ruta diferente fuentes de sonido a través de themthings como voces, teclados y batería. Tome ventaja de las capacidades de enrutamiento sólo Razones para enviar partes específicas de un instrumento a través de un efecto fuzz por ejemplo. Sólo procesar la trampa y dejar el resto del kit limpio y tiene un sonido de batería más único. Lo mismo ocurre con bucles REX: enviar algunas rebanadas a través del procesamiento, pero no en otros.
# 2 - Envíe su CV
Alrededor de la parte posterior de los módulos, además de salidas de audio interminables encontrar algunos controles de entrada CV. Theres Puerta, ganancia y el volumen en el amplificador de la guitarra y de unidad y de volumen en el amplificador de bajo, cada uno con un control variable. Mediante el envío de CV señal desde un módulo diferente puede modular estos parámetros en tiempo real para un efecto global más dinámico. Un ejemplo sería el uso de la salida de la puerta de una rebanada Dr. Octo REX para controlar la entrada de la Puerta del amplificador de la guitarra y por lo tanto abrir y cerrar la puerta en el tiempo con la reproducción de las rebanadas.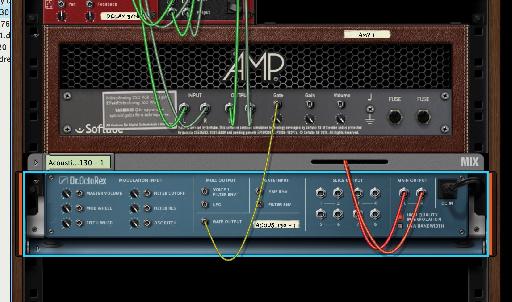 # 3 - Break Out el Synth Bass
El módulo Bass Amp tiene controles muy básicos, al igual que un amplificador de bajo real. Puedes jugar con amplificador y tipos de cabina, así como los niveles de unidad y EQ. Su gran en el bajo la guitarra, sino también considerar el uso en sintetizadores de bajo. Desde su diseñado para añadir peso extra a cualquier señal de gama baja, que se puede utilizar para obtener una textura más terrenal y orgánico para cualquier bajo, no sólo uno muestreado o grabado en vivo de una guitarra real bajo.
# 4 - Obtener Automatizado
Puede automatizar los controles de los efectos como youd esperar, pero es posible que no se han dado cuenta que esto se aplica a un amplificador y la selección de la cabina también. Haga clic derecho en un módulo y elija Crear pista y gana una pista del secuenciador que significa que ahora puede grabar la automatización. Reproducir y grabar mientras se cambia modelos de amplificador o taxi en los módulos de sí mismos y van a ser automatizados. Debido a que cada cambio es un paso más que un cambio gradual que se muestran como saltos y no rampas, pero pueden ser fácilmente editadas con un doble clic en el clip de la automatización. Diviértete cambiando los modelos de altavoz amplificador y mediados de pista.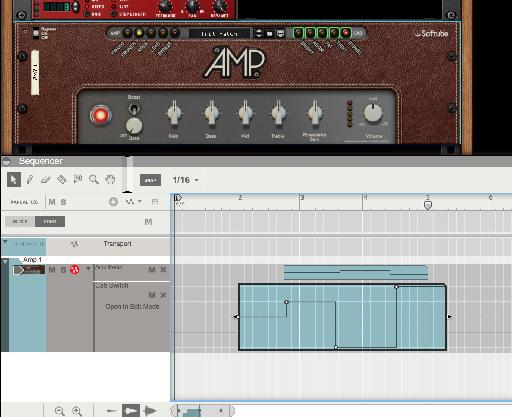 # 5 - Renderizar pistas de Down
Gran parte del tiempo es probable que desee para mantener sus efectos virtuales para que puedan ser modificados. Por supuesto, esto significa que su toma original está limpia, pero de vez en cuando es posible que desee hacer un efecto hacia abajo, por ejemplo antes de convertirlo en un bucle REX o por timestretching efectos especiales. Para ello, seleccione el clip y la pista que desee y vaya a Archivo