Us Reason cats spend a lot of time slinging those cables all over the place and stacking effects to get that unique sound that makes a lead, bass, loop, or whatever you're working on. But, with all...
Us Reason Katzen verbringen viel Zeit Anschlagen die Kabel ganz über dem Platz und Stapeln Auswirkungen auf die einzigartigen Sound, der einen Vorsprung macht bekommen, youre Bass, Schleife, oder was auch immer arbeiten. Aber mit allem, was Zeit aufgewendet schaffen diese tollen Effekten, möchten Sie vielleicht zu prüfen:
Sie können sie in anderen Songs wieder verwenden!
Denken Sie darüber nach! Anstatt neu zu einem Ihrer Grundnahrungsmittel Effekte für jeden Song, wouldnt es besser, sie zu speichern. Auch, wenn es zu speichern, wouldnt es wunderbar, es mit ein wenig zu sparen, sagen wir mal zwicken-Fähigkeit?
Dies ist, wo die
Heres der Trick:
01 - Label-First
Bevor weiter, stellen Sie sicher, dass Sie die benötigten Komponenten Ihrer Effektkette Etikett. Möglicherweise müssen Sie einige Hinweise geben, was das tut, was später auf. Einfach in der kleinen Klebestreifen Typ auf jede Komponente.

02 - Überprüfen Sie, ob Effekte sind in sich geschlossene

Es gibt Situationen, wo man mit einem LFO aus einem Grund Gerät darf in einer Weise, dass Sie wouldnt normalerweise denken, es zu benutzen. Hey, das ist Teil des Charmes, nicht wahr? Aber, wenn Sie das Gerät in dieser Trick auch vergessen, es wird nicht funktionieren, und Sie werden zu sich selbst sagen, Sie wissen schon, diese so groß, klang auf, dass ein Song, warum klingt es wie Arsch auf dieses Lied?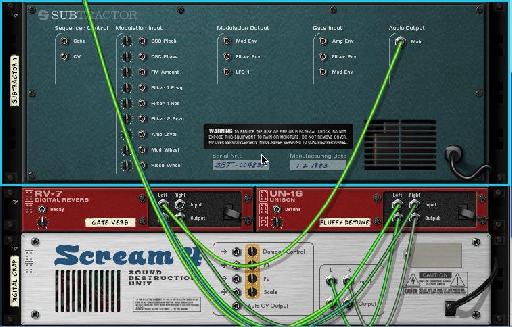 Oder etwas in diese Richtung. Drücken Sie die Tab, wendet euch alten Rack herum und stellen Sie sicher, Arent etwas zu vergessen!
03 - Kombinieren Sie!
Okay, lets make dieses Ding mobil. Halten Sie die Umschalttaste gedrückt und klicken Sie auf jedem Gerät, das Sie behalten möchten! Wenn youre fertig sind, drücken Kombinieren Sie!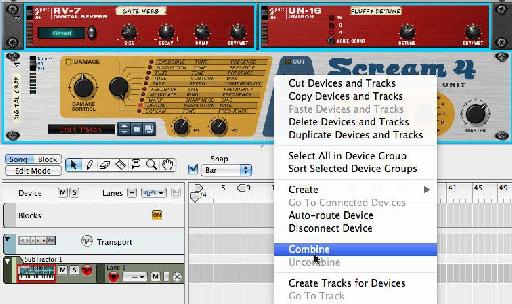 04 - Isolate benötigten Funktionen
Okay, jetzt youve Kombinator Ihrer Effekt-Patch gemacht. Vielleicht möchten Sie gehen jetzt durch und suchen Sie alle benötigten Funktionen, die wirklich diesen Patch Brummen, oder fügen Sie einfach einige Optionen, die Sie für später bequem erfassen wollen, können. Drehregler und Tasten sind der beste Weg, dies zu tun.
Lassen Sie uns sagen, dass Sie möchten einige Zerfall später hinzufügen, oder erhöhen Sie das Dry / Wet Ebenen, etc. Öffnen Sie die Combinator Programmer und markieren Sie den Effektprozessor, der die Funktion, die Sie hat.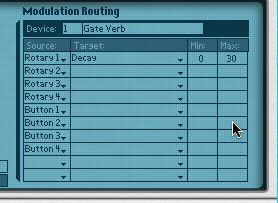 Einmal ausgewählt, einfach in die höchste Höhe und die niedrigste Menge des Verfalls, die Sie möglicherweise für diesen Effekt hinzufügen möchten.
05 - Rinse and Repeat
Denken Sie an die Combinator hat mehrere Knöpfe! Sie können mehr als ein und holen Sie sich Effekte aus Ihrer alten Favoriten, die Sie nie für möglich gehalten nur durch Feintuning. Probieren Sie es aus!
Sobald youve habe alle möglichen Knopf Aufgaben Sie wollen, stellen Sie sicher, in einem Verzeichnis zu speichern, wo Sie Lieblings-Proben, Lieblings-Song-Dateien, etc. Vielleicht sogar eine Abkürzung, oder fügen Sie einen Speicherort für die Reason-Browser zu halten.
Durch eine Reihe von Signatur-Effekte Patches werden youll der Lage, Songs schneller zu produzieren, mit einem größeren Schein zu polieren. Bevor du es weißt, du bist der go-to guy für einen bestimmten Sound!
Oh, und wenn Sie mehr Tricks mit dem Combinator möchten, finden Sie