Us Reason cats spend a lot of time slinging those cables all over the place and stacking effects to get that unique sound that makes a lead, bass, loop, or whatever you're working on. But, with all...
Nous Raison chats passent beaucoup de temps élingage ces câbles dans tous les sens et l'empilement des effets pour obtenir ce son unique qui fait un plomb, la basse, en boucle, ou quoi que vous êtes sur le travail. Mais, avec tout ce temps étant passé à créer ces effets impressionnants, vous pourriez envisager:
Vous pouvez les utiliser dans d'autres chansons encore!
Pensez-y! Plutôt que de recréer un de vos effets de base pour chaque chanson, wouldnt il pas mieux pour le sauver. Aussi, quand il l'épargne, wouldnt il pas merveilleux de l'enregistrer avec un peu, dirons-nous tweak-capacité?
C'est là que le
Heres le truc:
01 - première étiquette
Avant d'aller plus loin, assurez-vous que vous étiquetez les composants nécessaires de votre chaîne d'effets. Vous devrez peut-être quelques indices sur ce que fait ce plus tard. Il suffit de taper dans les bandes de ruban peu sur chaque composant.

02 - Effets Vérifiez sont autonomes

Il ya des situations où vous utilisez peut-être un LFO à partir d'un dispositif de Raison d'une manière que vous wouldnt normalement pense à l'utiliser. Hey, thats partie du charme, non? Mais, si vous oubliez d'inclure le dispositif dans cette astuce, il l'habitude de travailler, et youll vous dire, vous savez, cela sonne si grande sur cette seule chanson, pourquoi faut-il sonner comme le cul sur cette chanson?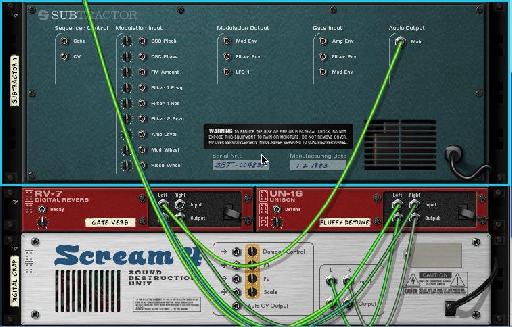 Ou quelque chose du genre. Appuyez sur Tab, retournez-vous en rack anciennes autour et assurez-vous que vous n'en rien oublier!
03 - Combiner!
Ok, laisse faire cette chose mobile. Maintenez enfoncée la touche Maj enfoncée et cliquez sur chaque appareil que vous souhaitez conserver! Lorsque vous êtes terminé, appuyez sur Combinez!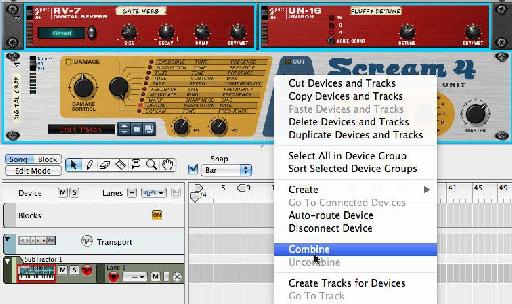 04 - Isoler les fonctions nécessaires
Bon, maintenant youve fait un Combinator de votre patch d'effet. Vous pouvez désormais passer et de localiser toutes les fonctions nécessaires qui font vraiment de cette hum patch, ou tout simplement ajouter quelques options que vous voudrez peut-être pour plus tard à la portée facile. Rotative et les boutons sont la meilleure façon de le faire.
Disons que vous pouvez ajouter quelques décomposition plus tard, ou augmenter les niveaux sec / humide, etc Ouvrez le programmeur Combinator et mettre en évidence le processeur d'effets qui a la fonction que vous voulez.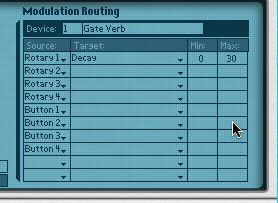 Une fois sélectionné, il suffit d'ajouter au montant le plus élevé et la faible quantité de carie que vous pourriez souhaiter pour cet effet.
05 - Rincer et répéter
Rappelez-vous le Combinator a boutons multiples! Vous pouvez utiliser plus d'un et obtenir certains effets de votre vieux favori que vous n'auriez jamais cru possible tout en ajustant. Essayez-le!
Une fois que youve a obtenu toutes les affectations des boutons possibles que vous voulez, assurez-vous d'enregistrer dans un répertoire où vous conservez des échantillons préférés, des fichiers chanson préférée, etc Peut-être même faire une coupe courte, ou ajouter un emplacement pour le navigateur Raison.
En ayant un ensemble de patchs effets de signature, vous serez en mesure de produire des chansons plus rapides, avec une plus grande semblant de polir. Avant de vous le savez, vous êtes le go-to guy pour un certain son!
Oh, et si vous avez besoin plus de trucs avec le Combinator, vérifiez