Us Reason cats spend a lot of time slinging those cables all over the place and stacking effects to get that unique sound that makes a lead, bass, loop, or whatever you're working on. But, with all...
Us Reason gatos passam muito tempo atirando os cabos por todo o lugar e empilhamento efeitos para obter aquele som único que faz a ligação, bass, loop, ou o que você está trabalhando. Mas, com todo o tempo que gasto criando aqueles efeitos incríveis, você pode querer considerar:
Você pode usá-los em outras músicas de novo!
Pense nisso! Em vez de recriar um dos seus efeitos grampo para cada canção, não seria melhor para salvá-lo. Além disso, quando salvá-la, não seria maravilhoso para salvá-lo com um pouco de, digamos tweak-habilidade?
Isto é onde a
Heres o truque:
01 - primeira etiqueta
Antes de avançar mais, certifique-se de rotular os componentes necessários de sua cadeia de efeitos. Você pode precisar de algumas dicas sobre o que faz o que mais tarde. Basta digitar as tiras de fita pouco sobre cada componente.

02 - Efeitos Verifique são auto-suficientes

Existem situações onde você pode estar usando um LFO de um dispositivo Reason de forma que você wouldnt normalmente pensam em usá-lo. Hey, isso é parte do charme, certo? Mas, se você esquecer de incluir o dispositivo neste truque, isso não vai funcionar, e você diz para si mesmo, você sabe, isso soou tão grande em que uma música, por que ele soa como ass sobre esta canção?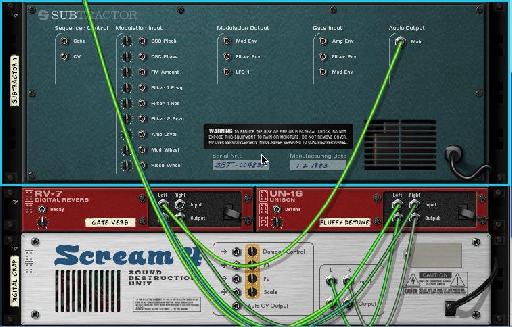 Ou algo nesse sentido. Pressione a tecla Tab, convertei-vos de idade em torno de rack e certifique-se você não é esquecer nada!
03 - Combine!
Ok, vamos fazer essa coisa móvel. Mantenha pressionada a tecla Shift e clique em cada dispositivo que você deseja manter! Quando você está terminado, prima Combine!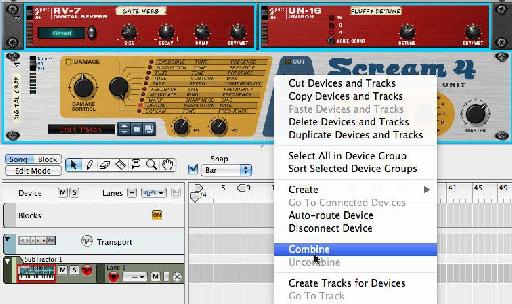 04 - Isolar funções necessárias
Ok, agora você fêz um Combinator de seu patch efeito. Você pode querer passar agora e localizar todas as funções necessárias que realmente fazem isso hum patch, ou apenas adicionar algumas opções que você pode querer para mais tarde ao alcance fácil. Rotundas e os botões são a melhor maneira de fazer isso.
Vamos dizer que você pode querer adicionar um pouco de decadência mais tarde, ou aumentar os níveis seco / molhado, etc Abra o Programador Combinator e destacar o processador de efeitos que tem a função que você deseja.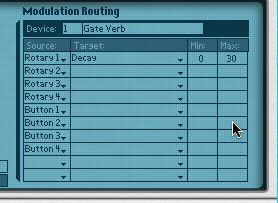 Uma vez selecionado, basta adicionar em maior quantidade ea menor quantidade de decadência que você poderia desejar para este efeito.
05 - Enxágüe e repita
Lembre-se do Combinator tem botões múltiplos! Você pode usar mais de um e obter alguns efeitos fora de seu favorito velho que você nunca pensou ser possível apenas por ajustes. Experimentá-lo!
Uma vez que você tem todas as atribuições possíveis botão que você quer, certifique-se de salvar em um diretório onde você guarda amostras favorito, arquivos de música favorita, etc Talvez até mesmo fazer um atalho, ou adicionar uma localização para o navegador Reason.
Por ter um conjunto de patches efeitos assinatura, você será capaz de produzir músicas mais rápido, com uma maior aparência de polonês. Antes que você perceba, você é o cara go-to para um certo som!
Ah, e se você precisar de mais truques com o Combinator, verifique