Graphical Editing in der Dr. OctoRex
The Dr.OctoRex is a great update to one of my favorite virtual instruments. Amongst the many updated features is an innovative new graphical editing system. In this quick tip we'll take a look at how
The Dr.OctoRex is a great update to one of my favorite virtual instruments. Amongst the many updated features is an innovative new graphical editing system. In this quick tip we'll take a look at how the new system works and what we can do with it.

Schritt 1 - Laden Sie Ihre Dr.OctoRex
Zu Beginn wirst du brauchen eine OctoRex geladen bis in Reason 5 . Ich habe mir geladen mit einem interessanten instrumentalen Schleife von einem meiner Sample-Libraries, die den neuen Editing-System zeigen, sollte schön.
Man hört das trockene unberührt Schleife in den Clip unten.
Die Schleife wir behandeln werden:
[Audio-id = "6040"]
Schritt 2 - Aktivierung Scheiben Edit Mode
In seiner Standard-Zustand der Dr.OctoRex Editing-System ist sehr ähnlich wie sein Vorgänger. Die Nutzer der ursprünglichen Dr.Rex Spieler sollte keine Probleme haben Sie rechts in die mit den Reglern über den unteren Teil des m_ctlDisplayText.GetWindowRect stecken zu bleiben.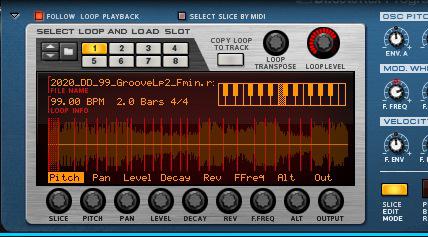 Die Scheiben Bearbeitungsmodus zugegriffen wird
Der wirkliche Spaß beginnt, wenn Sie die neue "Slice-Edit-Modus" zu aktivieren, gibt es eine spezielle Taste für dieses neue System, nur auf der rechten Seite des Haupt-Displays. Einmal aktiviert wird dies verwandeln die Schaufenster und die Art und Weise unsere Parameter werden angezeigt.
Schritt 3 - Ändern Einige Einstellungen
Mit Scheiben Edit Mode aktiviert können Sie nun alle Parameter unter dem Display, und Sie werden mit einer anderen grafischen Darstellung für jeden einzelnen vorgestellt werden. Anschließend können Sie den Cursor auf diese Parameter direkt im Display bearbeiten.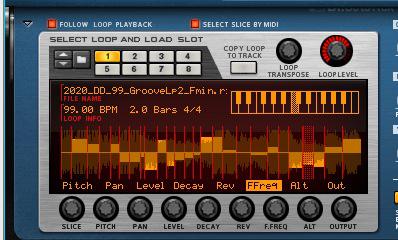 Einige Parameter sind bearbeitet
Jetzt siehst du genau, was Änderungen durchgeführt wurden und die in der Schleife Scheibe hat neue Daten ist sehr geradlinig. Einfach Bewegung durch die verschiedenen Parameter ist nun genug, genau zu sehen, was los ist in der Schleife.
Die veränderte Schleife wiedergegeben:
[Audio-id = "6043"]
Schritt 4 - Twisting Ihre Loops
Mit dem neuen System, das Sie wirklich Twist können Sie Ihre Loops und im wahrsten Sinne zu verwandeln, wie sie klingen. Ändern von Parametern, wie Pan, Filter Frequenz und Pegel wirklich helfen, um Ihren Schleife ein neues Gefühl, aber es ist die neu zur Verfügung stehenden Parameter wie Reverse-und alternativen Wiedergabe, die wirklich etwas bewirken kann Dinge interessant.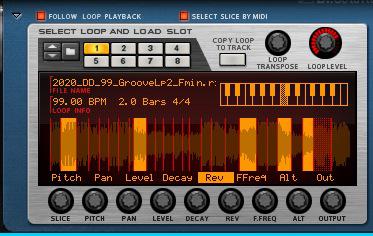 Die Schleife kann völlig verdreht werden anhand von Parametern wie Reverse
Im folgenden Beispiel habe ich eine Kombination dieser Parameter verwendet werden, um eine interessante neue Version der Schleife zu erzeugen. Hoffentlich sollte Ihnen eine gute Vorstellung davon, was möglich ist.
Die Twisted-Parameter in Aktion:
[Audio-id = "6045"]
Es gibt so viel mehr zu entdecken in Dr.OctoRex. Sie können erfahren Sie hier mehr .