With so many different distortion processors out there offering many different types of effect it's not surprising that some beginners get confused over the jargon used. Here we'll focus on producing
Con los procesadores tan diferentes distorsión fuera allí que ofrecen diferentes tipos de efectos que no es de extrañar que algunos principiantes se confunden en la jerga. Aquí nos centraremos en la producción de saturación, sólo uno de los muchos sabores de distorsión utilizados en la producción moderna. Vamos a usar la razón de Scream 4 procesador para la tarea.
Saturation is the effect produced when tape or valves are overdriven. The result is a 'soft clipping' and induces not only a perceived volume increase but a gentle, fuzzy overdrive that is often described as 'fat' or 'warm'.

Paso 1 - Cargando el Scream 4
Una vez identificado el sonido que desea procesar (en este caso un bucle de batería acústica agradable del Dr. OctoRex), tendrá que insertar el Scream 4 procesador de distorsión. El proceso es el mismo que la inserción de cualquier unidad de otros efectos y usted encontrará el grito cuidadosamente escondido entre la reverb RV7000 y el Vocoder BV512 en el menú desplegable.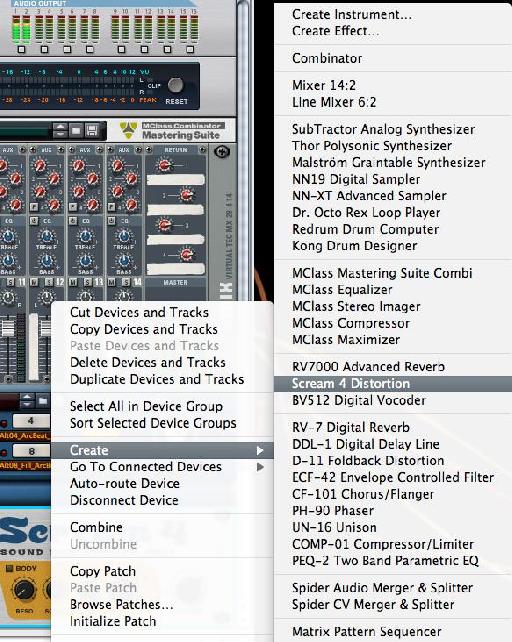 Cargando el Scream 4
Si inserta el grito justo debajo del dispositivo que desea procesar, la razón debe todo lo que la ruta automaticamente para usted. Usted puede ver este auto-enrutamiento en el proceso de continuación.
El loop de batería se procesará como vamos:
[Audio id = "5960"]
Paso 2 - Selección del modo de distorsión
Ahora toca el bucle de nuevo, pero tener cuidado aquí, ya que incluso el modo por defecto el grito se suma una gran cantidad de volumen de la señal. Muchos de los que ofrece el modo de grito son realmente extremas, pero sólo estamos interesados ​​en los modos capaz de producir efectos de saturación.
Los dos modos que usted desea utilizar son 'Tape' y 'Tube'. Estas son seleccionadas usando la perilla de modo más o directamente a través de los LEDs real al lado de cada nombre de la modalidad. Con el modo de cinta seleccionada debe empezar a escuchar algo de saturación agradable aplicado a su sonido.
En este punto, he apagado las secciones de EQ y el cuerpo del Scream 4. Creo que esto le permite escuchar el circuito de distorsión, sin ninguna interferencia. Estos efectos siempre se puede volver a activarse en una fecha posterior si es necesario.
El mando de causar daño, directa controla la cantidad de unidad de la unidad de la producción y en consecuencia la cantidad del efecto que oír. A su vez esta en el modo de cinta y se oirá el aumento de efecto de saturación.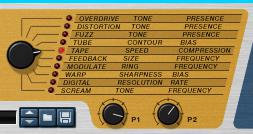 La sección de Scream 4 modos tiene un montón de opciones
Paso 3 - Ajuste fino de la configuración
Para realmente sacar el máximo provecho de los efectos en el grito que usted tiene que cavar más profundo en la configuración. Sólo hay dos de estos por el modo, por lo que no enorme curva de aprendizaje que preocuparse por aquí.
En el modo de cinta, por ejemplo, tenemos 'Speed' y las opciones de 'compresión'. La función de la velocidad en última instancia, modificar el brillo del sonido, mientras que la característica de compresión añade una compresión de cinta muy auténtico con el sonido, esto es perfecto para la batería y se puede oír en la acción siguiente.
La cinta Scream 4 sáb se aplica a la loop de batería:
[Audio id = "5961"]
...And with an alternative Tube setting:

Sediento de más razones técnicas jugosa consejos n '? Echa un vistazo a nuestros tutoriales razón .