With so many different distortion processors out there offering many different types of effect it's not surprising that some beginners get confused over the jargon used. Here we'll focus on producing
Avec autant de processeurs de distorsion différentes là -bas offrant de nombreux types d'effet, ce n'est pas surprenant que certains débutants se confondre sur le jargon utilisé. Ici nous allons nous concentrer sur la production de la saturation, que l'une des nombreuses saveurs de distorsion utilisé dans la production moderne. Nous allons utiliser Reason Scream 4 processeurs pour la tâche.
Saturation is the effect produced when tape or valves are overdriven. The result is a 'soft clipping' and induces not only a perceived volume increase but a gentle, fuzzy overdrive that is often described as 'fat' or 'warm'.

Étape 1 - Charger le Scream 4
Lorsque vous avez identifié le son que vous souhaitez traiter (dans ce cas une boucle acoustique agréable à tambour du Dr OctoRex), vous devrez insérer le processeur de distorsion Scream 4. Le processus est le même que l'insertion de toute autre unité d'effets, et vous trouverez le Cri soigneusement caché entre la réverbération RV7000 et le Vocoder BV512 dans le menu déroulant.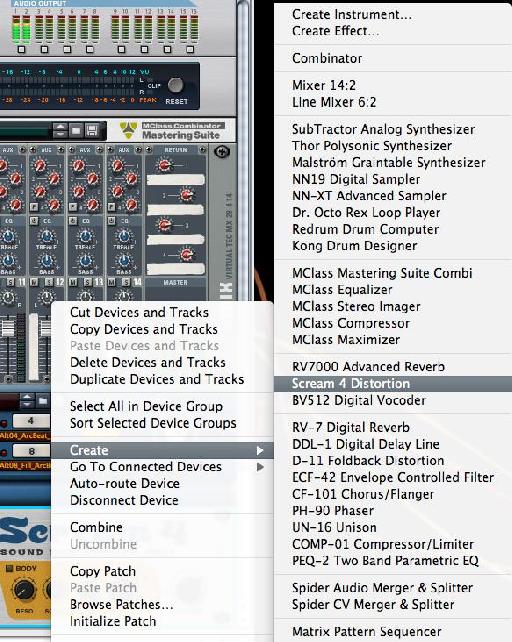 Chargement jusqu'Ã  l'Scream 4
Si vous insérez le Cri directement en dessous de l'appareil que vous souhaitez traiter, la Raison doit routent tout automagiquement pour vous. Vous pouvez voir cette auto-routage dans le processus ci-dessous.
La boucle de batterie nous traiterons comme nous allons:
[Audio id = "5960"]
Étape 2 - Choisir le mode de distorsion
Maintenant jouer votre boucle de retour mais attention, même ici en tant que mode par défaut Scream ajoute une quantité massive de volume pour le signal. Beaucoup de mode qui offre Cri sont vraiment extrême, mais nous sommes seulement intéressés par les modes capables de produire des effets de saturation.
Les deux modes, vous aurez envie d'utiliser sont «ruban» et «Tube». Ils sont sélectionnés en utilisant le bouton mode ou plus directement en utilisant les LED réelle à côté de chaque nom de mode. Avec le mode de bande sélectionné, vous devriez commencer à entendre une certaine saturation agréable appliquée à votre son.
A ce point, j'ai désactivé les sections EQ et le corps du 4 Scream. Je trouve cela vous permet d'entendre le circuit de distorsion sans aucune interférence. Ces effets peuvent toujours être tourné le dos, à une date ultérieure si nécessaire.
Le bouton de contrôle des dommages directement la quantité de disque de l'unité produit et par conséquent le montant de l'effet que vous entendez. Tournez cette place en mode ruban et vous devriez entendre l'augmentation d'effet de saturation.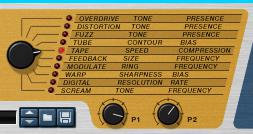 Le Cri section 4 modes dispose de nombreuses options
Étape 3 - Réglage fin des paramètres du
Pour vraiment tirer le meilleur parti des effets dans Scream, vous devez fouiller plus profond dans les réglages. Il ya seulement deux de ces mode par, donc pas de courbe d'apprentissage énormes à craindre ici.
En mode ruban adhésif par exemple, nous avons 'Speed' et 'Compression' options. La fonction Speed ​​sera finalement altérer la brillance du son tandis que la fonctionnalité de compression ajoute une compression de bande très authentique au son, c'est parfait pour la batterie et vous pouvez l'entendre en action ci-dessous.
La bande de Scream 4 sat est appliqué à la boucle de batterie:
[Audio id = "5961"]
...And with an alternative Tube setting:

Assoiffé de Raison juteuses plus techniques des conseils n '? Consultez nos tutoriels Raison .