With so many different distortion processors out there offering many different types of effect it's not surprising that some beginners get confused over the jargon used. Here we'll focus on producing
Con così tanti processori distorsione diverse là fuori che offre diversi tipi di effetti non sorprende che alcuni principianti si confondono nel gergo utilizzato. Qui ci concentreremo sulla produzione di saturazione, solo uno dei tanti sapori di distorsione utilizzati nella produzione moderna. Useremo Reason Scream 4 processori per l'attività .
Saturation is the effect produced when tape or valves are overdriven. The result is a 'soft clipping' and induces not only a perceived volume increase but a gentle, fuzzy overdrive that is often described as 'fat' or 'warm'.

Fase 1 - Caricamento il Scream 4
Una volta identificato il suono che si desidera elaborare (in questo caso un bel loop di batteria acustica dal Dott. OctoRex), sarà necessario inserire i 4 processori distorsione Scream. Il processo è lo stesso che l'inserimento di qualsiasi altra unità effetti e troverete il grido ben nascosto tra il riverbero RV7000 e il BV512 Vocoder nel menu a discesa.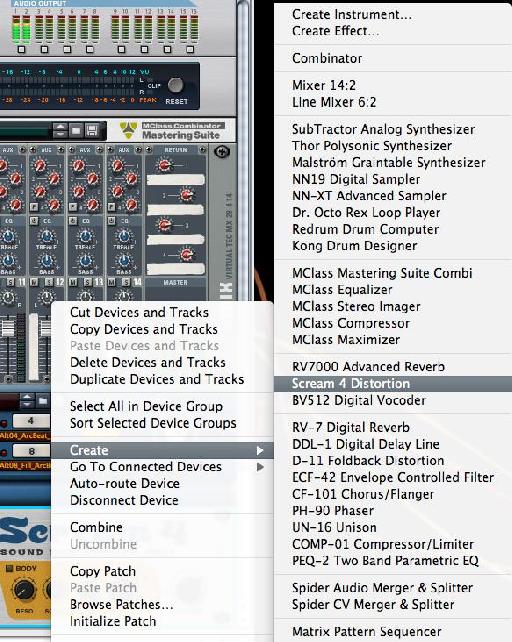 Caricamento in corso il Scream 4
Se si inserisce il grido direttamente sotto il dispositivo che si desidera elaborare, la Ragione deve tutto il percorso per voi automaticamente. Potete vedere questa auto-routing in corso di seguito.
Il loop di batteria ci sarà processo come andiamo:
[Audio id = "5960"]
Fase 2 - Scelta della modalità di distorsione
Ora riprodurre i loop back ma attenzione anche qui come modalità predefinita la urlo aggiunge una massiccia quantità di volume del segnale. Molte delle modalità che offre urlo sono davvero estreme, ma siamo interessati solo nei modi in grado di produrre effetti di saturazione.
Le due modalità si desidera utilizzare sono 'Tape' e 'Tube'. Questi vengono selezionati con la manopola modo o in modo più diretto con i LED reale accanto al nome di ogni modalità . Con la modalità nastro selezionata si dovrebbe cominciare a sentire qualche piacevole saturazione applicata al suono.
A questo punto ho spento le sezioni EQ e Corpo dei 4 Scream. Trovo che questo consente di ascoltare il circuito di distorsione senza alcuna interferenza. Questi effetti possono sempre essere riattivato in un secondo momento, se necessario.
La manopola Danni controlla direttamente la quantità di guidare l'unità produce e di conseguenza la quantità di effetto si sente. Trasformare questo in modalità nastro e si dovrebbe sentire l'effetto di aumentare la saturazione.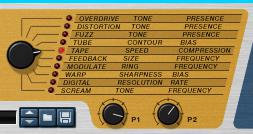 Le 4 sezioni urlo modalità ha molte opzioni
Fase 3 - Fine Tuning delle impostazioni
Per davvero ottenere il massimo degli effetti in Urlo è necessario approfondire le impostazioni. Ci sono solo due di queste modalità per, in modo che nessun grande curva di apprendimento di cui preoccuparsi qui.
Nella modalità di nastro per esempio abbiamo 'Speed' e 'compressione' opzioni. La funzione di velocità in ultima analisi, modificare la luminosità del suono, mentre la funzione di compressione aggiunge un nastro di compressione molto autentico il suono, questo è perfetto per la batteria e si può sentire in azione sotto.
Il Scream 4 nastro SAT è applicato al loop di batteria:
[Audio id = "5961"]
...And with an alternative Tube setting:

Assetato di più succosa Motivo suggerimenti n 'tecniche? Consulta le nostre esercitazioni Ragione .