During the heat of my video game industry days, I was often asked what I used to make so many Sci-Fi characters sound so authentic. To the surprise of many, I would always respond with simply, "Reason
During the heat of my video game industry days, I was often asked what I used to make so many Sci-Fi characters sound so authentic. To the surprise of many, I would always respond with simply, "Reason". And it was true! Reason from Propellerheads is a goldmine for sound design and voice processing for video games.
And, while it's true, Reason does not, in any way, provide most of the staple needs of video game development like batch converting, etc. There is a new feature that makes it much easier to speed up the production process.
In Reason 5, Propellerheads have now added the feature of a sampling input, but in doing so, they also had to add audio inputs. Ah ha! This is something they didn't have before. It's now possible to directly input audio in to the audio effects units, instruments, etc. that are within Reason!
In this tutorial, I'm going to show you how to route the audio inputs of Reason in to an FX unit, and then set up some real-time Sci-Fi FX to have some fun with!

Step 1
Go to your Reason 5 Preferences and select the Audio page.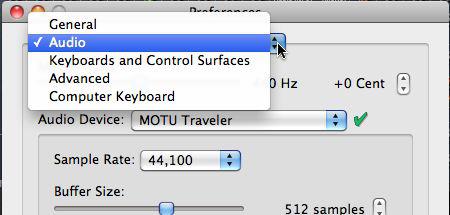 Step 2
Select the 'Active Inputs Channels' button, and choose the input on your audio interface that your microphone is hooked up to.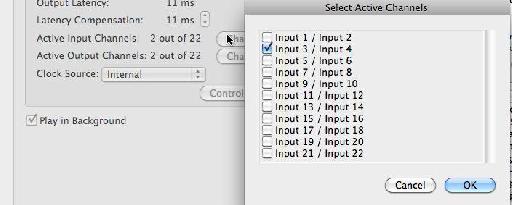 Step 3
Now, go ahead and close the preferences folder. Look at the hardware interface at the top of Reason. If you set everything up properly, you should see a signal as you talk in to your mic. Make sure you have your audio inputs up on your interface,etc. Once you have a signal, move on!

Okay, so we have the technical part out of the way in this tutorial. Now, for the fun stuff. We're going to set up a vocoder for real-time vocoding, and then run it through some FX to give it a more realistic, robotic effect. This can be particularly handy for home movies, video games, stalking people, and more!
Here's my dry voice before we begin:
Step 4
In Reason, create a Mixer 14:2. Even though we'll only really use one channel on the mixer, it's always a good idea to have one in your session, should you decide to get crazy later.

Step 5
Next up, let's go ahead and create a BV512 vocoder. While creating the BV512, make sure that you hold the Shift key while creating it. This will guarantee that the device will not auto route to something else within the Reason Rack. Once created, duplicate your settings as shown in the image below.

Step 6
Let's have a little routing fun now. Turn the Reason rack around by pressing Tab. Then route the audio input number 1 in to the Modulator Input of the BV512.


Step 7
Hold down the Shift key now, and create a Subtractor. Once created, route the output of the subtractor in to the Carrier input of the BV512.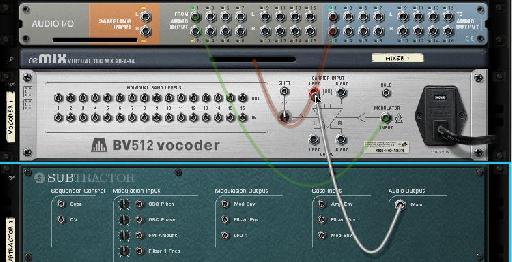 There's a little useful tip for all vocoders. Both signals have to be playing that are going in to the vocoder in order for you to hear anything coming out of the vocoder. Let me show you an easy way to take care of this.
Step 8
In the Subtractor lane of the sequencer, press Command+E and then hold down the Shift key. If you hold down the Command key, a pencil will appear where your cursor was. Draw in a region from measure 1 to measure 3. Then draw a note in on C3, from measure 1 to measure 3. See the picture. Also, set your loop points up so that you can loop your sequence from measure 1 to 3.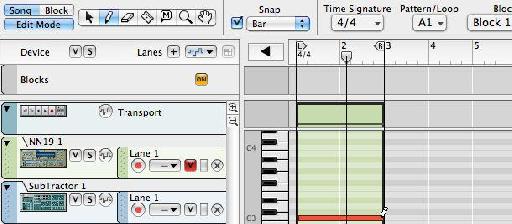 Step 9
Now, back in the rack, set the output of the BV512 vocoder in to the Mixer 14:2 channel 1 input.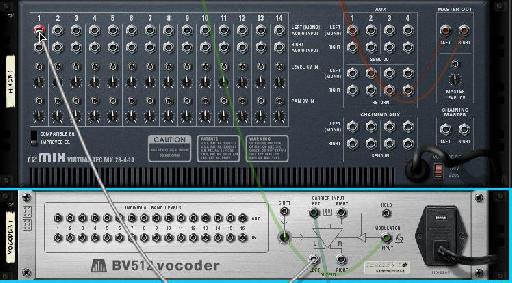 Step 10
Okay, if you hit the Space Bar on your keyboard, and start talking, you should hear a little robot going on in your voice!


Because you set up the carrier wave (the Subtractor) on a loop, you can freely hear your own voice being modulated and can live out all of your childhood fantasies... But wait, let's make the fantasy even more intense! Through the use of Reason FX, it's possible to add a little more realism to an unrealistic sound. We're going to attempt to make our robot voice sound like he's talking over a radio. And make him a little more interesting.
Step 11
First, copy my Subtractor settings, shown below. Notice: I've added in some FM synthesis, along with another OSC. FM Synthesis makes your carrier much more complex, and in some cases, a little more organic... Or, just demonic.

Step 12
Next, create another Subtractor, while holding down the Shift key. Once you create the Subtractor, copy the settings below on to the NEW Subtractor.

Step 13
Press Command+E to leave Edit mode within the sequencer below. Copy your created region in to the lane below by holding down the Option key and dragging down to the next lane.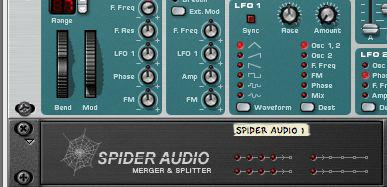 Step 14
Create a Spider Audio Merger Splitter while holding down the Shift key. Route the audio output from the BV512 in to the Spider, and also route the output of the NEW Subtractor 2 to the Spider as well.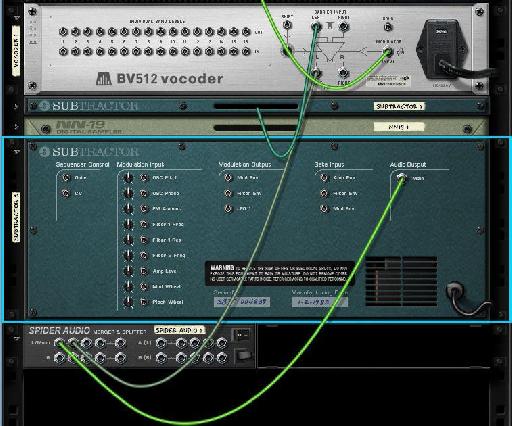 Step 15
Hold down the Shift key and create a Scream 4 and a ECF-42 filter. Route the Spider Audio output in to the Scream 4 input. Route the Scream 4 output to the Input of the ECF-42 filter.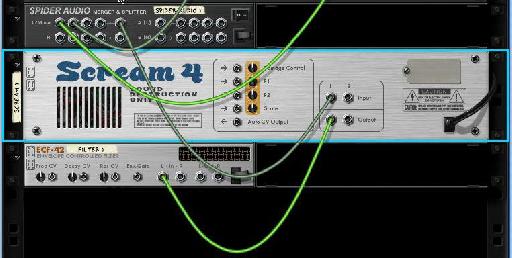 Step 16
Send the output of the Filter in to the Channel 1 input on your Mixer 14:2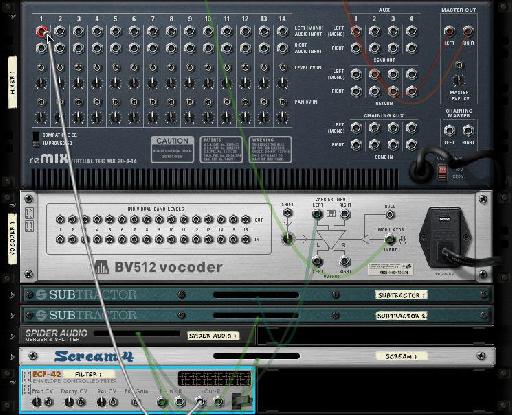 Step 17
Last, but not least! Copy the setting for Scream and the Filter as shown below!

What we've done is added a Subtractor to supply white noise that is also going in to the Scream 4, thus compressing both the white noise and the robot voice together. When you set the Scream 4 to a digital distortion, you get a very dirty, encrypted sound for the robot voice. This not only makes it a little more believable, but a little more grungy too. Not too much though.
If you have Sound Flower, or Audio Hijack, it's completely possible to start routing the audio of Reason back in to your computer, where you can talk all you want and get a nice recording. Later on, you can go back and edit the clips to your liking! Also, if you want more white noise, simply raise the master out of Subtractor 2.
Here's the end result below!
Check out this author's tutorial on Reason's Combinator.