During the heat of my video game industry days, I was often asked what I used to make so many Sci-Fi characters sound so authentic. To the surprise of many, I would always respond with simply, "Reason
Während der Hitze meiner Videospiel-Industrie Tagen wurde ich oft gefragt, was ich machen so viele Sci-Fi Charaktere klingen so authentisch eingesetzt. Zur Überraschung vieler, würde ich immer mit einfach zu reagieren, " Reason ". Und es stimmte! Reason von Propellerheads ist eine Goldgrube für Sound-Design und Sprachverarbeitung für Videospiele.
Und während es wahr ist, ist die Vernunft nicht, in keiner Weise, den Großteil der Grundnahrungsmittel Bedürfnisse der Entwicklung von Videospielen wie Batch-Konvertierung, etc. Es ist ein neues Feature, dass es viel leichter, beschleunigt den Produktionsprozess macht.
In Reason 5, haben Propellerheads nun das Merkmal einer Sampling-Eingang hinzu, aber damit hatten sie auch auf Audio-Eingänge hinzuzufügen. Ah ha! Dies ist etwas, das sie vorher nicht hatten. Es ist nun möglich, direkt Audioeingangssignal in den Audio-Effekte Einheiten, Instrumente, etc., die innerhalb Reason sind!
In this tutorial, I'm going to show you how to route the audio inputs of Reason in to an FX unit, and then set up some real-time Sci-Fi FX to have some fun with!

Schritt 1
Go to your Reason 5 Preferences and select the Audio page.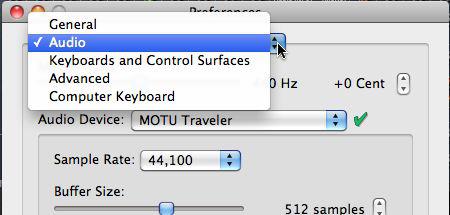 Schritt 2
Wählen Sie die 'Active Inputs Channels "-Schaltfläche, und wählen Sie den Eingang auf Ihrem Audio-Interface, dass Ihr Mikrofon ist angeschlossen.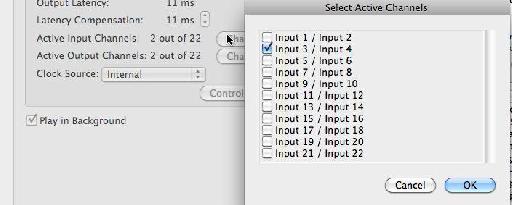 Schritt 3
Nun gehen Sie vor und schließen Sie das Preferences-Ordner. Schauen Sie sich die Hardware-Schnittstelle an der Spitze der Vernunft. Wenn Sie alles richtig eingerichtet, sollten Sie ein Signal, wie Sie in Ihrem Mikrofon zu sprechen. Vergewissern Sie sich, Ihre Audio-Eingänge bis auf das Interface, etc. Sobald Sie ein Signal, auf zu bewegen!

Okay, so haben wir den technischen Teil aus dem Weg in dieses Tutorial. Nun zum spaßigen Teil. Wir werden die Einrichtung eines Vocoder in Echtzeit Vocoder, und führen Sie es durch einige FX, um ihm einen realistischeren, Roboter-Effekt. Dies ist besonders praktisch für Filme, Videospiele, Stalking Menschen und vieles mehr!
Hier ist mein trockener Stimme, bevor wir beginnen:
[Audio-id = "1704"]
Schritt 4
In Reason, erstellen Sie einen Mixer 14:2 zu berücksichtigen. Auch wenn wir nur wirklich nutzen werde einen Kanal am Mischpult, es ist immer eine gute Idee, in Ihrer Sitzung haben, sollten Sie sich entscheiden, get crazy später.

Schritt 5
Weiter oben, lasst uns gehen Sie vor und erstellen Sie einen BV512 Vocoder. Während der Erstellung der BV512, stellen Sie sicher, dass Sie die Umschalttaste gedrückt halten, während es erzeugt. Dadurch wird gewährleistet, dass das Gerät nicht automatisch dem Weg zu etwas anderem im Reason-Rack. Einmal erstellt, duplizieren Sie Ihre Einstellungen wie im Bild unten gezeigt.

Schritt 6
Let's have a little routing fun now. Turn the Reason rack around by pressing Tab. Then route the audio input number 1 in to the Modulator Input of the BV512.


Step 7
Halten Sie die Shift-Taste jetzt, und erstellen Sie einen Subtrahierer. Einmal erstellt, Route der Ausgang des Subtrahierers in der Carrier-Eingang des BV512.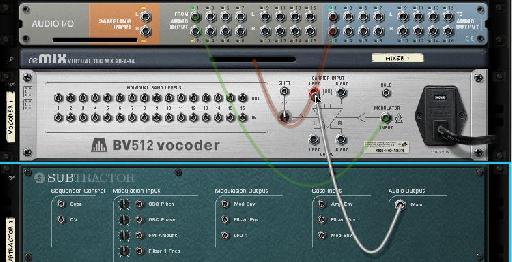 Es gibt einen kleinen Tipp für alle Vocoder. Beide Signale haben zu spielen, die in den Vocoder geht in Ordnung für Sie irgendetwas, was aus der Vocoder zu hören. Lassen Sie mich Ihnen eine einfache Möglichkeit, sich darum kümmern.
Schritt 8
In der Subtractor Spur des Sequenzers, drücken Sie Befehl E und dann bei gedrückter Umschalt-Taste. Wenn Sie die Befehlstaste gedrückt halten, wird ein Bleistift erscheinen, wo Sie den Cursor wurde. Zeichnen Sie in einem Bereich von Maß 1 bis 3 zu messen. Dann ziehen Sie eine Notiz in über C3, von Takt 1 bis 3 zu messen. Siehe das Bild. Auch, stellen Sie Ihren Loop-Punkte so einrichten, dass Sie Ihren Loop-Sequenz aus messen 1 bis 3.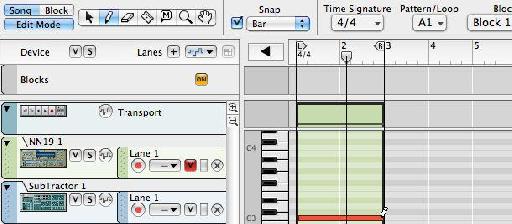 Schritt 9
Nun, zurück in das Rack, setzen Sie den Ausgang des BV512 Vocoder in den Mixer 14.02 Kanal 1 Eingang.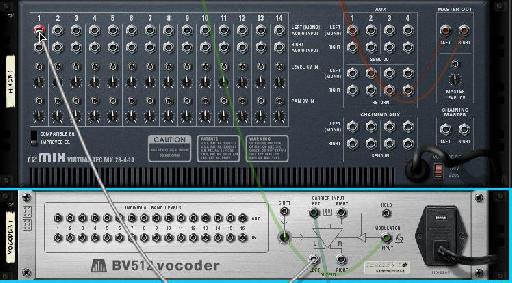 Schritt 10
Okay, if you hit the Space Bar on your keyboard, and start talking, you should hear a little robot going on in your voice!


Because you set up the carrier wave (the Subtractor) on a loop, you can freely hear your own voice being modulated and can live out all of your childhood fantasies... But wait, let's make the fantasy even more intense! Through the use of Reason FX, it's possible to add a little more realism to an unrealistic sound. We're going to attempt to make our robot voice sound like he's talking over a radio. And make him a little more interesting.
[Audio-id = "1712"]
Schritt 11
Kopieren Sie zuerst meine Subtractor Einstellungen, wie unten dargestellt. Hinweis: Ich habe in einigen FM Synthese zugegeben, zusammen mit einem anderen OSC. FM-Synthese macht den Träger sehr viel komplexer, und in einigen Fällen ein wenig mehr organische ... Oder nur dämonisch.

Schritt 12
Als nächstes erstellen Sie einen anderen Subtractor, bei gedrückter Shift-Taste. Sobald Sie den Subtrahierer, kopieren Sie die folgenden Einstellungen an den neuen Subtractor.

Schritt 13
Drücken Sie Befehlstaste E den Edit-Modus in den Sequenzer unten verlassen. Kopieren Sie erstellt Region in der Spur unten, indem Sie die Wahltaste gedrückt und ziehen auf die nächste Spur.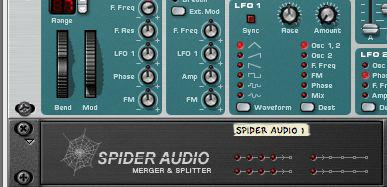 Schritt 14
Create a Spider Audio Merger Splitter mit gedrückter Shift-Taste. Verlegen Sie die Audioausgabe aus dem BV512 in den Spider, und auch Route der Ausgabe des NEW Subtractor 2, um die Spinne auch.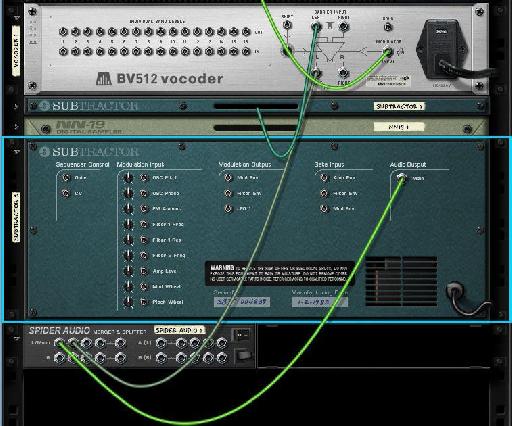 Schritt 15
Halten Sie die Umschalttaste gedrückt und erstellen Sie einen Scream 4 und einer ECF-42-Filter. Route der Spider Audio-Ausgang in den Scream 4-Eingang. Verlegen Sie die Scream 4 Ausgang an den Eingang des ECF-42-Filter.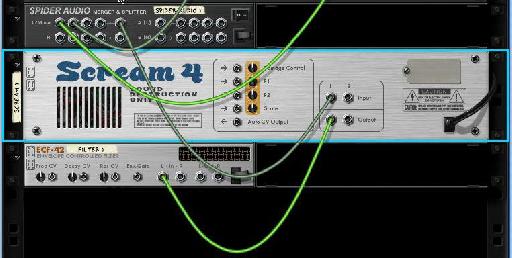 Schritt 16
Senden Sie die Ausgabe der Filter in den Eingang von Kanal 1 auf Ihrem Mixer 14.02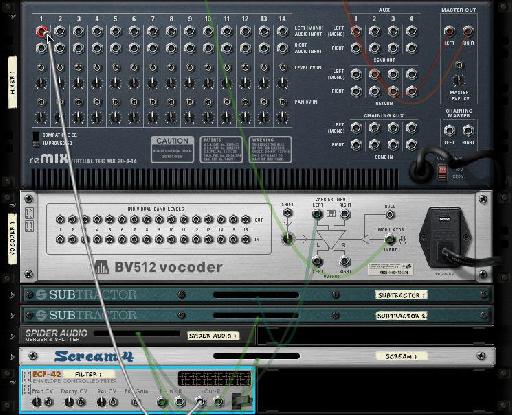 Schritt 17
Last, but not least! Kopieren Sie die Einstellung für Scream und die Filter wie unten dargestellt!

Was wir getan haben, ist ein Subtrahierer auf weißes Rauschen, das auch gehen in den Scream 4, also komprimiert sowohl das weiße Rauschen und der Roboter Stimme zusammen Versorgung aufgenommen. Wenn Sie den Scream 4 gesetzt, um eine digitale Verzerrung, erhalten Sie eine sehr schmutzig, verschlüsselte Sound für den Roboter Stimme. Dies macht es nicht nur ein wenig mehr glaubwürdig, aber ein wenig mehr grungy zu. Nicht zu viel aber.
Wenn Sie Sound-Blume, oder Audio Hijack haben, ist es durchaus möglich, zu beginnen Routing der Audio-of Reason zurück in den Computer, wo Sie alles, was Sie wollen, sprechen können und sich eine schöne Aufnahme. Später können Sie zurückgehen und die Clips nach Ihren Wünschen! Auch, wenn Sie mehr weißes Rauschen will, hebt man einfach den Master aus Subtractor 2.
Hier ist das Endergebnis unten!
[Audio-id = "1720"]
Check out this Autors Tutorial auf Grund der Combinator .