Diseño de sonido-Tutorial: Creación de Sci-Fi Robot sonidos en tiempo real en la Razón 5
During the heat of my video game industry days, I was often asked what I used to make so many Sci-Fi characters sound so authentic. To the surprise of many, I would always respond with simply, "Reason
Durante el calor de mis días industria de los videojuegos, muchos me preguntaron lo que yo solía hacer tantos personajes de ciencia ficción de sonido tan auténtico. Para sorpresa de muchos, yo siempre respondía con pocas palabras, " la razón ". Y era cierto! Razón de Propellerheads es una mina de oro para el diseño de sonido y procesamiento de voz para los juegos de video.
Y, si bien es cierto, la razón no lo hace, de alguna manera, proporcionan la mayor parte de las necesidades básica de desarrollo de videojuegos como la conversión por lotes, etc Hay una nueva característica que hace que sea mucho más fácil para acelerar el proceso de producción.
En Razón 5, Propellerheads han añadido la función de un muestreo de entrada, pero al hacerlo, también había que añadir las entradas de audio. ¡Ajá! Esto es algo que no tenía antes. Ahora es posible la entrada de audio directamente en las unidades de efectos de audio, instrumentos, etc que están dentro de la razón!
In this tutorial, I'm going to show you how to route the audio inputs of Reason in to an FX unit, and then set up some real-time Sci-Fi FX to have some fun with!

Paso 1
Go to your Reason 5 Preferences and select the Audio page.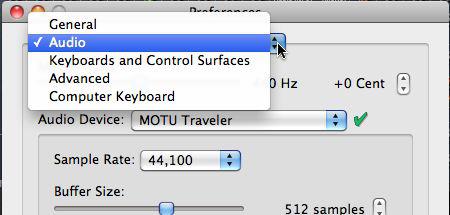 Paso 2
Seleccione el botón "canales de entrada activa, y elegir la entrada de la interfaz de audio que el micrófono esté conectado a.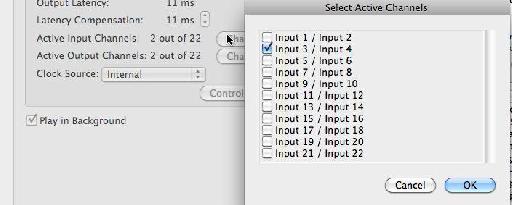 Paso 3
Ahora, seguir adelante y cerrar la carpeta de preferencias. Vistazo a la interfaz de hardware en la parte superior de la razón. Si configurar todo correctamente, usted debe ver una señal de que usted habla en su micrófono. Asegúrese de que tiene sus entradas de audio para arriba en su interfaz, etc Una vez que haya una señal, adelante!

Muy bien, así que tenemos la parte técnica de la forma en este tutorial. Ahora, para la diversión. Vamos a establecer un vocoder en tiempo real de vocoder, y luego ejecutarlo a través de algunos FX para darle una visión más realista, el efecto robótico. Esto puede ser especialmente útil para las películas caseras, juegos de video, la gente acecho, y mucho más!
Aquí está mi voz seca antes de empezar:
[Audio id = "1704"]
Paso 4
En la Razón, crear un mezclador 14:02. A pesar de que sólo vamos a utilizar realmente un canal en el mezclador, es siempre una buena idea tener uno en su período de sesiones, decide volverse locos después.

Paso 5
Lo siguiente, vamos a seguir adelante y crear un vocoder BV512. Mientras que la creación de la BV512, asegúrese de que usted mantenga presionada la tecla Shift mientras se está creando. Esto garantiza que el dispositivo no se auto ruta a otra cosa en el rack de Reason. Una vez creada, duplicar la configuración como se muestra en la imagen de abajo.

Paso 6
Let's have a little routing fun now. Turn the Reason rack around by pressing Tab. Then route the audio input number 1 in to the Modulator Input of the BV512.


Paso 7
Mantenga presionada la tecla Shift ahora, y crear un restador. Una vez creada, la ruta de salida del restador en la entrada de portadora de la BV512.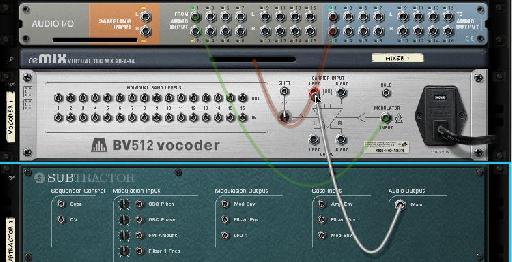 Hay un pequeño truco útil para todos los vocoders. Ambas señales tienen que ser de juego que van en el vocoder con el fin de que escuchen cualquier cosa que sale del vocoder. Te voy a enseñar una manera fácil de hacerse cargo de esto.
Paso 8
En el carril Subtractor del secuenciador, E pulse Comando y mantenga presionada la tecla Mayúsculas. Si se mantiene pulsada la tecla Comando, un lápiz aparecerá donde el cursor estaba. Dibuja en una región de la medida 1 para medir 3. A continuación, dibuje una nota en el C3, a partir de la medida 1 para medir 3. Ver la imagen. También, establecer sus puntos de bucle de modo que puede recorrer la secuencia de la medida 1 a 3.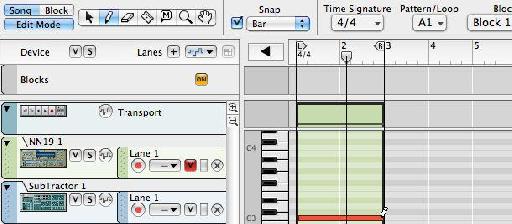 Paso 9
Ahora, de vuelta en el estante, ajuste la salida del vocoder BV512 en el canal mezclador 14:02 1 entrada.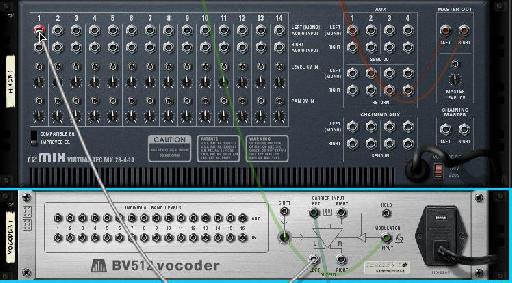 Paso 10
Okay, if you hit the Space Bar on your keyboard, and start talking, you should hear a little robot going on in your voice!


Because you set up the carrier wave (the Subtractor) on a loop, you can freely hear your own voice being modulated and can live out all of your childhood fantasies... But wait, let's make the fantasy even more intense! Through the use of Reason FX, it's possible to add a little more realism to an unrealistic sound. We're going to attempt to make our robot voice sound like he's talking over a radio. And make him a little more interesting.
[Audio id = "1712"]
Paso 11
En primer lugar, copiar la configuración de mi Subtractor, se muestra a continuación. Aviso: He añadido en una síntesis FM, junto con otra OSC. Síntesis FM hace su compañía mucho más complejo, y en algunos casos, ... un poco más orgánico O, simplemente, demoníaca.

Paso 12
A continuación, crear otro Subtractor, mientras se mantiene pulsada la tecla Mayús. Una vez creado el Subtractor, copia la siguiente configuración en el Subtractor NUEVO.

Paso 13
Pulse Comando E para salir del modo Editar en el secuenciador de abajo. Copia de su región creado en el carril de abajo, mantenga pulsada la tecla Opción y arrastrando hacia abajo en el carril de al lado.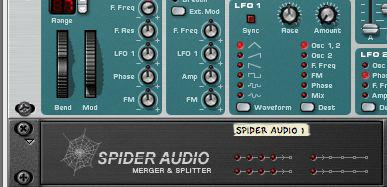 Paso 14
Crear un Audio Splitter concentraciones araña mientras se mantiene pulsada la tecla Mayús. Ruta de la salida de audio de la BV512 para la araña, y también la ruta de salida del sustractor NUEVA 2 a la araña también.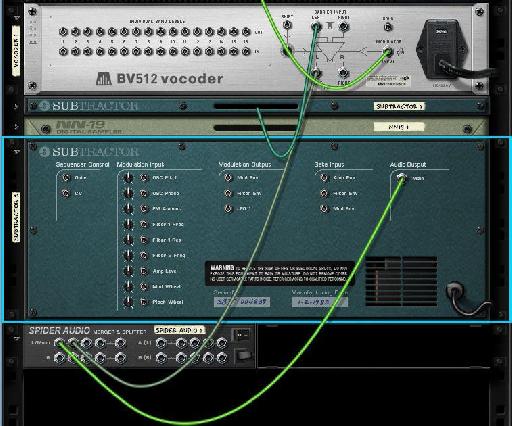 Paso 15
Mantenga presionada la tecla Mayús y crear un Scream 4 y un filtro de ECF-42. Ruta de la araña de salida de audio en la entrada de Scream 4. Ruta de los Scream 4 de salida a la entrada del filtro ECF-42.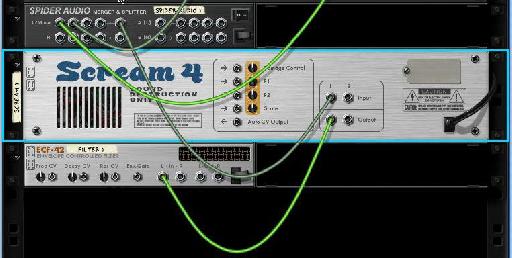 Paso 16
Enviar la salida del filtro en la entrada del canal 1 en el mezclador 14:02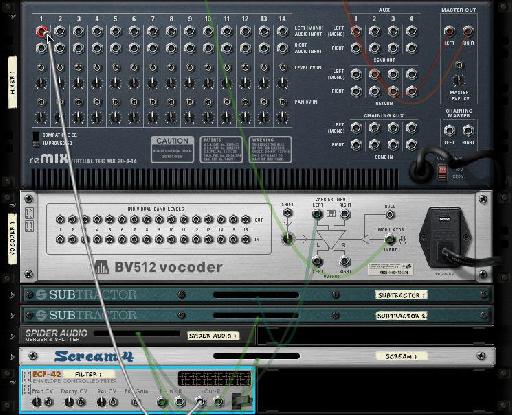 Paso 17
Por último, pero no menos importante! Copia de la configuración para Scream y el filtro como se muestra a continuación!

Lo que hemos hecho se añade un restador de suministro de ruido blanco que también va en el Scream 4, por lo que comprimir tanto el ruido blanco y la voz de robot juntos. Cuando se establece el Scream 4 a una distorsión digital, se obtiene una muy sucio, el sonido codificado por la voz de robot. Esto no sólo hace que sea un poco más creíble, pero también un poco más sucio. No demasiado bien.
Si usted tiene la flor de sonido o Audio Hijack, que es completamente posible empezar a encaminar el audio de la razón de nuevo a su equipo, donde se puede hablar todo lo que quieras y guardar un bonito recuerdo. Más tarde, puede volver atrás y editar los clips de su agrado! Además, si quieres más ruido blanco, simplemente levante el maestro de Subtractor 2.
Aquí está el resultado final de abajo!
[Audio id = "1720"]
Echa un vistazo a este tutorial autor en Combinator de Reason .