Sound-design Tutoriel: Création d'Sci-Fi Robot sons en temps réel dans Reason 5
During the heat of my video game industry days, I was often asked what I used to make so many Sci-Fi characters sound so authentic. To the surprise of many, I would always respond with simply, "Reason
Pendant la chaleur de mes jours de l'industrie du jeu vidéo, on m'a souvent demandé ce que j'ai utilisé pour faire tant de Sci-Fi personnages sonores tellement authentique. À la surprise de beaucoup, je serais toujours répondre avec tout simplement, « Raison ». Et c'était vrai! Raison de Propellerheads est une mine d'or pour la conception sonore et traitement de la voix pour les jeux vidéo.
Et, même s'il est vrai, la raison n'a pas, en aucune façon, fournissent la plupart des besoins de base de développement de jeux vidéo comme la conversion par lots, etc Il ya une nouvelle fonctionnalité qui le rend beaucoup plus facile pour accélérer le processus de production.
En raison 5, Propellerheads ont maintenant ajouté la fonction d'une entrée d'échantillonnage, mais en faisant cela, ils avaient également d'ajouter des entrées audio. Ah ha! C'est quelque chose qu'ils n'avaient pas avant. Il est maintenant possible de l'entrée audio directement dans les unités des effets audio, instruments, etc qui sont dans la Raison!
In this tutorial, I'm going to show you how to route the audio inputs of Reason in to an FX unit, and then set up some real-time Sci-Fi FX to have some fun with!

Etape 1
Go to your Reason 5 Preferences and select the Audio page.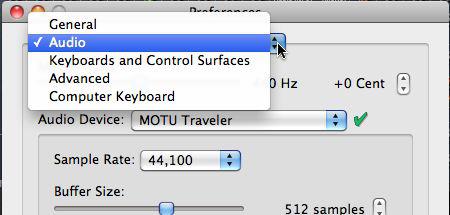 Etape 2
Sélectionnez le bouton "Active Channels Entrées" et choisissez l'entrée de votre interface audio que votre microphone est branché à .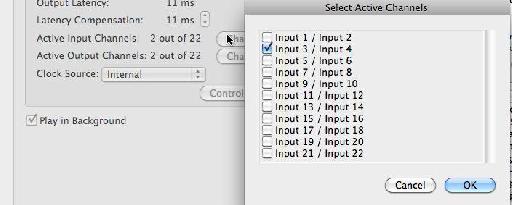 Étape 3
Maintenant, allez-y et fermer le dossier des préférences. Regardez l'interface matérielle dans la partie supérieure de la Raison. Si vous tout mis en place correctement, vous devriez voir un signal que vous parlez à votre micro. Assurez-vous que vous avez vos entrées audio sur votre interface, etc Une fois que vous avez un signal, bouger!

Ok, nous avons donc la partie technique de la route dans ce tutoriel. Maintenant, pour le fun stuff. Nous allons mettre en place un vocoder en temps réel vocoder, et ensuite passer en revue certains FX pour lui donner une apparence plus réaliste, un effet robotique. Ceci peut être particulièrement pratique pour les films, jeux vidéo, les gens traque, et plus encore!
Voici ma voix sèche avant de commencer:
[Audio id = "1704"]
Etape 4
Dans Reason, créez un mélangeur 14h02. Même si nous ne vraiment utiliser un canal sur la console, c'est toujours une bonne idée d'avoir un dans votre session, si vous décidez de devenir fou plus tard.

Etape 5
Suivant en place, nous allons aller de l'avant et de créer un vocodeur BV512. Lors de la création du BV512, assurez-vous que vous maintenez la touche Maj tout en le créant. Cela permettra de garantir que l'appareil ne sera pas la route automatique à autre chose dans le rack Reason. Une fois créée, dupliquez vos paramètres comme indiqué dans l'image ci-dessous.

Etape 6
Let's have a little routing fun now. Turn the Reason rack around by pressing Tab. Then route the audio input number 1 in to the Modulator Input of the BV512.


Etape 7
Maintenez enfoncée la touche Maj maintenant, et de créer un soustracteur. Une fois créée, la voie de la sortie du soustracteur à l'entrée dans le Transporteur de l'BV512.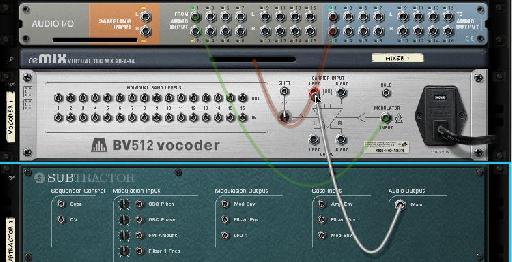 Il ya une petite astuce utile pour tous les vocodeurs. Les deux signaux doivent être jouer qui vont dans le vocodeur pour vous faire entendre tout ce qui venait du vocoder. Laissez-moi vous montrer un moyen facile de prendre soin de cela.
Étape 8
Dans la ruelle Subtractor du séquenceur, appuyez sur Commande E puis maintenez la touche Maj enfoncée. Si vous maintenez la touche Commande enfoncée, un crayon apparaîtra où votre curseur est. Dessiner dans une région de la mesure 1 à la mesure 3. Dessinez ensuite une note dans le C3, à partir de la mesure 1 pour mesurer 3. Voir l'image. Aussi, définissez vos points de la boucle de sorte que vous pouvez faire une boucle de votre séquence de mesure de 1 à 3.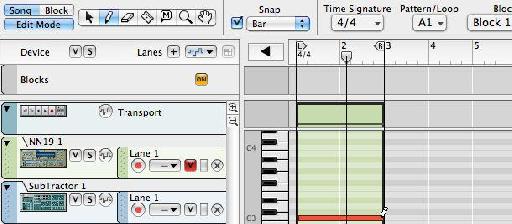 Etape 9
Maintenant, de retour dans le rack, réglez la sortie du vocodeur BV512 dans le Mélangeur de couches 14:02 1 entrée.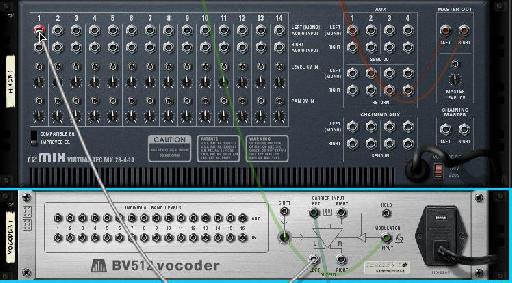 Etape 10
Okay, if you hit the Space Bar on your keyboard, and start talking, you should hear a little robot going on in your voice!


Because you set up the carrier wave (the Subtractor) on a loop, you can freely hear your own voice being modulated and can live out all of your childhood fantasies... But wait, let's make the fantasy even more intense! Through the use of Reason FX, it's possible to add a little more realism to an unrealistic sound. We're going to attempt to make our robot voice sound like he's talking over a radio. And make him a little more interesting.
[Audio id = "1712"]
Etape 11
D'abord, copiez les paramètres de mon Subtractor, illustré ci-dessous. Avis: J'ai ajouté dans certains synthèse FM, avec un autre de la CVMO. Synthèse FM rend votre transporteur beaucoup plus complexe, et dans certains cas, un peu plus bio ... Ou, simplement démoniaque.

Etape 12
Ensuite, créez une autre Subtractor, tout en maintenant enfoncée la touche Maj. Une fois que vous créez le Subtractor, copier les paramètres ci-dessous sur le Subtractor NOUVEAU.

Etape 13
Commande Appuyez sur E pour quitter le mode Edition dans le séquenceur ci-dessous. Copiez votre région créée en-dessous de la voie en maintenant enfoncée la touche Option enfoncée et faites glisser le bas de la ruelle à côté.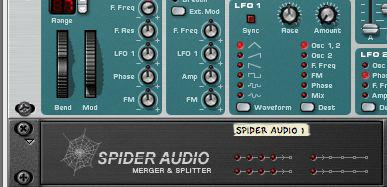 Etape 14
Créer un Splitter Audio Merger araignée tout en maintenant enfoncée la touche Maj. Route de la sortie audio du BV512 pour l'araignée, et aussi la route de la sortie du soustracteur NOUVEAU 2 à l'araignée aussi.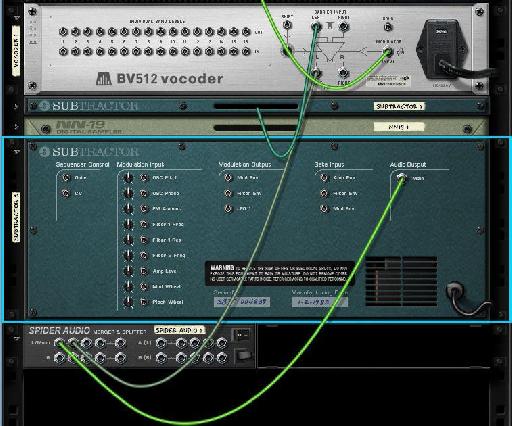 Etape 15
Maintenez enfoncée la touche Maj et créer un Scream 4 et A-42 ECF filtre. Route de la sortie audio à l'araignée dans Scream 4 entrées. Route du Scream 4 sortie à l'entrée du filtre ECF-42.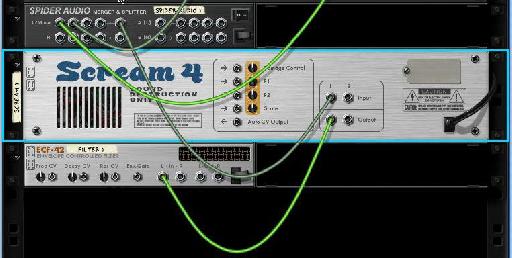 Etape 16
Envoyer la sortie du filtre pour l'entrée du canal 1 de votre mixeur 14:02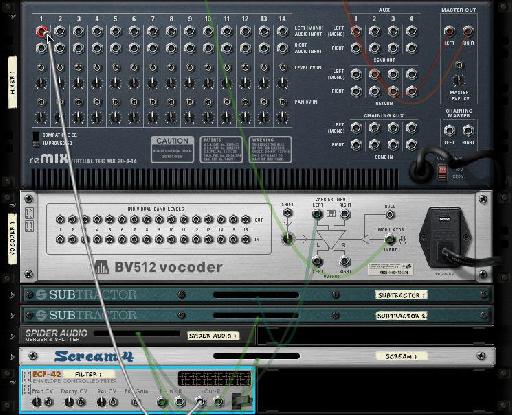 Etape 17
Dernière, mais non des moindres! Copiez le réglage de Scream et le filtre comme indiqué ci-dessous!

Qu'est-ce que nous avons fait est ajouté un soustracteur pour fournir un bruit blanc qui va également dans le Scream 4, comprimant ainsi la fois le bruit blanc et les voix de robot ensemble. Lorsque vous réglez le Scream 4 à une distorsion numérique, vous obtenez un très sale, le son crypté pour la voix de robot. Ce n'est pas seulement le rend un peu plus crédible, mais un peu plus crasseux aussi. Pas trop bien.
Si vous avez des fleurs sonore, ou Audio Hijack, il est tout à fait possible de commencer le routage de l'audio de la Raison de retour dans votre ordinateur, où vous pouvez parler autant que vous voulez et d'obtenir un enregistrement Nice. Plus tard, vous pouvez revenir en arrière et modifier des clips à votre goût! Aussi, si vous voulez plus de bruit blanc, simplement augmenter le maître de Subtractor 2.
Voici le résultat final ci-dessous!
[Audio id = "1720"]
Départ tutoriel cet auteur sur Combinator de Reason .