Suono-Design Esercitazione: Creazione di Fantascienza Robot suoni in tempo reale in Motivo 5
During the heat of my video game industry days, I was often asked what I used to make so many Sci-Fi characters sound so authentic. To the surprise of many, I would always respond with simply, "Reason
Durante il calore dei miei giorni videogiochi del settore, sono stato spesso chiesto che cosa ho usato per fare così tanti Fantascienza caratteri suono così autentico. Con sorpresa di molti, vorrei sempre rispondere con semplicità , " Reason ". Ed era vero! Ragione dalla Propellerheads è una miniera d'oro per il design del suono e di elaborazione vocale per videogiochi.
E, mentre è vero, la ragione non lo fa, in alcun modo, fornire la maggior parte delle esigenze di base di sviluppo di videogiochi come la conversione batch, ecc C'è una nuova funzionalità che rende molto più facile per accelerare il processo di produzione.
In Motivo 5, Propellerheads hanno aggiunto la funzione di un ingresso di campionamento, ma in questo modo, hanno anche dovuto aggiungere ingressi audio. Ah ah! Questo è qualcosa che prima non aveva. E 'ora possibile direttamente l'audio in ingresso alle unità di effetti audio, strumenti, ecc che sono in Reason!
In this tutorial, I'm going to show you how to route the audio inputs of Reason in to an FX unit, and then set up some real-time Sci-Fi FX to have some fun with!

Fase 1
Go to your Reason 5 Preferences and select the Audio page.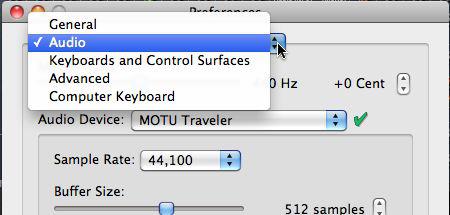 Fase 2
Selezionare il pulsante 'Canali attivi ingressi', e scegliere l'ingresso sulla vostra interfaccia audio che il microfono è collegato ad.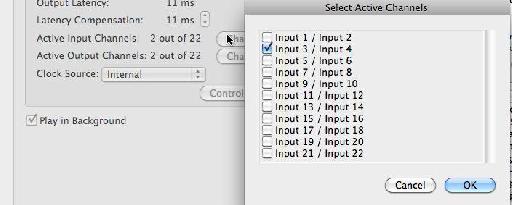 Fase 3
Ora, andare avanti e chiudere la cartella preferenze. Guarda l'interfaccia hardware in cima alla Ragione. Se si imposta tutto correttamente, si dovrebbe vedere un segnale di come parli al tuo microfono. Assicuratevi di avere gli ingressi audio sul vostro interfaccia, ecc Una volta che hai un segnale, andare avanti!

Okay, allora abbiamo la parte tecnica di mezzo in questo tutorial. Ora, per le cose divertenti. Stiamo andando a creare un vocoder in tempo reale vocoder, e quindi eseguirlo attraverso alcuni FX per dare un più realistico, effetto robotico. Questo può essere particolarmente utile per i filmati amatoriali, video giochi, le persone stalking, e molto altro ancora!
Ecco la mia voce asciutta prima di iniziare:
[Audio id = "1704"]
Fase 4
In Reason, creare un mixer 14:02. Anche se ci sarà veramente solo usare un canale del mixer, è sempre una buona idea avere uno nella sessione, se dovessi decidere di impazzire più tardi.

Fase 5
Next up, andiamo avanti e creare un vocoder BV512. Durante la creazione del BV512, assicurarsi di tenere premuto il tasto Shift durante la sua creazione. Questo garantirà che il dispositivo non indirizzerà automaticamente a qualcosa d'altro all'interno del rack Reason. Una volta creato, duplicare le impostazioni come mostrato nell'immagine qui sotto.

Fase 6
Let's have a little routing fun now. Turn the Reason rack around by pressing Tab. Then route the audio input number 1 in to the Modulator Input of the BV512.


Fase 7
Tenere premuto il tasto Shift ora, e creare un Subtractor. Una volta creato, il percorso di uscita del sottrattore nel all'ingresso portante del BV512.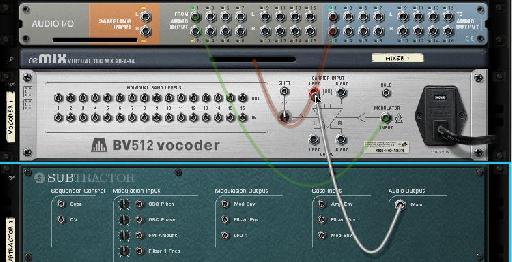 C'è un piccolo consiglio utile per tutti vocoder. Entrambi i segnali devono essere gioco che stanno andando per il vocoder in modo per voi di sentire qualcosa che esce dal vocoder. Lascia che ti mostri un modo semplice per prendersi cura di questo.
Passo 8
Nella corsia Subtractor del sequencer, E Comando premere e tenere premuto il tasto Maiusc. Se si tiene premuto il tasto Comando, una matita comparirà in cui il cursore è stato. Disegnare in una regione dalla misura 1 alla misura 3. Quindi disegnare una nota in su C3, dalla misura 1 alla misura 3. Vedere l'immagine. Inoltre, impostare il proprio punti di loop in modo che è possibile iniziare la sequenza di misura da 1 a 3.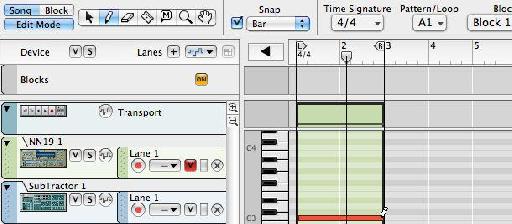 Passo 9
Ora, tornando nel rack, impostare l'uscita del vocoder BV512 per Mixer canale 14:02 1 ingresso.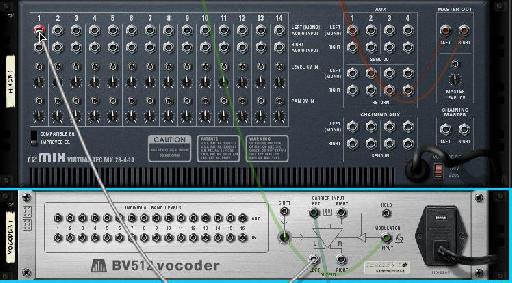 Passo 10
Okay, if you hit the Space Bar on your keyboard, and start talking, you should hear a little robot going on in your voice!


Because you set up the carrier wave (the Subtractor) on a loop, you can freely hear your own voice being modulated and can live out all of your childhood fantasies... But wait, let's make the fantasy even more intense! Through the use of Reason FX, it's possible to add a little more realism to an unrealistic sound. We're going to attempt to make our robot voice sound like he's talking over a radio. And make him a little more interesting.
[Audio id = "1712"]
Passo 11
In primo luogo, copiare le mie impostazioni Subtractor, mostrato di seguito. Avviso: Ho aggiunto in alcune sintesi FM, insieme ad un altro OSC. Sintesi FM rende il vostro vettore molto più complessa, e in alcuni casi, un po 'più organico ... Oppure, demoniaca.

Passo 12
Successivamente, creare un altro Subtractor, tenendo premuto il tasto Shift. Una volta creato il Subtractor, copiare le impostazioni sotto al Subtractor NUOVO.

Passo 13
Comando Premere E per uscire dalla modalità Edit all'interno del sequencer di seguito. Copia vostra regione creata sulla corsia sottostante tenendo premuto il tasto Opzione e trascinando verso il basso sulla corsia successiva.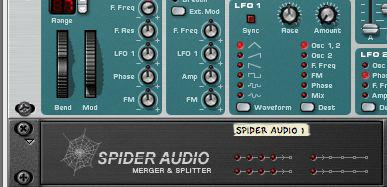 Passo 14
Creare un Audio Splitter Spider Fusione tenendo premuto il tasto Shift. Rotta l'uscita audio dal BV512 per la Spider, e anche il percorso di uscita del sottrattore NEW 2 al Ragno pure.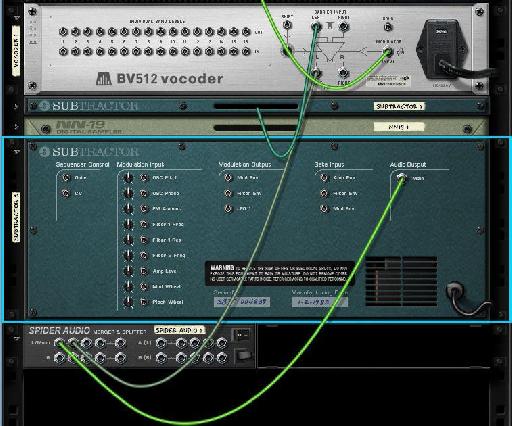 Passo 15
Tenere premuto il tasto Shift e creare un Scream 4-42 e un filtro ECF. Rotta l'uscita audio in Spider all'ingresso Scream 4. Scream Route 4 output per l'ingresso del ECF-42 filtro.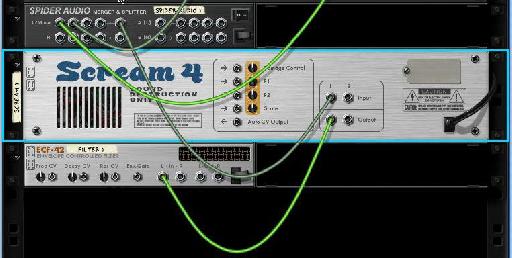 Passo 16
Inviare l'output del filtro in ingresso al canale 1 del Mixer 14:02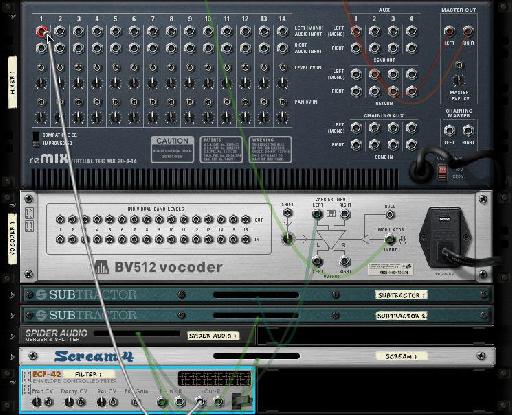 Passo 17
Ultimo, ma non meno importante! Copiare l'impostazione per Scream e il filtro, come mostrato qui sotto!

Quello che abbiamo fatto è aggiunto un sottrattore per la fornitura di rumore bianco che è anche andando a Scream 4, in modo da comprimere sia il rumore bianco e la voce del robot insieme. Quando si imposta il Scream 4 ad una distorsione digitale, si ottiene un molto sporca, il suono codificato per la voce del robot. Questo non solo rende un po 'più credibile, ma grungy un po' più troppo. Non troppo però.
Se si dispone di Fiore del suono, o Audio Hijack, è completamente possibile avviare il routing l'audio della Ragione di nuovo al computer, dove si può parlare quanto vuoi e una bella registrazione. In seguito, è possibile tornare indietro e modificare i clip di vostro gradimento! Inoltre, se si vuole più rumore bianco, è sufficiente sollevare il maestro di Subtractor 2.
Ecco il risultato finale qui sotto!
[Audio id = "1720"]
Check out tutorial di questo autore su Combinator di Reason .