During the heat of my video game industry days, I was often asked what I used to make so many Sci-Fi characters sound so authentic. To the surprise of many, I would always respond with simply, "Reason
Durante o calor do meu vídeo dias indústria do jogo, fui muitas vezes perguntou o que eu costumava fazer tantos Sci-Fi personagens soa tão autêntico. Para a surpresa de muitos, eu sempre responder com simplicidade: " Reason ". E era verdade! Razão de Propellerheads é uma mina de ouro para design de som e processamento de voz para jogos de vídeo.
E, embora seja verdade, a Razão não, de qualquer forma, fornecem a maior parte das necessidades grampo de desenvolvimento de jogos de vídeo como converter em lote, etc Há um novo recurso que torna muito mais fácil para acelerar o processo de produção.
No Reason 5, Propellerheads já adicionou o recurso de uma entrada de amostragem, mas ao fazê-lo, eles também tiveram de adicionar entradas de áudio. Ah ha! Isso é algo que não tinha antes. É agora possível entrada de áudio diretamente para as unidades de efeitos de áudio, instrumentos, etc, que estão dentro da razão!
In this tutorial, I'm going to show you how to route the audio inputs of Reason in to an FX unit, and then set up some real-time Sci-Fi FX to have some fun with!

Passo 1
Go to your Reason 5 Preferences and select the Audio page.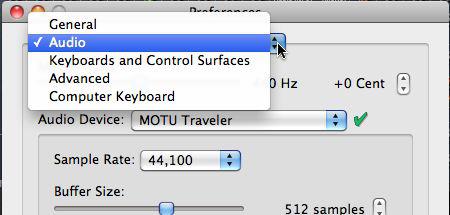 Passo 2
Clique no botão "Channels atividade Entradas ', e escolher a entrada em sua interface de áudio que seu microfone está ligado a.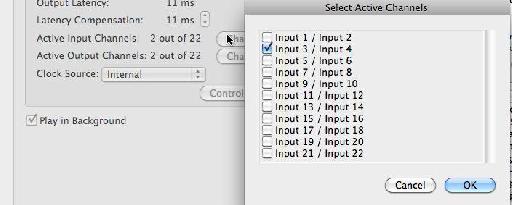 Passo 3
Agora, vá em frente e fechar a pasta de preferências. Olhe para a interface de hardware no topo da Razão. Se você configurar tudo corretamente, você deve ver um sinal de como você fala no seu microfone. Certifique-se que suas entradas de áudio acima em sua interface, etc Assim que tiver um sinal, seguir em frente!

Ok, então temos a parte técnica do caminho neste tutorial. Agora, para a diversão. Nós vamos criar um vocoder em tempo real vocoding, e depois executá-lo através de algumas FX para lhe dar um efeito mais realista, robótica. Isto pode ser particularmente útil para filmes caseiros, jogos de vídeo, as pessoas stalking, e muito mais!
Aqui está a minha voz seca antes de começar:
[Audio id = "1704"]
Passo 4
No Reason, criar um 14:02 Mixer. Mesmo que só vai realmente usar um canal no mixer, é sempre uma boa idéia ter um em sua sessão, se você decidir ficar louco depois.

Passo 5
Next up, vamos em frente e criar um vocoder BV512. Ao criar o BV512, certifique-se que você segure a tecla Shift enquanto cria-lo. Isso irá garantir que o dispositivo não auto rota para outra coisa dentro do rack Reason. Uma vez criada, duplicar as configurações como mostrado na imagem abaixo.

Passo 6
Let's have a little routing fun now. Turn the Reason rack around by pressing Tab. Then route the audio input number 1 in to the Modulator Input of the BV512.


Passo 7
Mantenha pressionada a tecla Shift agora, e criar um subtrator. Uma vez criada, a rota de saída do subtrator para a entrada do portador BV512.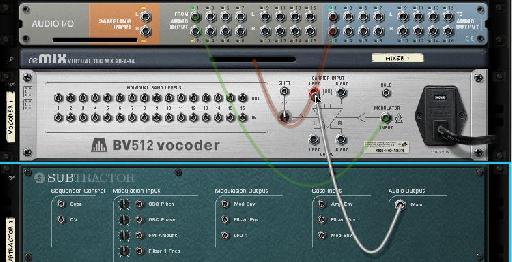 Há uma pequena dica útil para todos os vocoders. Ambos os sinais têm de estar jogando que estão indo para o vocoder para que você ouvir qualquer coisa que sai do vocoder. Deixe-me mostrar-lhe uma maneira fácil de cuidar do presente.
Passo 8
Na pista Subtractor do sequenciador, E pressione Command e mantenha pressionada a tecla Shift. Se você mantenha pressionada a tecla Command, um lápis aparecerá onde o cursor estava. Desenhe em uma região de uma medida para medir 3. Em seguida, desenhe uma nota em em C3, a partir de uma medida para medir 3. Ver a imagem. Além disso, defina pontos de seu ciclo de modo que você pode fazer um loop a sua seqüência de medida 1-3.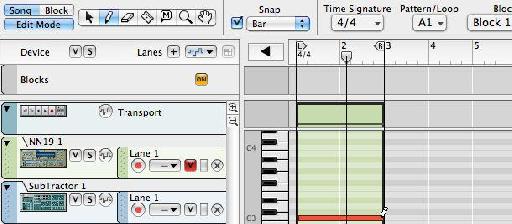 Passo 9
Agora, de volta na prateleira, defina a saída do vocoder BV512 para o canal de entrada 14:02 Mixer 1.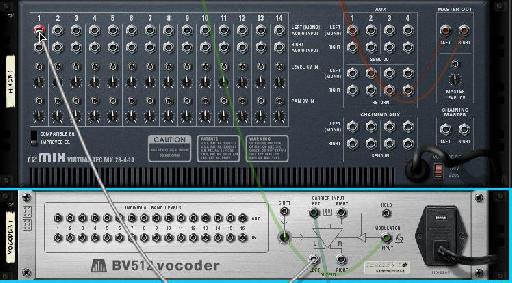 Etapa 10
Okay, if you hit the Space Bar on your keyboard, and start talking, you should hear a little robot going on in your voice!


Because you set up the carrier wave (the Subtractor) on a loop, you can freely hear your own voice being modulated and can live out all of your childhood fantasies... But wait, let's make the fantasy even more intense! Through the use of Reason FX, it's possible to add a little more realism to an unrealistic sound. We're going to attempt to make our robot voice sound like he's talking over a radio. And make him a little more interesting.
[Audio id = "1712"]
Etapa 11
Primeiro, copie as configurações da minha Subtractor, mostrado abaixo. Aviso: Eu adicionei em alguns síntese FM, juntamente com outro OSC. Síntese FM faz a sua operadora muito mais complexa e, em alguns casos, um pouco mais orgânico ... Ou, simplesmente demoníaca.

Etapa 12
Em seguida, crie outra Subtractor, mantendo pressionada a tecla Shift. Depois de criar o Subtractor, copiar as configurações abaixo para o Subtractor NEW.

Etapa 13
Comando pressione E para sair do modo de edição dentro do seqüenciador abaixo. Cópia sua região criado para a pista abaixo, mantendo pressionada a tecla Option e arrastar até a pista ao lado.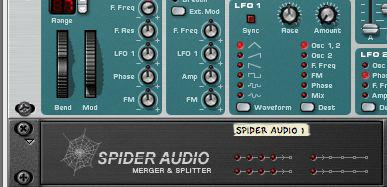 Etapa 14
Criar uma aranha Splitter Fusão de áudio, mantendo pressionada a tecla Shift. Rota de saída do áudio do BV512 para o Spider, e também a rota de saída do subtrator NEW 2 para o Aranha também.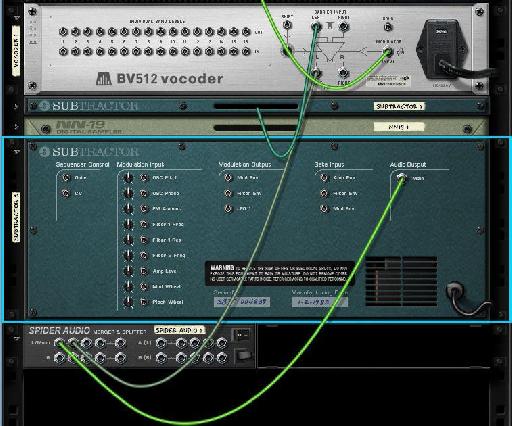 Etapa 15
Mantenha pressionada a tecla Shift e criar um Scream 4 e um ECF-42 filtro. Encaminhar a saída de áudio Aranha para a entrada Pânico 4. Passe o Pânico 4 saída para a entrada do filtro de ECF-42.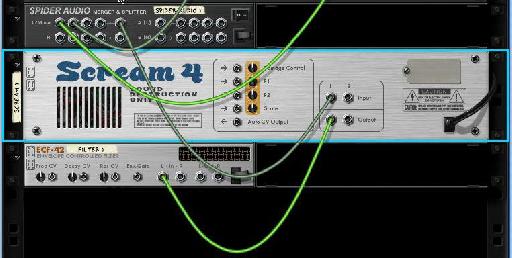 Etapa 16
Enviar a saída do filtro para a entrada de canal 1 da Mixer 14:02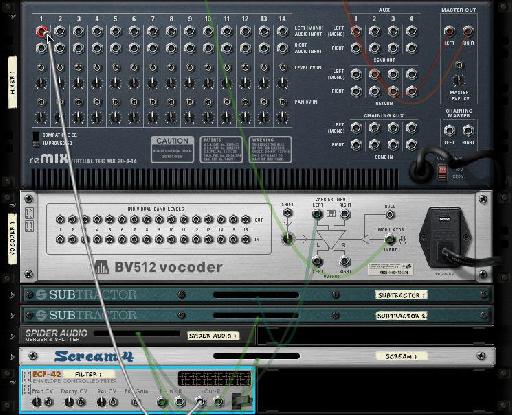 Etapa 17
Passado, mas não menos importante! Copiar a definição de Scream eo filtro, como mostrado abaixo!

O que temos feito é adicionado um subtrator para fornecer o ruído branco que é também vai para o Scream 4, assim comprimindo o ruído do branco e da voz de robô em conjunto. Quando você define o Pânico 4 a uma distorção digital, você obtém um som muito sujo, criptografada para a voz de robô. Isto não só torna um pouco mais crível, mas grungy um pouco mais também. Não muito embora.
Se você tiver Flor de som ou áudio Hijack, é completamente possível começar de roteamento do áudio da Razão de volta para seu computador, onde você pode falar tudo que você quer e conseguir uma gravação agradável. Depois, você pode voltar e editar os clipes ao seu gosto! Além disso, se você quiser mais ruído branco, basta levantar o mestre de Subtractor 2.
Aqui está o resultado final abaixo!
[Audio id = "1720"]
Confira este tutorial autor sobre Combinator Reason .