What does 'Audiomatic Retro Transformer' suggest to you? Something harkening back to old skool technology? Analog warmth? Lo-fi? G. W. turns back the clock in this look at Reason 7's new device.
Hipstamatic ist eine sehr weit verbreitete und geliebt Kamera-App für das iPhone und andere mobile Geräte gibt es zuhauf. Und das zu Recht! Es ist eine wunderbare Arbeit, einen guten ol moderne Foto und machen scheinen ein wenig ausgefranst, verschlissen, verbrannte und ... geliebt. Wer dachte, dass die Anwendung wouldve einen Hauch von alter Technik zu neuen Technologien wouldve mitgebracht wie Nostalgie.
Von der mobilen Erfassung Phänomen inspiriert, entschied Propellerhead eine neue Vorrichtung, die das gleiche Verhalten von Hipstamatic hat zu machen, aber mit Ton. Das Ergebnis ist ein Gerät, das liebevoll bringt wieder die Nostalgie der verschiedenen Ebenen der Aufnahme Qualitäten mit einer solchen Genauigkeit, dass Sie auf jeden Fall finden sich wieder in der Zeit gemacht.
Mit dem Retro Audiomatic Transformer
Eine der schönsten Eigenschaften des Audiomatic ist seine Einfachheit und Benutzerfreundlichkeit. Erste, dass Old School Feeling kommt nicht immer funktionieren. Erstellen Sie einfach den Effekt-Gerät wie einem anderen Grund Wirkung und springen hinein. Obwohl es eines der am meisten Plug-and-Play-Geräte in Reason, lassen sie sich nicht täuschen. Die Transform, Dry / Wet, Volume und Gain spielen eine viel größere Rolle, als Sie vielleicht denken. Und diejenigen Arent selbst die Haupt-Show auf der Audiomatic!

Die Kernfunktion des Audiomatic sind die 16 Presets, die Ihnen zur Verfügung stehen von Anfang an. Es sind wunderbar klingenden Presets wie Band, Hallo-Fi, und unten, für beefing Signale. Und dann theres die weniger nützliche und eher esoterischen Effekt-Presets auch, wie PVC und Psyche und Unheimliches. Alle diese Voreinstellungen können mit dem Transform-Knopf optimiert werden. Aber, wie ich bereits erwähnt habe, vergessen Sie nicht, sich mit dem Gain, Volume und Dry / Wet-Regler zu spielen. Der Gain insbesondere hat eine wunderbare Arbeit der Abgabe eine schöne, analoge Art Overdrive-Effekt.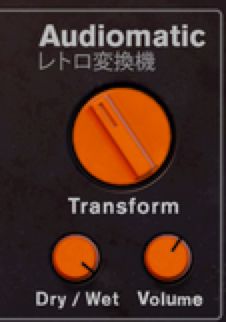 Bester Einsatz
Die Audiomatic Retro Transformer war eigentlich für mehr als nur tainting einzelne Tracks bestimmt, obwohl es eine wunderbare Arbeit dies zu tun. Bässe, Drums, Gitarren, E-Pianos und wird stark von diesem Gerät profitieren. Ich fand sogar Audiomatic ein brillanter für beefing meine Bass-Synth-Patches sein. Es fügt eine wirklich warme Bässe Unterton, dass Im mit einer harten Zeit leben, ohne jetzt.
Darüber hinaus zusätzlich zu Instrumenten und sogar parallel Kanal Gruppen wird die Retro Audiomatic Transformer auch für das Mastering von endgültigen Tracks gedacht. Ill glücklich berichten, dass es ein richtig gute Arbeit der dies tut. Band sind Hallo-Fi und sogar verbreiten, die das Atmen etwas Tiefe und nostalgische Kühle Ihre Spuren in einer Weise, die war wirklich nicht leicht verfügbar sind, bevor in Reason wunderbar. Ernsthaft, haben youd einige schwere Zeit mit Combinators verbringen sogar eines dieser Presets mit Genauigkeit.
Oh, und vergessen Sie nicht, einige CV Modulation mit dem Transform-Funktion auf der Rückseite des Audiomatic versuchen. Presets wie Eerie, Circuit und Cracked kann äußerst interessant mit ein wenig Modulation oder Automatisierung.
Closing Kommentare
Während die Audiomatic Retro Transformer ist nicht ein Spiel-Wechsler für Reason, wie der RV7000 war. Wie Sie sehen können, seine definitiv kein Gerät ignoriert werden. Wir alle brauchen das gewisse Etwas fehlt in einer Mischung manchmal. Aber, wobei dieses Ende ein Gerät, das aus ist manchmal die ganze Zeit verwendet geht. Probieren Sie es aus!