What does 'Audiomatic Retro Transformer' suggest to you? Something harkening back to old skool technology? Analog warmth? Lo-fi? G. W. turns back the clock in this look at Reason 7's new device.
Hipstamatic es una aplicación de cámara muy usado y querido por el iPhone y otros dispositivos móviles abundan. Y con razón! Se hace un trabajo maravilloso de hacer una buena foto moderna ol y haciendo parecer un poco deshilachados, gastados, quemados y ... amado. Quién wouldve pensó que la aplicación de un toque de tecnología antigua a la nueva tecnología wouldve trajo como nostalgia.
Inspirándose en el fenómeno de captura móvil, Propellerhead decidió hacer un nuevo dispositivo que tiene el mismo comportamiento de Hipstamatic, pero con audio. El resultado final es un dispositivo que con amor trae la nostalgia de los distintos niveles de calidades de grabación con tanta precisión que sin duda encontrará siendo tomada en el tiempo.
Utilizando el transformador Retro Audiomatic
Una de las características más hermosas de la Audiomatic es su simplicidad y facilidad de uso. Conseguir esa sensación Old School no se hace funcionar en absoluto. Sólo tienes que crear la unidad de efectos como cualquier otro efecto Razón y saltar en él. A pesar de que es uno de los más dispositivos Plug and Play dentro de lo razonable, no dejes que te engañen. El Transform, Dry / Wet, Volumen y Ganancia jugar un papel mucho más grande de lo que piensa. Y, los que enviaban siquiera la principal feria en el Audiomatic!

La característica central de la Audiomatic son los 16 presets que están a su disposición desde el primer momento. Hay maravillosamente sonando presets como Tape, Hi-Fi, e inferior, por reforzando señales. Y entonces theres los presets de efectos menos utilitaria y más esotérico también, como PVC y Psique y misterioso. Todos estos presets pueden ser ajustados con el botón Transform. Pero, como dije antes, no se olvide de jugar con la ganancia, volumen y botones Dry / Wet. La ganancia, en particular, hace un trabajo maravilloso de un desprendimiento de un agradable, efecto de saturación estilo analógico.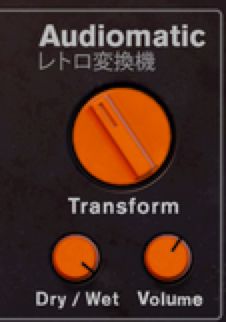 Mejor Uso
El transformador Retro Audiomatic en realidad estaba destinado a algo más que manchar las pistas individuales, a pesar de que hace un trabajo maravilloso de esto. Bajos, baterías, guitarras, pianos eléctricos y más se beneficiarán enormemente de este dispositivo. Incluso encontré Audiomatic ser un dispositivo brillante para reforzando mis sonidos de sintetizador de bajo. Se añade un matiz de graves muy caliente que estoy teniendo un momento difícil vivir sin ahora.
Por otra parte, además de los instrumentos y los grupos de canales paralelos, incluso, el transformador de retro Audiomatic está también destinado a pistas finales de masterización. Ill informar feliz que hace un buen trabajo en serio de esto. Cinta, Hi-Fi e incluso extensión son maravillosos para respirar un poco de frescor profundidad y nostálgico a tus canciones de una manera que realmente no era fácilmente disponible antes de la Razón. En serio, youd tiene que pasar algún tiempo serio con combinadores para crear uno solo de estos presets con precisión.
Ah, y no te olvides de probar algunos CV modulación de la función de transformación disponible en el panel posterior de Audiomatic. Presets como Eerie, Circuito y agrietado puede ser muy interesante, con un poco de modulación, o la automatización.
Comentarios de Cierre
Mientras que el transformador Retro Audiomatic no es un cambio de juego para la razón, como la RV7000 era. Como puede ver, no es sin duda un dispositivo para ser ignorada. Todos necesitamos ese algo que falta en una mezcla a veces. Pero, esto puede terminar siendo un dispositivo que va desde que se utiliza a veces para todo el tiempo. ¡Pruébalo!