What does 'Audiomatic Retro Transformer' suggest to you? Something harkening back to old skool technology? Analog warmth? Lo-fi? G. W. turns back the clock in this look at Reason 7's new device.
Hipstamatic est une application de caméra très largement utilisé et apprécié pour l'iPhone et d'autres appareils mobiles ne manquent pas. Et à juste titre! Il fait un excellent travail de faire une bonne photo moderne ol et en faisant paraître un peu effiloché, usé, brûlé et ... aimé. Qui wouldve pensait que l'application d'un soupçon de technologie ancienne à la nouvelle technologie wouldve ramené cette nostalgie.
Être inspiré par le phénomène de capture mobile, Propellerhead a décidé de faire un nouveau dispositif qui a le même comportement de Hipstamatic, mais avec audio. Le résultat final est un dispositif qui apporte amoureusement la nostalgie des différents niveaux de qualités d'enregistrement avec une telle précision que vous allez certainement vous retrouver pris dans le temps.
Utilisation de la Transformer Retro Audiomatic
Une des caractéristiques les plus belles de la Audiomatic est sa simplicité et sa facilité d'utilisation. Obtenir que la vieille idée de l'école prend aucun travail. Il suffit de créer le dispositif à effet comme n'importe quel autre effet de la Raison et sauter dedans. Même si c'est l'un des plus périphériques Plug and play dans la raison, ne laissez pas vous tromper. La transformée, Dry / Wet, Volume et Gain jouer un rôle beaucoup plus grand que vous ne le pensez. Et, ceux qui ne coûtent pas même le spectacle principal sur la Audiomatic!

La caractéristique essentielle de la Audiomatic sont les 16 presets qui sont disponibles pour vous dès le début. Il ya merveilleusement sonnette préréglages comme Ruban, Salut-Fi, et Bottom, pour bouchères signaux. Et puis il ya les moins utilitaires et plus ésotérique presets d'effets trop, comme le PVC et Psyché et mystérieux. Tous ces presets peut être modifié avec le bouton Transform. Mais, comme je l'ai mentionné plus tôt, n'oubliez pas de jouer avec le gain, volume et les boutons Dry / Wet. Le gain en particulier fait un excellent travail d'dégageant une agréable effet de distorsion, de style analogique.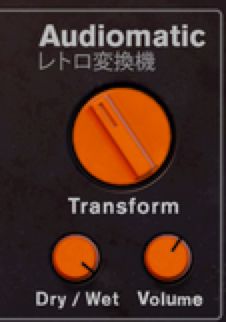 Meilleure utilisation
Le Transformateur Retro Audiomatic visait en fait plus qu'un simple altération des pistes individuelles, mais qu'elle fait un travail merveilleux de cela. Basses, percussions, guitares, pianos électriques et plus bénéficieront grandement de ce dispositif. J'ai même trouvé Audiomatic être un dispositif génial pour bouchères mes patches de synthé de basse. Il ajoute une voix de basse très chaleureux que Im avoir mal à vivre sans maintenant.
Par ailleurs, en plus d'instruments et de groupes de canaux, même parallèles, le Transformer Retro Audiomatic est également destiné à maîtriser les pistes finales. Ill heureusement rapport qu'il fait un bon travail sérieux de cela. Bande, Salut-Fi et même diffusion sont merveilleux pour respirer la fraîcheur profondeur et nostalgique à vos pistes d'une manière qui n'était vraiment pas facile d'obtenir auparavant dans Reason. Sérieusement, youd ont à passer un certain temps sérieux avec Combinators pour créer un seul de ces presets avec précision.
Oh, et n'oubliez pas d'essayer quelques modulation CV avec la fonction de transformation disponibles sur le panneau arrière de Audiomatic. Préréglages comme Eerie, Circuit et fissuré peut être extrêmement intéressant avec un peu de modulation, ou d'automatisation.
Commentaires de clôture
Alors que le transformateur Retro Audiomatic n'est pas un changeur de jeu pour Reason, comme le RV7000 était. Comme vous pouvez le voir, sa certainement pas un appareil pour être ignoré. Nous avons tous besoin de ce petit quelque chose qui manque dans un mélange parfois. Mais, cela peut finir étant un dispositif qui va d'être utilisé parfois pour tout le temps. Essayez-le!