What does 'Audiomatic Retro Transformer' suggest to you? Something harkening back to old skool technology? Analog warmth? Lo-fi? G. W. turns back the clock in this look at Reason 7's new device.
Hipstamatic è una applicazione fotocamera molto diffuso e amato per l'iPhone, e altri dispositivi mobili abbondano. Ed è giusto così! Si fa un ottimo lavoro di fare un buon ol foto moderne e facendo sembrare un po 'logoro, consumato, bruciato e ... amato. Chi wouldve pensava che l'applicazione di un pizzico di vecchia tecnologia alla nuova tecnologia wouldve riportato tale nostalgia.
Ispirato dal fenomeno di cattura cellulare, Propellerhead ha deciso di fare un nuovo dispositivo che ha lo stesso comportamento di Hipstamatic, ma con audio. Il risultato finale è un dispositivo che porta con amore indietro la nostalgia di diversi livelli di qualità di registrazione con una tale precisione che sarà sicuramente trovare te stesso di essere presi indietro nel tempo.
Utilizzando il Retro Transformer Audiomatic
Una delle più belle caratteristiche del Audiomatic è la sua semplicità e facilità d'uso. Ottenere che Old School tatto non si assume alcuna funzionare sorta. Basta creare il dispositivo di effetto come qualsiasi altro effetto Ragione e saltare in esso. Anche se la sua una delle più periferiche Plug and Play in Reason, non lasciatevi ingannare. Il Transform, secco / umido, Volume e Gain svolgono un ruolo molto più importante di quanto si possa pensare. E, quelli arent anche lo spettacolo principale sul Audiomatic!

La caratteristica principale del Audiomatic sono i 16 preset che sono disponibili per voi fin dall'inizio. Ci sono meravigliosamente suonando preset come il nastro, Hi-Fi, e inferiore, per rinforzando i segnali. E allora theres gli effetti meno utilitaristici e più esoterico preset troppo, come il PVC e Psiche e Eerie. Tutti questi preset può essere modificato con la manopola Transform. Ma, come ho detto prima, non dimenticate di giocare con il Gain, Volume e manopole secco / umido. Il guadagno, in particolare, fa un ottimo lavoro di dare via una bella, effetto overdrive stile analogico.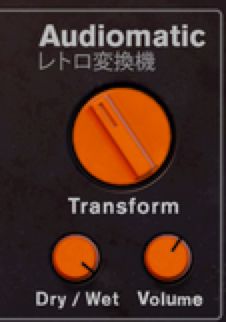 Miglior Utilizzo
Il Retro Transformer Audiomatic era in realtà destinato a più che solo sporcando singole tracce, anche se non fanno un ottimo lavoro di questo. Bassi, batterie, chitarre, pianoforti elettrici e altro sarà di grande beneficio da questo dispositivo. Ho anche trovato Audiomatic ad essere un dispositivo brillante per rimpolpare il mio basso patch synth. Si aggiunge un sottofondo basso veramente calda che Im avendo un momento difficile vivere senza ora.
Inoltre, in aggiunta agli strumenti e ai gruppi di canali, anche in parallelo, il Retro Transformer Audiomatic è destinato anche per le tracce finali mastering. Ill felicemente relazione che fa un serio buon lavoro di questo. Tape, Hi-Fi e anche la diffusione sono meravigliosi per respirare un po 'di frescura profondità e nostalgico per i brani in un modo che in realtà non era facilmente disponibile prima in Reason. Scherzi a parte, youd è necessario spendere un po 'di tempo serio con combinatori per creare anche uno solo di questi preset con precisione.
Oh, e non dimenticate di provare alcuni modulazione CV con la funzione di trasformazione disponibile sul pannello posteriore del Audiomatic. Presets come Eerie, Circuito e incrinato può essere estremamente interessante con un po 'di modulazione, o automazione.
Commenti di chiusura
Mentre il Retro Transformer Audiomatic non è un punto di svolta per la ragione, come il RV7000 era. Come si può vedere, la sua sicuramente non un dispositivo per essere ignorato. Tutti abbiamo bisogno di quel piccolo mancante in un mix a volte qualcosa. Ma, questo può finire essendo un dispositivo che va da essere utilizzato a volte per tutto il tempo. Provalo!