What does 'Audiomatic Retro Transformer' suggest to you? Something harkening back to old skool technology? Analog warmth? Lo-fi? G. W. turns back the clock in this look at Reason 7's new device.
Hipstamatic é um aplicativo de câmera muito utilizado e amado para o iPhone e outros dispositivos móveis não faltam. E, justamente por isso! Ele faz um trabalho maravilhoso de fazer uma boa foto moderno ol e fazer parecer um pouco desgastado, desgastado, queimado e ... amado. Quem wouldve pensei que a aplicação de uma pitada de tecnologia antiga para a nova tecnologia wouldve trouxe de volta tal nostalgia.
Sendo inspirado pelo fenômeno de captura móvel, Propellerhead decidiu fazer um novo dispositivo que tem o mesmo comportamento do Hipstamatic, mas com áudio. O resultado final é um dispositivo que amorosamente traz de volta a nostalgia dos vários níveis de gravação qualidades com tal precisão que você definitivamente vai encontrar-se sendo levado de volta no tempo.
Usando o Audiomatic Transformer Retro
Uma das mais belas características do Audiomatic é a sua simplicidade e facilidade de uso. Conseguir que o Velho sensação escola não leva trabalho qualquer. Basta criar o dispositivo de efeito como qualquer outro efeito Razão e saltar para ele. Apesar de seu um dos mais dispositivos plug and play dentro da razão, não se deixe enganar. A Transform, Dry / Wet, Volume e Ganho de desempenhar um papel muito maior do que você pode pensar. E, aqueles Arent mesmo o show principal no Audiomatic!

A característica central da Audiomatic são os 16 presets que estão disponíveis para você desde o início. Não são maravilhosamente presets soar como Tape, Hi-Fi, e inferior, para o reforço do sinal. E depois há os menos utilitarista e mais esotérico presets de efeitos também, como PVC e Psique e Eerie. Todos esses presets pode ser ajustado com o botão Transform. Mas, como mencionei anteriormente, não se esqueça de jogar com o ganho, volume e botões seco / molhado. O ganho em particular faz um trabalho maravilhoso de exalando um agradável, analógico efeito de overdrive estilo.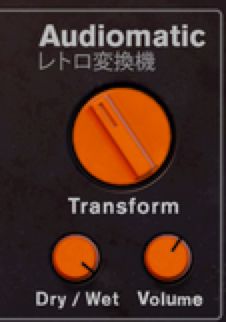 Melhor Uso
O Audiomatic Transformer Retro foi realmente destinado a mais do que apenas manchando faixas individuais, embora ele faz um trabalho maravilhoso desse. Basses, tambores, violões, pianos elétricos e muito mais irão se beneficiar com este dispositivo. Eu mesmo encontrei Audiomatic ser um dispositivo brilhante para o reforço do minhas manchas synth de baixo. Ele adiciona um tom muito quente baixo que eu estou tendo um momento difícil viver sem agora.
Além disso, além de instrumentos e grupos de canais, mesmo paralelas, a Audiomatic Transformer Retro também é destinado a dominar as faixas finais. Ill informar que felizmente ele faz um bom trabalho a sério isso. Tape, Hi-Fi e até mesmo se espalhar são maravilhosos para respirar alguma frieza profundidade e nostálgico suas músicas de uma forma que realmente não era facilmente disponível antes na razão. Sério, você teria de passar algum tempo sério com Combinadores para criar ainda um desses presets com qualquer precisão.
Ah, e não se esqueça de experimentar alguns modulação CV com a função Transform disponível no painel traseiro de Audiomatic. Presets como Eerie, Circuit e rachada pode ser extremamente interessante, com um pouco de modulação, ou automação.
Comentários Finais
Enquanto o Audiomatic Transformer Retro não é um divisor de águas para a razão, como o RV7000 era. Como você pode ver, a sua definitivamente não é um dispositivo para ser ignorado. Todos nós precisamos que algo faltando em uma mistura as vezes. Porém, isso pode acabar de ser um dispositivo que vai desde a ser utilizado, por vezes, a todo o tempo. Experimente!