If you're serious about creating great, original music then programming your own sounds is a must. So step away from the presets and start to create your own unique patches using Reason. The question
If you're serious about creating great, original music then programming your own sounds is a must. So step away from the presets and start to create your own unique patches using Reason. The question is where do you start?
If you're new to synth programming then there are a number of 'building block' sounds that are perfect to get you going. One of these essential sounds is a strong synth bass patch, master this and you should open the door to all kinds of synth programming success.
01 - Choose your Weapon
I'm not exaggerating when I say there are literally thousands of of soft synths out there to choose from. Whether it's the latest expensive modeling synth, a free VST or simply an instrument thats bundled with your DAW, most of you will have more than one high quality synth in your collection.
With all this choice it pays to familiarize yourself with the basics of synthesis and if you are pretty new to the subject you might want to start by looking at subtractive or virtual analog instruments. This method of sound creation is one of the easiest to get your head around and it's highly likely that most of you will have a really great virtual analog synth on your system.
A great example of a clearly laid out Subtractive virtual analog synth is Reason 5's 'Subtractor' and it's for this very reason (pun intended) that I've chosen this instrument for this tutorial. Of course you'll be able to follow the steps using another synth if you wish, just ensure that it is a subtractive instrument with similar controls.

02 - Choosing and Mixing your Oscillators
When you're building a patch in any synth you tend to start by selecting your oscillators. The oscillators are the source of the sound in Subtractive synths and they are the foundation of any patch we build.
In this case I wanted to create a nice wide, punchy bass and I feel the best oscillators for the job are saw waves. They are harmonically pretty rich and have a certain edge that other oscillators sometimes lack. I have actually gone for two saw waves and de-tuned them slightly to create a rich chorus like effect.
If you are using a number of different oscillators then you have to think about striking the right balance between them. Here we are using two identical oscillators so simply setting the mix knob at 50/50 will generally be fine but in some other cases you may want to take a little more time fine tuning the mix.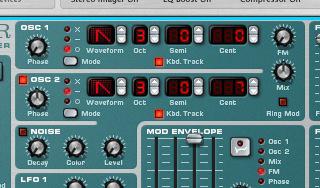 Audio 2 - Our raw oscillators play back:
03 - Hit the Filters
To really bring our sound to life we have to get into some filtering, in this case it's the filters that will make the patch sound dynamic and energetic when played. The first step is to get our filter into the right mode and dial in some settings.
Subtractor's filter is a multi-mode resonant model and is very similar to the filters you'll find on other subtractive, virtual analog synths. By default the filter is in low pass mode and luckily this is exactly the flavor we need here.
For now all we need to do is set the cut-off frequency to around 75% and dial in a decent amount of resonance, not too much though, as we are just trying to add a bit of attitude and some extra harmonics.
With this in place the sound may appear to be duller in nature and that's simply because we need to modulate the filter's cut-off. We'll do this by using Subtractor's dedicated filter envelope.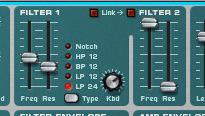 Audio 3 - The patch takes shape with some basic filtering:
04 - Amplitude and Filter Envelopes
So now we need to look at using our envelopes to shape our sound and first up we'll focus on the filter envelope. Subtractor actually has three independent envelopes one of which is specifically for controlling the filter. Any other synth is likely to have at least two envelopes.
In this case I want to add a lively acid 'squelch' to our bass sound and this is done by using a decay based envelope setting. So with the attack and sustain at zero you can push the decay to around 40%. Also add a decent amount of release to the envelope. Now when you turn up the envelope amount you should hear the desired effect being applied to the filter.
Next up you'll want to fine tune your amplitude envelope. As this is a relatively simple sound and the majority of the work is being done by the decay based filer envelope, all we really have to do is up the release a little to round off any edges and make the playback of the patch a little less abrupt in nature.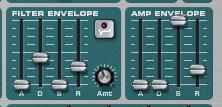 Audio 4 - The envelopes help to mould the sound:
05 - Voicing Modes and Glide
If your synth of choice isn't already set to playback in monophonic mode then you should do that now. As this is a classic synth bass patch we want to it to be as close to the real thing as possible. That means using monophonic mode is essential.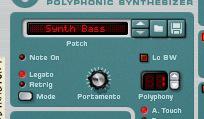 If you want to use glide or portamento in your patch then you may also want to think about using legato mode. Using this mode means that the glide will only be activated when notes overlap. This overlap can be instigated either during live playback or in MIDI programming.
Audio 5 - Some glide is added to our bass patch:
06 - Controlling your New Sound
With everything in place you might find that you need some extra hands-on control over your sound. Now if you have a dedicated MIDI control surface then you might have specific controls for each parameter on your synth, but if not you will have to take another route.
Using more traditional controllers such as the mod wheel, aftertouch and velocity is always a safe bet as the vast majority of controller keyboards will supply the right tools for the job.
For example using Subtractor we can easily map the filter's cut-off frequency to the mod wheel and get real-time control over this parameter. Any movements can then be easily recorded into a MIDI track in your DAW.

07 - Final Thoughts

As you can see programming your own bass patches is pretty straight forward and the perfect way to become familiar with your chosen synth. So even if you are a relative beginner, get stuck in and try it yourself.


Audio 6 - The final patch is now controlled by the mod wheel:
Hit the comments below with any questions or... comments! If you want to learn more about Reason check out the tutorials here.