When it comes to processing your sounds there are literally endless lists of plug-ins to choose from. With all this choice it's quite likely that you've overlooked one key device in your collection, t
Quand il s'agit de traiter vos sons il ya des listes littéralement infinie de plug-ins à choisir. Avec tout ce choix, il est très probable que vous avez oublié un dispositif de clé dans votre collection, le synthétiseur.
Any soft synth that can accept an incoming audio stream can be used as a signal processor of some kind. Most DAWs feature an instrument capable of processing audio in this way and Reason's 'Thor' is an excellent example. So let's take a look at how we go about setting things up...

01 - Mise en place du chemin du signal
Peu importe ce qui synthé que vous utilisez pour traiter vos fichiers audio de la première chose que vous devez faire est de configurer votre routage pour que le synthé peut recevoir des signaux audio. Bien sûr, la méthode pour ce routage varie, mais Thor a effectivement consacré entrées audio.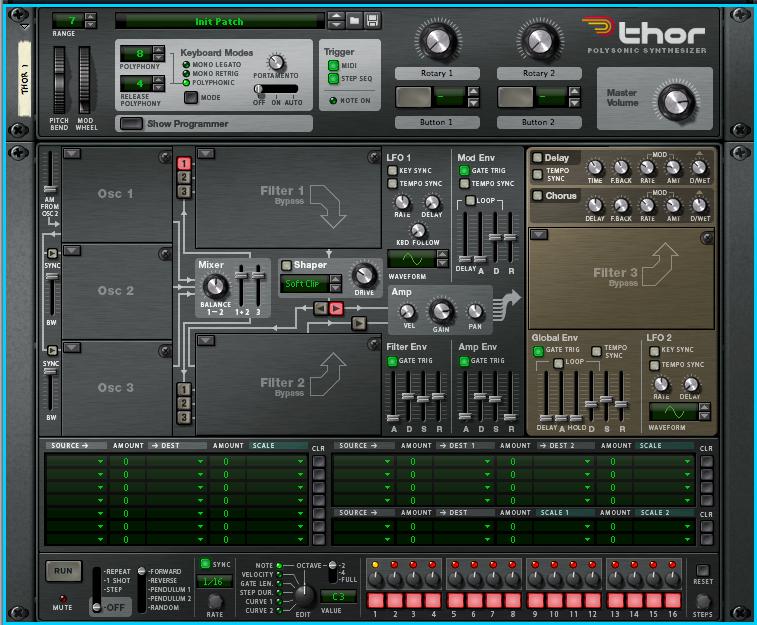 Audio 1 - boucle non transformés:
[Audio id = "1025"]
Vous pouvez nourrir votre synthé avec n'importe quelle source sonore que vous voulez, dans ce cas, j'ai utilisé les sorties d'un lecteur Dr OctoRex boucle. La boucle de batterie à traiter est alimenté directement dans les entrées du Thor, bien sûr vous pouvez utiliser les sorties auxiliaires à partir d'un mélangeur si vous préférez.

02 - routage interne
Avec vos fichiers audio étant introduite dans le synthé que vous pouvez désormais effectuer tout le routage interne qui est nécessaire. Lorsque vous utilisez Thor ceci est réalisé en utilisant la matrice Mod instruments. Les entrées audio sont sélectionnés comme source et les entrées de filtre No.3 comme destination.
Une fois que cette connexion est établie, vous devez immédiatement entendre vos sons envoyés à travers le circuit de filtration. Nous sommes maintenant prêts à commencer le traitement de notre audio.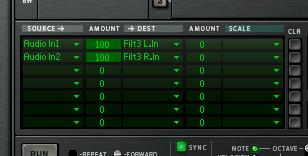 03 - L'application de notre traitement
Dans la plupart des cas votre synthé va utiliser ce filtre et section d'effets de traiter tout signal audio entrant. Thor ne fait pas exception à cette règle et utilise un dédié, multi-mode de filtrage et une section multi effets comme un processeur.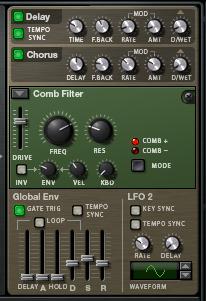 Le filtre vous permet d'appliquer tous les classiques passent de résonance basse et effets passe-haut basée que vous attendez, mais il ya aussi quelques modes inattendus ici. Le filtre en peigne est particulièrement efficace et peut générer un grand effet métallique qui améliore vraiment notre piste de batterie ici.
Certains chorus et délai est également ajoutée ici pour ajouter une dimension supplémentaire. Quel que soit synthé que vous utilisez cela vaut la peine de prendre le temps d'expérimenter avec cette technique car il est une alternative solide au traitement des effets standard.
Pour essayer d'intérêts supplémentaires modulant la fréquence de coupure des filtres avec un LFO, une enveloppe ou même un contrôleur externe. J'ai utilisé le LFO du Thor ici pour créer un simple balayage.
Audio 2 - Finale boucle de traitement:
[Audio id = "1029"]
Vous voulez en savoir plus sur Thor? Vérifiez Raison 5 103 - Thor: Maître de tous les synthés !