You may be using the digital EQ bundled with your DAW, or perhaps you've invested a pretty penny in a 3rd-party plug-in'¦ Regardless, Jay Asher explores the highs & lows of EQing in the digital domain.
For generations, pro engineers have prized their analog EQs, like the legendary Massenburg, and the EQ that is included on channel strips in vintage consoles made by Neve, SSL, Harrison, Trident, Sony, etc. All have their advocates but most engineers that I know can work on whatever they have to and get excellent results. That said, all the analog EQs definitely sound different.
Nowadays, we have lots of digital EQ plug-ins for these chores, which is great because it is far less expensive than having a bunch of hardware options and is more recallable. Some emulate the hardware and some are their own beast. But is it really the same thing? As is true of most things in the audio world in my experience, yes, and no.
The most common type of EQ is a Parametric. Parametric multi-band EQs allow you to control all the parameters that shape the tone: frequencies, Bandwidth or Q, and Gain. Graphic EQs are similar but give you fewer controls. Most DAWs come with several EQs including ones that can behave as either a parametric or graphic EQ, like Logic's Channel EQ.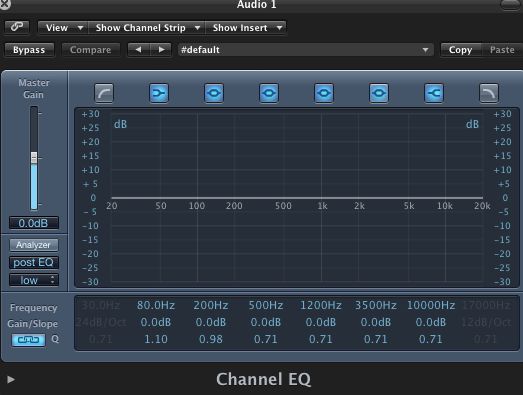 Logic's Channel EQ
All over the internet you will find people maintaining that unlike analog EQs, all digital Parametric EQs can be made to sound identical to the point where bounces using them will null. Is it true?
Read this from the respected EQ plug-in company Algorithmix: 'The truth is that with a properly designed, fully parametric analytic PEQ, every amplitude and phase characteristic of any other equalizer setup can be recreated. Of course, the contribution of distortions to the specific sound of a particular analog equalizer caused by the respective electronics has to be considered. If the distortions are '˜good', they may make certain applications sound better.'
A representative from Universal Audio maintains that because some of their analog emulations also emulate the phase shift and saturation produced by the units, it would be very difficult to produce a completely nullable bounce with other digital EQs. Not impossible perhaps, but difficult.
So some advise, find a digital EQ or two that you like and save your money for other things and that is a reasonable position to take.
That said, for me, it is analogous to buying an automobile. A Toyota, Honda, or Hyundai will get you from point A to point B as well as a BMW or a Mercedes. But is the driving experience the same? No.
All cars have different design features, handle differently, have the controls laid out differently, in short, feel different. The same is true of EQs. If you are using an EQ that has a graphical user interface (GUI) that you either find intuitive or you understand well because you perhaps have a lot of experience working on the console the plug-in is emulating, then you are going to get the result you want more quickly and more enjoyably. And in my experience, boosting the highs by grabbing a handle on some digital EQs produces a sound that I find harsher than on some others. Some have high pass and low pass filters that when I turn them on I hear a sound I like better right away than others. It is highly subjective.
Then there is the matter of presets, which can be very important to people like me, who are primarily composers and only engineers secondarily. Many pro engineers will tell you that they do not value presets because every project is different. But in fact, they do have certain conventions of approach they use with them. And for composers like me, loading in a UA Neve 1073 emulation on a guitar track and choosing a preset like Guitar Presence gets me in the ballpark a lot more quickly that starting with a Parametric EQ with no preset.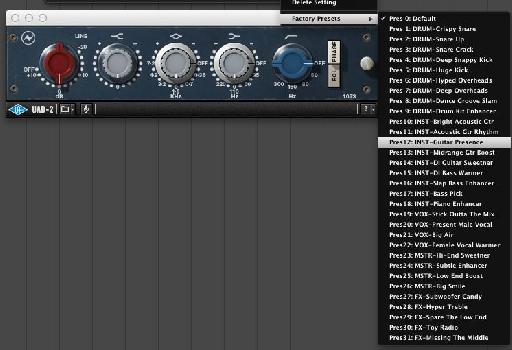 Using presets as quick starting point (Universal Audio's Neve 1073 EQ plug-in shown)
But if a frequency is really bothering me, and I need to be surgical, I am going to turn to an EQ like the Sonnox (formerly Sony) Oxford, which makes it easy to sweep the frequencies and find the troublesome ones and boost or cut without unpleasant sounds occurring.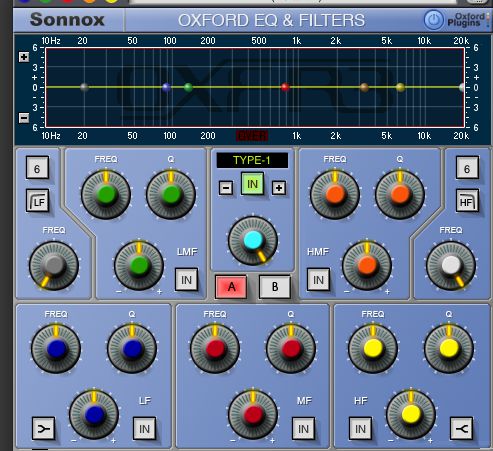 Sonnox Oxford EQ
In your arsenal of digital EQs, you are definitely going to want at least one that has a frequency analyzer for troubleshooting. This allows you to play back material and have the EQ show you exactly where the frequency energies are the strongest. It also allows you to analyze the frequencies of existing audio that you want to try to create similar sounds to. A number of companies make them, like the Voxengo Gliss EQ shown below.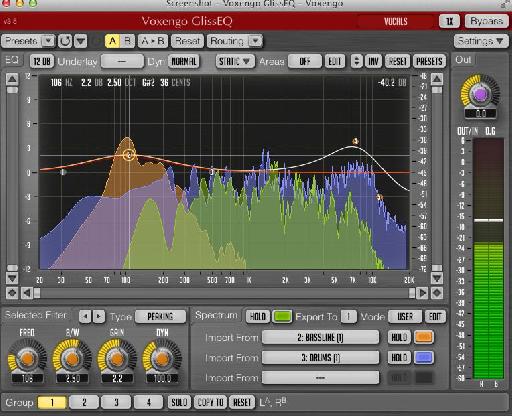 Voxengo Gliss EQ
Another kind of digital EQ is called Linear Phase. With a regular parametric EQ, when you boost or cut frequencies some phase shifting occurs in tiny amounts that can however lead to a small amount of 'smearing' that sometimes engineers find undesirable. So they may choose to use a Linear Phase EQ. These kinds of EQs keep all the frequencies in phase so they pass through the bands at exactly the same speed. Different versions of Linear Phase EQs can work quite differently and bounces with them will probably not null. Some also introduce a certain amount of latency on busses, auxes, and outputs that your DAW will have to compensate for with its latency compensation.
There are also a lot of these in the marketplace and some of them are very pricey while others like the PSP Neon HR, are more affordable and generally well-regarded.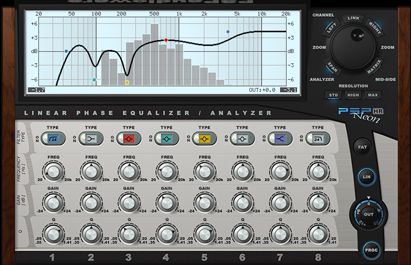 PSP Neon HR EQ
Finally, I see projects where there is an EQ on practically every track. In my opinion, this tells me one of two things: if these are tracks with real players, something went very wrong in the tracking session. With samples and virtual instruments, the user is probably EQing because he/she can more than because he/she needs to. EQ is a problem solving device for eliminating frequencies when sounds are competing for sonic space or have sonic deficiencies and a little of it goes a long way. If you find that you are having to do a lot of it, maybe you simply do not like the sound of the libraries you are using and should look at some others.