With more excellent DIY music tech hardware available comes a greater number of choices. Liam Lacey, music author, programmer and maker shines a light on 11 of his favorite.
Le monde de la technologie de la musique de matériel de bricolage est en plein essor en ce moment. Merci à de nombreuses plates-formes matérielles et logicielles de bricolage abordables, ainsi que l'abondance des ressources d'apprentissage, tout le monde est en mesure de construire leur contrôleur idéal MIDI, un synthétiseur ou instrument de musique électronique par eux-mêmes, ou même de créer quelque chose de complètement nouveau. Plates-formes matérielles telles que Arduino, Teensy ou Raspberry Pi vous permettent de créer des dispositifs physiques avec facilité, et lorsqu'il est couplé avec les plates-formes logicielles telles que MaxMSP, Pure Data, ou openFrameworks, vos appareils peuvent facilement être connectés au monde numérique. Ces projets peuvent également être créés en prenant matériel ou des technologies existantes et leur réorientation pour la musique; cela pourrait inclure l'utilisation de dispositifs tels que le Xbox Kinect, Leap Motion, ou Thalmic Labs Myo que des interfaces pour contrôler la musique, ou de circuit bending jouets des enfants pour manipuler ou générer de nouveaux sons.
Toutes ces possibilités ont abouti à une quantité impressionnante de projets de haute technologie de la musique DIY étant exposé dans toutes ses formes. Dans cet article, je
[ad_unit]
1. Arcade Warrior
LÃ 
2. Edison Keyboard
Edison Keyboard est un projet fascinant par Capricorn One qui utilise le style vintage
3. Pyro Board
Le Conseil Pyro est une version 2D d'un Ruben
[ad_unit]
4. SMOMID
Le SMOMID, qui se tient pour cordes Modélisation périphérique MIDI, est un instrument fascinant regardant MIDI conçu par Nick Demopoulos qui ressemble à une guitare ou une basse tactile. Il contient neuf rubans capteurs fonctionnent comme des chaînes, ainsi que deux manettes de jeu et plusieurs pads sensibles à la pression, construits en utilisant un couple de microcontrôleurs Arduino, fournissant une grande quantité de contrôle pour tous les logiciels MIDI. Voir ici pour un certain nombre de vidéos de démonstration .:
5. Z-Machines
En 2013, le musicien Tom Jenkinson, Alias ​​Squarepusher, a été chargé de composer un morceau de musique doit être effectuée par un groupe de trois robots appelé Z-machines, comprenant d'un guitariste de 78 doigts et un batteur de 22 armé, mis au point par une équipe de roboticiens japonais. Squarepusher a fini par composer cinq pistes pour les Z-machines, libérant le Music For Robots EP l'année suivante. Même si les robots ont été développés en utilisant le logiciel Max, en raison de la haute qualité de construction et la performance de Z-machines, il peut être un peu injuste de les appeler un véritable projet de bricolage, mais ils
6. Reading My Body
La lecture de mon corps est un projet fascinant par Dmitry Morozov, Alias ​​:: :: VTOL, où il a fait un contrôleur intégré personnalisé qui utilise un tatouage comme une partition musicale. L'utilisation de deux capteurs de ligne suivi l'appareil scanne un tatouage et utilise des motifs de ligne pour déclencher des sons, mais le contrôleur contient également une télécommande Wii de Nintendo pour fournir une commande 3D du son en déplaçant le dispositif dans l'espace. Une fois de plus ce projet utilise un microcontrôleur Arduino comme le cerveau de l'appareil. Voir ici pour quelques vidéos de démonstration du projet.
7. Play House
Play House est une sculpture cinétique faite de Lego Technic qui crée la musique Acid House, développé par l'artiste Alex Allmont. Créé pour AudioGraft Festival de 2014, avec une commission de Oxford musique contemporaine, il comprend de nombreux rouages, les pédales et les leviers, contrôlées par un moteur central, que les capteurs piézo robinet pour créer des signaux. Ces signaux sont ensuite introduits dans un synthétiseur modulaire qui génère les sons. Découvrez une performance vidéo de ce projet ici:
Jouer Maison de Alex Allmont sur ​​Vimeo.
[ad_unit]
8. V Motion Project
Le projet Motion V était une entreprise dans le but de créer une machine qui transforme le mouvement en musique, créé pour V Energy Drink par un groupe de diverses créations. La principale technologie derrière le projet était un couple de caméras Xbox Kinect utilisés pour capturer un danseurs motions, toutefois traitement et openFrameworks ont également été utilisés pour transformer les données de sortie de Kinect en données MIDI, avant d'être introduit dans Ableton Live. Couplé avec quelques visuels projetés étonnantes, il a abouti à un spectacle captivant de la musique électronique de danse déclenché. Découvrez une vidéo de la performance ici:
9. ScrubBoard
Le ScrubBoard est un dispositif qui vous permet de créer de zéro style DJ sons avec bande sonore, développé par le musicien Jeremy de Bell. L'engin est un lecteur de cassette modifiée de sorte que la tête de lecture a été retiré de l'enceinte du joueur et transformé en un appareil de poche qui est utilisé pour glisser à travers les lignes de ruban. Il comprend également une bascule / crossfader pour couper l'audio et arrière et basculer rapidement entre deux sources d'audio. Il ressemble à un appareil très maison, mais les résultats sont incroyablement réalistes. Découvrez une vidéo de ceci en action ici:
10. Incantor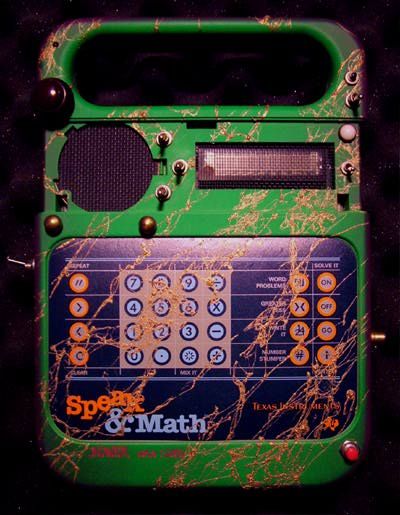 Le Incantor
Circuit Bending est la création, la personnalisation basée hasard, des circuits dans des appareils électroniques alimentés par batterie tels que les jouets des enfants de créer de nouveaux instruments de musique et des générateurs sonores. Reed Ghazala est connu pour être le pionnier de cette technique, et de la Incantor est l'un des ses instruments les plus populaires. Incantors sont Circuit-bent Speak
11. Analog à la carte
Dans un précédent article de la mienne je discutais comment l'Internet des objets pourrait par appliquée à la production et la composition de la musique, et analogique
Take Your Audio Production skills to the next level in
The Academy
here.