The noises coming from Cupertino suggest Apple is no longer willing to accept FCPX being labeled iMovie Pro! Ben Balser explores the new features in Final Cut Pro 10.0.8 and reports on the changes.
Ive été de travailler avec le nouveau Final Cut Pro 10.0.8, Mouvement 5.0.7 et Compressor 4.0.7 mises à jour pour les derniers jours et je suis très heureux avec ce que l'équipe de développement d'Apple a retiré une fois de plus. Nous avons vu tant de mises à jour si rapidement, il me stupéfie les programmeurs peuvent obtenir le code tellement écrit si vite. Permettez-moi donc de couvrir les mises à jour de FCP X 10.0.8 brièvement.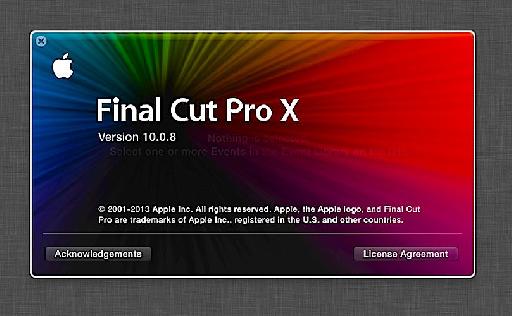 Nouvelles fonctionnalités
Il ne coûtent pas beaucoup de nouvelles fonctionnalités, mais mon préféré est les nouveaux raccourcis clavier Clip Voir. Le plus simple à retenir est le raccourci clavier Control-Option-Up/Down nouvelle flèche. Cette passeront en revue les 5 étapes de la quantité de données audio pellicule forme d'onde vidéo vs montre dans les clips chronologie.
Utilisation du Contrôle-Option-(1 à 6) raccourcis clavier cibler n'importe quel de ces étapes directement, plus la taille de la puce qui montre que les étiquettes clip. Cette configuration est très facile de se rappeler rapidement. J'ai été de les utiliser tous les jours, comme si Id eu recours à eux toute ma vie.

FCP x dispose maintenant de deux supports de caméra nouveaux. Le nouveau Sony XAVC codec sur F5 et F55 leurs caméras sont entièrement pris en charge nativement jusqu'à la résolution 4K. ARRI éditeurs ont plus de soutien maintenant, aussi. L'ARRI ALEXA pouvez enregistrer ProRes avec des niveaux de journal vidéo C. FCP X 10.0.8 dispose maintenant d'un affichage non destructifs pour les séquences spécifiques qui peuvent basculer entre le C et la gamme de Connexion Rec couleur 709, sans rendu. FCPXML fichiers exportés à DaVinci Resolve et Autodesk Smoke sont entièrement pris en charge et apportera les fichiers journaux C plus avec elle.
D'autres bonnes nouvelles, c'est que lorsque nous utilisons la fonction de resynchronisation inverser des clips qu'ils rendent maintenant en arrière-plan. Métadonnées numéro de bobine noyée dans une piste de timecode des clips est maintenant visible, aussi.

Correction de bugs
Les problèmes de performances lors de l'utilisation de certains titres et effets, ou lors de la sélection de plusieurs plages sur un seul clip ont été corrigés. Fichiers audio mono maintenant exporter avec des niveaux corrects dans les fichiers de son surround. Les zones de dépôt ne forcez pas un clip pour commencer sur la première image lorsque la relance. Et le jeu autour de la fonction fonctionne très bien lors de la visualisation des clips sur certains périphériques vidéo externes.
Mise à jour d'alerte
Ne jamais mettre à jour au milieu des projets. Les terminer avant la mise à jour de votre système. Cela est vrai pour n'importe quelle application lourde de travail tel montage non linéaire. Avoir une sauvegarde quotidienne de vos lecteurs. Et suivre le processus Pommes mise à jour recommandée. Si vous faites cela pour gagner leur vie, ces étapes sont essentielles pour ne pas perdre votre arrière pour vos clients.
http://support.apple.com/kb/ht5550
X FCP En action
Selon Harry Miller de l'ACE, avec Avid sur les cordes financières nombre de leurs membres donnent FCP X un second regard. LA Times Chris états Obrian Apple est sur un X FCP campagne de relations publiques dans la perspective de NAB Show 2013, avec mises à jour de leur Final Cut Dans la page Action. Ma vitrine nouveau favori est le réalisateur chinois Tsui Hark, dont le nouveau film de Jeune Détective Dee: Rise of the Sea Dragon est un état-of-the-art 3D fonctionnalité édité sur Final Cut Pro X. mexicaine TV Azteca télévision conglomérat est dit d'être en vedette bientôt, aussi.
http://www.apple.com/finalcutpro/in-action/
Motion, Compressor, QuickTime
Voici les principales mises à jour de Motion, Compressor et QuickTime:
Mouvement 5.0.7:
Compresseur 4.0.7:
Codecs QuickTime v.1.0.2:
Conclusion
Même si ce n'est pas une mise à jour énorme, ce que nous obtenons est très important, car toutes les dernières mises à jour ont été. Pomme a été poussée sur les mises à jour pour ces trois applications Pro plus rapide que l'ensemble de la compétition combinée. Si vous savez quelque chose au sujet du développement de logiciels, combien de temps et de travail qu'il faut pour passer de concepts à la cartographie de réellement écrire de code, les tests, la fixation et la finalisation, il est un massif, l'effort laborieux. Mon admiration pour l'équipe de développement de Final Cut. Il sera intéressant de voir comment ces applications évoluer à l'avenir.