When the original Gobbler was released, it soon became apparent it would be an incredibly useful too for online and remote musical collaboration. So new treats what does Gobbler 2.0 have for us?
If you do a lot of online, or national, or international collaborations with other musicians and you haven't heard of Gobbler, I already sympathize with you. If you've used Gobbler, but haven't used it in a while'¦ Well, I'd encourage you to take a look at Gobbler 2.0. If you've used Gobbler, and are like me, you love it. Then, you've got to read on, you'll be as excited as I am.
New Ways of Working
If you're not familiar with it, Gobbler is a dedicated, musician version of services like SendSpace, and so on. Where it separates itself from any old file sharing service would be in the fact that it's coded to work with DAW files from software applications like Pro Tools, Garageband, Logic Pro, and so on. Once you load a file up, Gobbler ensures that everything related to that project, like audio files, and other related project material are loaded up as well. Yes, you still have to perform tasks such as Collect and Save, but you don't have to worry about the file server accidentally excluding something. Also, the compression that Gobbler uses is proprietary and quite nice. You never have to worry about zipping, or compressing something before loading it up to Gobbler, it handles that for you.
In past version of Gobbler, you just loaded up the file and your collaborator was notified via email. Now, in Gobbler 2, you can create not only multiple projects, or workspaces, you can also add particular people to certain projects, and other people to other projects.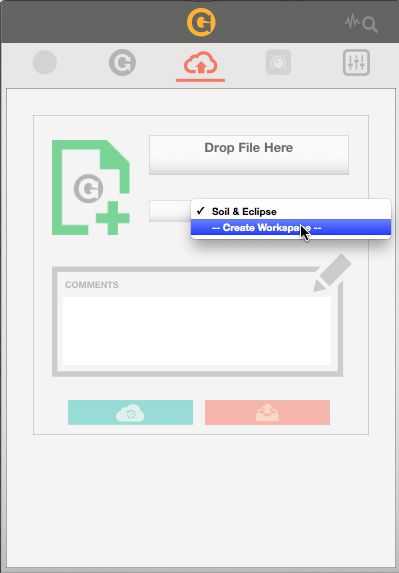 Communicate
Once you've got a project loaded up to a workspace, you can continue to communicate with your collaborators. This is hugely cool, as it's almost like creating a forum dedicated to either a specific song, or specific sets of songs, and a bulletin board for you to post notes about where you're at, and what needs to be done. Working remotely can be tricky. But, when you've got a way to keep everyone one the same page, with such a neat way to communicate with everyone on each specific project. And, because the communication is in real time, like a chat room, it's really almost like having all your collaborators, together, on the leather couch, in the control room, endlessly giving your opinion, just like in real life.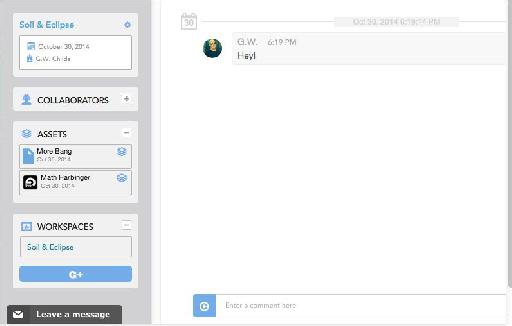 Backup
Gobbler is not just a method of sharing, it's a method of saving. You can back up important projects to a server. Though, how much you can back up greatly depends on the type of plan you're running. Currently, Gobbler 1.0 offered a free 5 GB plan, a 100 GB for $10 a month, 250 GB for $15 a month, or 500 for $25 a month. The Gobbler 2.0 BETA, however, is not space-limited, and is currently FREE. Pricing for Gobbler 2.0 hasn't been announced just yet. With data plans such as these, you can bypass the ever terrifying threat of losing that album you've spent the last three years on. Upload, and it's tucked away, safe, with military-grade data encryption. James Bond's watch blueprints are encrypted with such encryption. Now, you're guitar solo, what's the world coming to?
Conclusion
2.0 is still in Beta, so there are panels in the included app that don't appear to do anything quite yet. However, the functionality is there. You can create workspaces, and add people, and communicate. And, you can start off doing it for free with 5 GB, which will easily help you complete a track with your buddies. As for me: I've used Gobbler for a while and really love it. As a person that's on the go a lot, it's nice to know that my songs are backed up. This is especially true when the only other place I can find the song is on my laptop, which is always traveling with me!
Price: Rates vary.

Pros: Military grade encryption for impeccably backed up DAW files that can be shared in groups, with multiple musicians of your choice.
Cons: It's still in Beta.