When the original Gobbler was released, it soon became apparent it would be an incredibly useful too for online and remote musical collaboration. So new treats what does Gobbler 2.0 have for us?
Si usted hace un montón de colaboraciones en línea, o nacionales, o internacionales con otros músicos y usted no ha oído hablar de Gobbler, ya me solidarizo con usted. Si usted ha utilizado Gobbler, pero havent se utiliza desde hace tiempo Bueno, Id Le animamos a echar un vistazo a Gobbler 2.0. Si usted ha utilizado Gobbler, y son como yo, te encantará. Entonces, tu tienes que leer en, usted será tan emocionados como yo.
Nuevas Formas de Trabajo
Si usted no está familiarizado con él, Gobbler es una versión músico dedicado de servicios como SendSpace, y así sucesivamente. Cuando se separa de cualquier edad, servicio de compartir archivos estaría en el hecho de que su codificados para trabajar con archivos de aplicaciones de software DAW como Pro Tools, GarageBand, Logic Pro, y así sucesivamente. Una vez que se carga un archivo de arriba, Gobbler asegura que todo lo relacionado con ese proyecto, al igual que los archivos de audio y otros materiales relacionados con el proyecto se cargan para arriba también. Sí, usted tiene todavía para realizar tareas como recoger y guardar, pero usted no tiene que preocuparse por el servidor de archivos excluyendo accidentalmente algo. Además, la compresión que utiliza Gobbler es propietaria y bastante agradable. Usted nunca tiene que preocuparse de pasar con velocidad, o comprimir algo antes de cargarlo hasta Gobbler, que se encarga de eso por ti.
En la versión anterior de Gobbler, que acaba de cargar el archivo y su colaborador fue notificado por correo electrónico. Ahora, en Gobbler 2, puede crear no sólo múltiples proyectos o áreas de trabajo, también puede añadir las personas particulares a determinados proyectos, y otras personas de otros proyectos.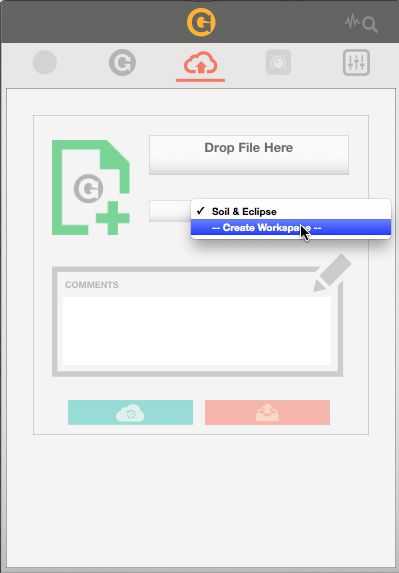 Comunicarse
Una vez que tu tienes un proyecto cargado hasta un espacio de trabajo, puede seguir para comunicarse con sus colaboradores. Esto es muy fresco, como es casi como la creación de un foro dedicado a cualquiera de una canción específica, o conjuntos específicos de las canciones, y un tablón de anuncios para que usted pueda publicar notas acerca de donde usted está en, y lo que hay que hacer. Trabajar de forma remota puede ser complicado. Pero, cuando tu tienes una manera de mantener a todo el mundo uno de la misma página, con una manera ordenada para comunicarse con todo el mundo en cada proyecto específico. Y, debido a que la comunicación es en tiempo real, al igual que una sala de chat, es realmente casi como tener todos sus colaboradores, juntos, en el sofá de cuero, en la sala de control, sin parar de dar su opinión, al igual que en la vida real.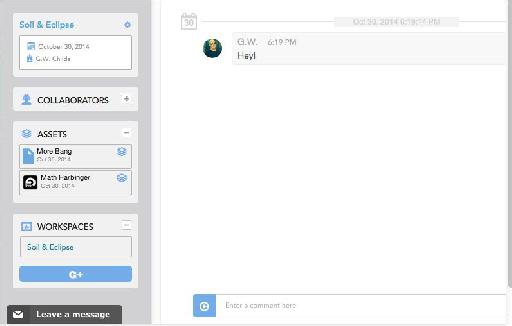 Reserva
Gobbler no es sólo un método de intercambio, es un método de ahorro. Puede copia de seguridad de los proyectos importantes a un servidor. Aunque, la cantidad que puede realizar copias de seguridad en gran medida depende del tipo de plan de estás corriendo. Actualmente, Gobbler 1.0 ofrece un plan gratuito de 5 GB, un 100 GB por $ 10 al mes, 250 GB por $ 15 al mes, o 500 por $ 25 al mes. El BETA Gobbler 2.0, sin embargo, no es el espacio limitado, y actualmente es GRATIS. El precio de Gobbler 2.0 no ha sido anunciado todavía. Con los planes de datos de este tipo, se puede pasar por alto la amenaza cada vez terrorífica de perder ese álbum que has pasado los últimos tres años. Cargados, y su escondido, seguro, con encriptación de datos de nivel militar. Planos reloj James Bonds se cifran con tal de cifrado. Ahora, usted está solo de guitarra, ¿cuál es el mundo?
Conclusión
2.0 todavía está en beta, por lo que son los paneles en la aplicación incluida que no te parece hacer nada bastante todavía. Sin embargo, la funcionalidad es allí. Puede crear espacios de trabajo, y agregar personas, y comunicar. Y, usted puede comenzar a hacerlo de forma gratuita con 5 GB, que será fácilmente ayudarle a completar una pista con tus amigos. En cuanto a mí: he utilizado Gobbler por un tiempo y realmente me encanta. Como una persona eso es en el ir mucho, es bueno saber que mis canciones son respaldados. Esto es especialmente cierto cuando el único otro lugar en el que puedes encontrar la canción está en mi portátil, que siempre viaja conmigo!
Precio:
Pros:
Contras:
Web: