When the original Gobbler was released, it soon became apparent it would be an incredibly useful too for online and remote musical collaboration. So new treats what does Gobbler 2.0 have for us?
Si vous faites beaucoup de collaborations en ligne, ou nationaux, ou internationaux avec d'autres musiciens et vous ne l'avez entendu de Gobbler, je sympathise déjà avec vous. Si que vous avez utilisé Gobbler, mais havent utilisé dans un tout bien, Id vous encourage à jeter un oeil à Gobbler 2.0. Si que vous avez utilisé Gobbler, et sont comme moi, vous l'aimez. Alors, que vous avez obtenu à lire, vous aurez aussi enthousiastes que moi.
Nouvelles méthodes de travail
Si vous n'êtes pas familier avec elle, Gobbler est une version dédiée, musicien de services comme SendSpace, et ainsi de suite. Où il se sépare de tout service de partage de fichiers vieux serait dans le fait que son codé pour travailler avec des fichiers audionumériques à partir d'applications de logiciels comme Pro Tools, Garageband, Logic Pro, et ainsi de suite. Une fois que vous chargez un fichier jusqu'à , Gobbler veille à ce que tout ce qui concerne ce projet, comme les fichiers audio, et d'autres documents de projet connexe sont chargés ainsi. Oui, vous avez encore pour effectuer des tâches telles que collecter et enregistrer, mais vous ne devez pas vous soucier de serveur de fichiers à l'exclusion accidentellement quelque chose. En outre, la compression qui utilise Gobbler est propriétaire et très agréable. Vous ne devez jamais vous soucier de passer comme un éclair, ou la compression de quelque chose avant de le charger jusqu'à Gobbler, il gère pour vous.
Dans la version de Gobbler passé, vous venez de charger le fichier et votre collaborateur a été averti par email. Maintenant, dans Gobbler 2, vous pouvez non seulement créer de multiples projets, ou des espaces de travail, vous pouvez également ajouter des personnes particulières à certains projets, et d'autres personnes à d'autres projets.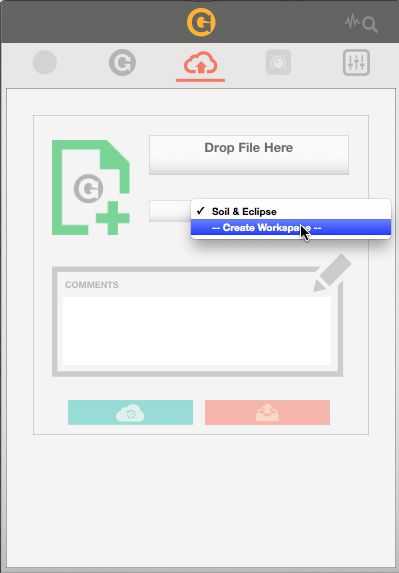 Communiquer
Une fois que vous avez obtenu un projet chargé jusqu'à un espace de travail, vous pouvez continuer à communiquer avec vos collaborateurs. Ceci est extrêmement cool, comme son presque comme la création d'un forum dédié à soit une chanson particulière, ou ensembles spécifiques de chansons, et un tableau d'affichage pour vous signaler des notes sur l'endroit où vous êtes à , et ce qui doit être fait. Travailler à distance peut être délicat. Mais, lorsque que vous avez obtenu une façon de garder tout le monde une la même page, avec une telle manière propre de communiquer avec tout le monde sur chaque projet spécifique. Et, parce que la communication est en temps réel, comme une salle de chat, son vraiment presque comme avoir tous vos collaborateurs, ainsi que, sur le canapé en cuir, dans la salle de contrôle, donnant sans cesse votre opinion, tout comme dans la vraie vie.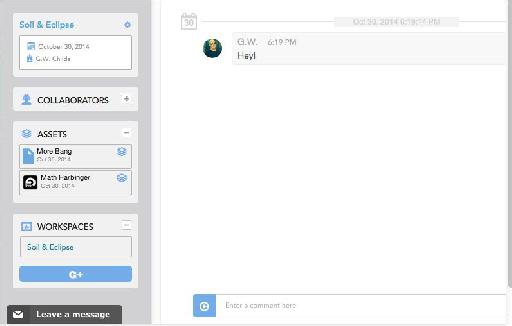 Sauvegarde
Gobbler est pas seulement une méthode de partage, sa méthode d'épargne. Vous pouvez sauvegarder des projets importants à un serveur. Bien, combien vous pouvez sauvegarder dépend largement du type de régime que vous êtes en cours d'exécution. Actuellement, 1,0 Gobbler offert gratuitement un plan F 5, 100 Go pour 10 $ par mois, 250 Go pour 15 $ par mois, ou 500 pour 25 $ par mois. Le BETA Gobbler 2.0, cependant, ne se limite pas l'espace, et est actuellement libre. Prix ​​pour Gobbler 2.0 n'a pas encore été annoncé. Avec des plans de données comme celles-ci, vous pouvez contourner la menace toujours terrifiant de perdre ce que vous avez dépensé album des trois dernières années sur. Soumettre, et sa niché, coffre-fort, avec cryptage de données de niveau militaire. James Bond plans de surveillance sont cryptées avec une telle cryptage. Maintenant, vous êtes solo de guitare, ce qui est le monde?
Conclusion
2.0 est encore en version bêta, donc il ya des panneaux dans l'application inclus que Dont semble faire quelque chose tout de suite. Toutefois, la fonctionnalité est là . Vous pouvez créer des espaces de travail, et ajouter des personnes, et de communiquer. Et, vous pouvez commencer de le faire gratuitement avec 5 Go, qui sera facilement vous aider à remplir une piste avec vos copains. Quant à moi: Ive utilisé Gobbler pendant un certain temps et aiment vraiment il. Comme une personne des thats sur la route un lot, son bon de savoir que mes chansons sont sauvegardés. Cela est particulièrement vrai lorsque le seul autre endroit où je peux trouver la chanson est sur mon ordinateur portable, qui est toujours en voyage avec moi!