When the original Gobbler was released, it soon became apparent it would be an incredibly useful too for online and remote musical collaboration. So new treats what does Gobbler 2.0 have for us?
Se você faz um monte de colaborações on-line, ou nacionais, ou internacionais, com outros músicos e você ainda não ouviu falar de glutão, eu já simpatizo com você. Se youve usado glutão, mas havent usado isso em um tempo Bem, Id encorajá-lo a dar uma olhada em Gobbler 2.0. Se youve usado Gobbler, e é como eu, você o ama. Então, você começou a ler, você vai ser tão animado como eu sou.
Novas formas de trabalho
Se você não está familiarizado com ele, é glutão, uma versão músico dedicado de serviços como SendSpace, e assim por diante. Onde ele separa-se de qualquer idade serviço de compartilhamento de arquivo seria no fato de que seu código para trabalhar com arquivos de aplicativos de software DAW como o Pro Tools, GarageBand, Logic Pro, e assim por diante. Uma vez que você carregar um arquivo para cima, glutão garante que tudo relacionado a esse projeto, como arquivos de áudio e outros materiais projeto relacionado são carregados também. Sim, você ainda tem que executar tarefas como recolher e guardar, mas você não tem que se preocupar com o servidor de arquivos excluindo acidentalmente alguma coisa. Além disso, a compressão que Gobbler usa é proprietária e bastante agradável. Você nunca precisa se preocupar em fechar, ou comprimir algo antes de carregá-lo até Gobbler, ele lida com isso para você.
Na versão passada do glutão, você só carregou o arquivo e seu colaborador foi notificado via e-mail. Agora, em Gobbler 2, você pode criar não só vários projetos, ou espaços de trabalho, você também pode adicionar pessoas específicas relativas a determinados projectos, e outras pessoas de outros projetos.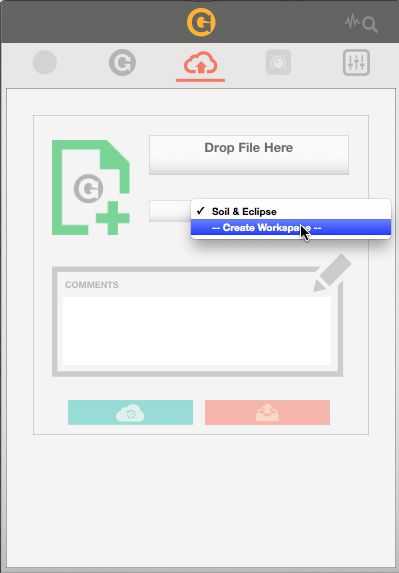 Comunicar
Uma vez que você tem um projeto carregado até um espaço de trabalho, você pode continuar a se comunicar com os seus colaboradores. Isso é extremamente legal, como é quase como a criação de um fórum dedicados a uma música específica, ou conjuntos específicos de músicas, e um quadro de avisos para você postar notas sobre onde você está, eo que precisa ser feito. Trabalhar remotamente pode ser complicado. Mas, quando você começou uma maneira de manter todos uma mesma página, com um jeito tão puro de se comunicar com todo mundo em cada projeto específico. E, porque a comunicação é em tempo real, como uma sala de chat, é realmente quase como ter todos os seus colaboradores, em conjunto, no sofá de couro, na sala de controle, sem parar de dar o seu parecer, assim como na vida real.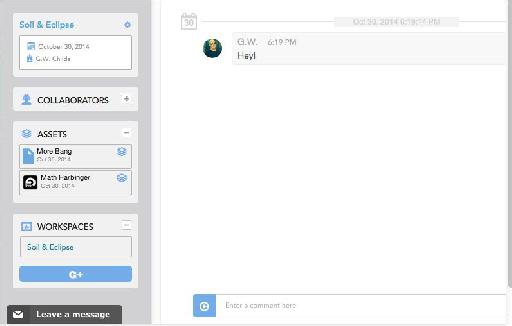 Backup
Gobbler não é apenas um método de partilha, é um método de poupança. Você pode fazer backup de projetos importantes para um servidor. Embora, o quanto você pode fazer backup depende muito do tipo de plano você está correndo. Atualmente, Gobbler 1,0 oferecidos gratuitamente um plano de 5 GB, a GB 100 para US $ 10 por mês, 250 GB por US $ 15 por mês, ou 500 por US $ 25 por mês. A BETA Gobbler 2.0, no entanto, não é limitado no espaço, e atualmente é GRÁTIS. Os preços para Gobbler 2.0 não foi anunciado ainda. Com planos de dados como esses, você pode ignorar a ameaça cada vez aterrorizante de perder esse álbum youve passou os últimos três anos depois. Publique, e seu escondido, seguro, com criptografia de dados de nível militar. James Bonds relógio blueprints são criptografadas com essa criptografia. Agora, você é solo de guitarra, o que é o mundo vai parar?
Conclusão
2.0 ainda está em Beta, por isso há painéis no aplicativo incluído que Não parecem fazer nada ainda. No entanto, a funcionalidade é ali. Você pode criar espaços de trabalho, e adicionar pessoas, e se comunicar. E, você pode começar a fazê-lo gratuitamente com 5 GB, o que irá ajudá-lo facilmente concluir uma pista com seus amigos. Quanto a mim: Ive usado Gobbler por um tempo e realmente amá-lo. Como uma pessoa isso é sobre a ir muito, o seu bom saber que minhas músicas são apoiados. Isto é especialmente verdadeiro quando o único outro lugar que eu possa encontrar a música está no meu laptop, que está sempre viajando comigo!
Preço:
Prós:
Contras:
Web: