A guitar tuner for iPhone used to be a revolutionary concept. But IK Multimedia want to take this further with UltraTuner for iPhone, iPad and... Apple Watch. How does it perform? Find out below.
Gitarren Stimmgeräte für das iPhone haben, zu diesem Zeitpunkt war der Fluch meines Lebens. Ill zugeben itim ein Tuning Snob. Im nicht ein Fan von kostengünstigen Tuner oder ungenau diejenigen, für diese Angelegenheit. Geben Sie mir einen guten Strobe Tuner über eine günstige Pedal an jedem Tag der Woche. Wenn IK kündigte die Veröffentlichung von UltraTuner , eine App für das iPhone, die schließlich bereit, ein wenig Leistung (elektrische und CPU) in den Tuning-Prozess setzen würde, war ich fasziniert. Nach dem Download der App und dessen Verwendung für die Woche, seine graduierte an der ersten Seite der apps auf meinem Handy, eine Ehre, nur für wenige vorbehalten.
Bitte warten, Es gibt Stimmgeräte Boutique?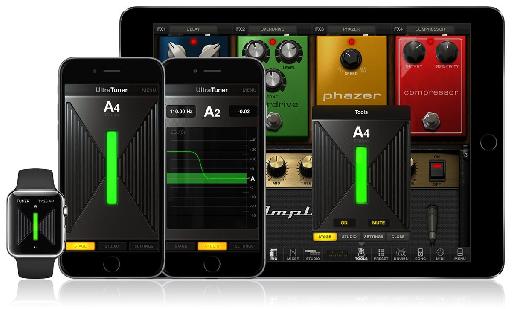 Wenn das youre, verwendet werden, um Clip-on Tuner oder freie / ad unterstützt Tuning apps Ill warnen youonce Sie UltraTuner verwenden youll nie mehr zurück. Strobe Tuner werden im Allgemeinen als die genaueste und reaktions Methode, um Ihr Instrument Tuning sein. Die meisten der Tuner apps Ive angetroffen bisher das Gegenteil von diesen verkörpert. Ein Tuner, der schnelle Blitz nicht ist in allen ihren Reaktionen ist ein Schmerz zu bedienen. Als der Tuner reflektiert, dass youre in der Melodie, youve wahrscheinlich an der gewünschten Note weg und wieder aus der Melodie. Der gesamte Prozess wird langsam und frustrierend.
A Better Way
UltraTuner meidet das Paradigma der seine Vorgänger. Die meisten iOS Tuner sind eine afterthoughtadded in einen Werkzeugkasten von anderen Dingen oder als kostenlose App gemacht. UltraTuner ist schnell, reaktionsschnell und präzise. Im Studio-Modus, haben Sie eine Strobe-Stil-Tuner, der eine Genauigkeit von 0,01 Cent ist, und seine Reaktionszeit fühlt sich absolut Augenblick. Der Eingang kann für maximale Wirksamkeit kalibriert werden, und wenn sie mit einer Schnittstelle, die das interne Mikrofon umgeht (wie das iRig) gepaart Sie auf ein sauberes Signal zu zählen.
Sie können sogar tippen Sie auf die Studio-Modus Etikett und wechseln in Pech Geschichte-Modus. Hier youll auf ein Bit eines modifizierten Blitzmodus, der Ihnen einen Live-gezeichnete Linie Kurve, die Ihre Instrumente aktuelle Stimmung in den letzten Sekunden behandelt werden. Es ist nur so genau, und kann ein anderer Weg, um Ihnen helfen, schnell in der Melodie zu bekommen.
I Can See For Miles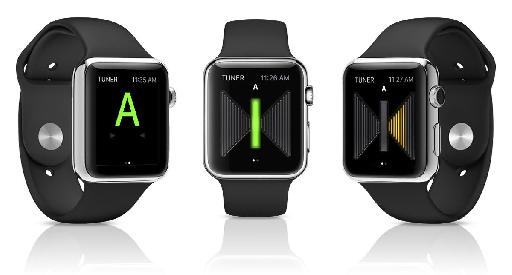 Studio-Modus ist nicht der einzige Trick UltraTuner hat im Ärmel. Wenn Sie brauchen nicht die Präzision eines Strobe Tuner Angebote und Sie eine eher traditionelle Stimm-Modus sehen möchten, können Sie Bühnenbetrieb eingreifen kann. In Phase-Modus, erhalten Sie einen Tuner, die leichter von weiter weg zu sehen ist. Es ist nicht so visuell präzise wie ein Blitz, aber seine immer noch schnell und einfach zu bedienen. Seine auch verwendbar auf dem Apple-Uhr, wenn Sie eine haben, obwohl Im nicht von der Nützlichkeit, dass noch überzeugt. Sie kann nicht wirklich die Uhr erhalten in einem Winkel, die visuell nützlich ist, während die Stimmen einer Gitarre und der Verwendung der Uhr, wie ein Tuner Art nimmt eine Ihrer Hände aus der Gleichung heraus. Ich nehme an, wenn youre nicht ein Gitarrist (Bläser, analoge Synthesizer-Spieler) seine weniger ein Problem.
Abschluss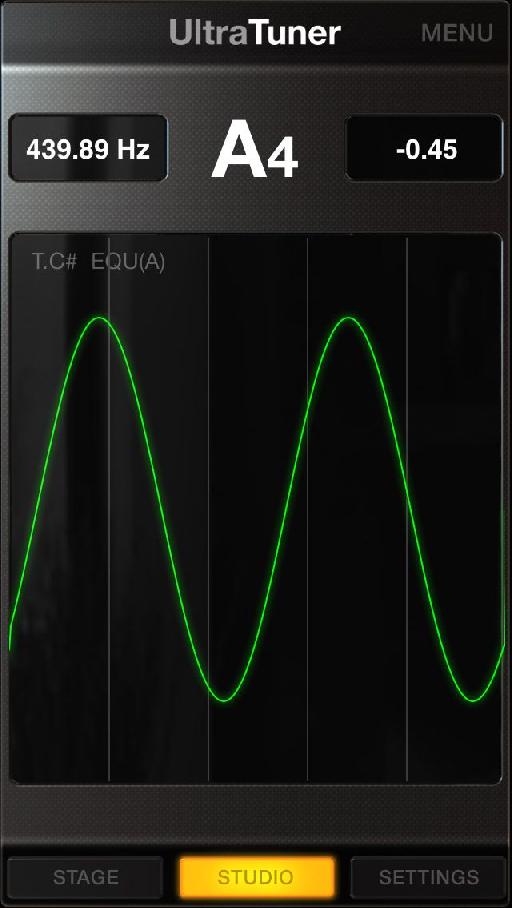 Ganz einfach, UltraTuner die beste iOS-Tuner können Sie kaufen. Seine extrem schnell, bemerkenswert genau, in hohem Maße konfigurierbar für geräuschvollen Situationen, und kann Sie sehr zuversichtlich fühlen und stressfrei beim Tuning. Bei weniger als 5 $ sein ein Klacks. Kaufen Sie diese App.

Preis:
Vorteile:
Nachteile:
Website: