The five word of Nodes by Yanobox: Amazing, Procedural, Flexible, Useful, Wonderful. Find out why Iain Anderson rates Nodes so highly!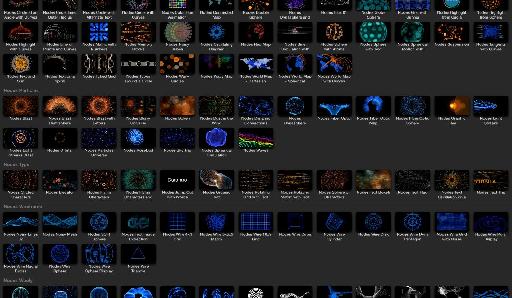 This is just most of the presets, as seen in FCP X.
Amazing
If you can watch the demo video and not instantly want this product, then I'm not sure we live on the same planet. Nodes is a motion graphics generation tool that combines dots (well, nodes), connection lines, and text in 3D space with a bewildering array of presets to get you going, and a ton of settings you can tweak to produce your own unique looks. If you've seen Tron, and you've seen the Tron remake, then you know where the inspiration came from. If you've seen Iron Man or Ender's Game, then you've actually seen the product in use, to build the heads-up display in Tony Stark's suit or many of the on-screen displays.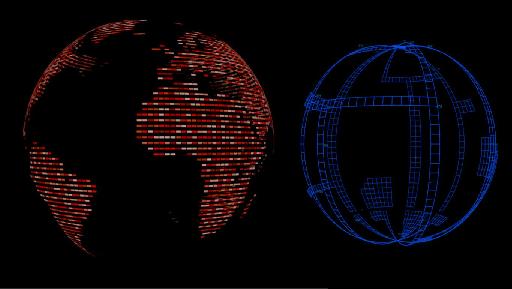 Techy spheres of joy'"and these are just presets.
Essentially, it's futuristic, as understood by the movies. Just using the presets, you can create a jellyfish-like creature from dots and lines, a cloud of constantly moving letters in 3D space connected to one another with lines, lines that wave like a flag rippling, a world map made of numbered rectangles, and an explosion of dots into space. It's staggeringly good, and all the more amazing that these presets are more or less built from the same basic building blocks.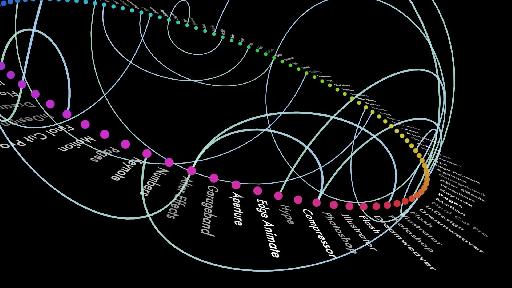 How about a spinning display of apps I like?
Procedural
Start from a group of nodes arranged in some way, then connect the nodes to one another, then label the nodes. Then animate the whole thing. Simple, right? No.
Nodes is procedural, generating its effects from parameters that you control, sliders and switches you adjust, and images you feed it. If you've ever played with the settings behind a particle emitter or replicator in Motion, then you've got some idea of what you're playing with. The sheer number of options and controls that Nodes gives you can make even a complex replicator feel quite restrictive. Built-in animation controls make it easier to get things moving, and a Form control will instantly arrange your nodes in whatever form you wish, including a 3D model if you've got one handy.
The number of options, and the ways in which they interact, give Nodes a life of its own. Sometimes it can feel as if you're not directly designing, but merely nudging the process in the right direction and letting something you didn't expect emerge from the primordial soup. That's pure digital joy.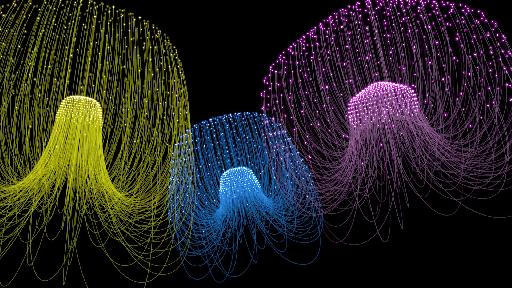 These three jellyfish animate in real-time in Motion on an iMac.
Flexible
How difficult would it be to create something like this on your own? Let's say 'very'. All those options make starting from scratch a very complex proposition, which is why starting from one of the 100+ presets is an excellent idea instead.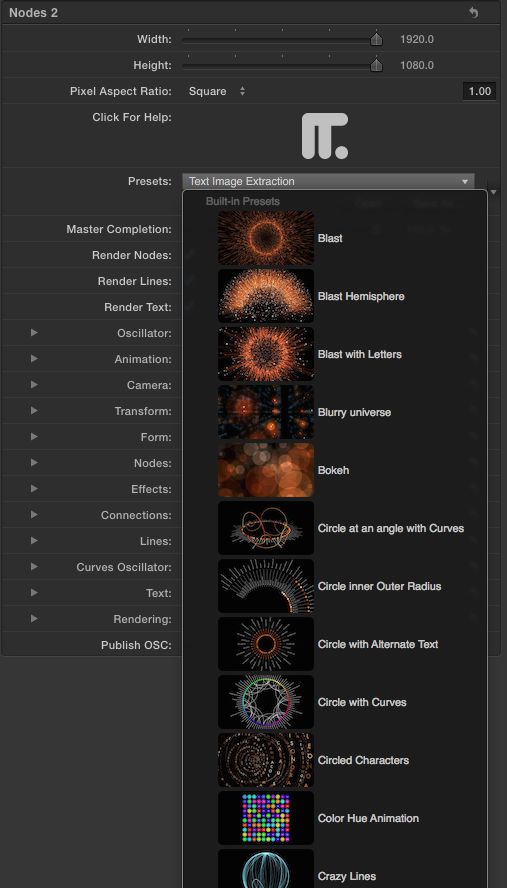 In Motion, you start from a single generator, then pick your preset from the menu.
First, you have your nodes. While they might be simple dots, you can change their shape, size, thickness, color, opacity, softness, blending mode, angle, and more. Maybe your nodes are actually short lines, or globes?
Second, you connect those nodes to one another (static or animated; randomly, specifically chosen, or governed by parameters) with lines, which can be lines or tubes, curve in this way or that, can have visible or hidden tangents offset in any direction, and of course have plenty of color and opacity options of their own.
Third, you have text labels for each node, which can be completely customized or generated by rules.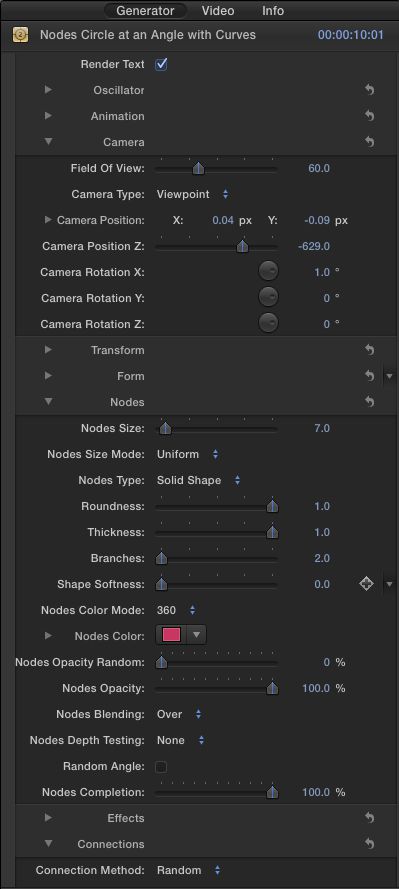 In FCP X, you start from one of the many preset generators, then tweak away.
Once you've decided on those, you need to decide how to distribute the nodes, using one of the pre-chosen forms or your own 3D model. Oh, and then animate it. While it would be theoretically possible to build some of these effects in Motion from scratch, they wouldn't be anywhere near as fast, nor would it be worth your valuable time to build them.
While there are built-in animation controls, not every parameter can be touched by the built-in animation engine. Luckily, you can access your host app's animation controls, and while the standard FCP X keyframes can be a bit anaemic, Motion's parameter behaviors and keyframe graphs are not. While it's quite possible to use Nodes exclusively in FCP X, if you want to get really down and dirty, throw it into Motion instead to take advantage of the superior animation controls. (After Effects works too if you prefer it, though Motion was faster in my testing.)

Some keyframe graphs animating Nodes parameters over time.
Useful
Next time you need a futuristic looking background, this is the place to come. Besides glowing blue lines and dots in a variety of moving and static shapes, you'll find natural-looking tentacles, explosions of lines or dots, undulating shapes, and many circles and spheres which look like they're communicating something very important indeed. Yes, it's eye candy, but it's original eye candy that didn't take you all day to make and won't take long to customize.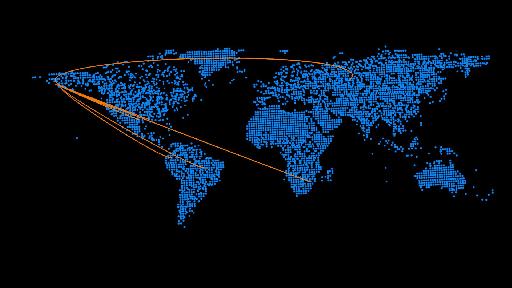 Here's a map with several cities connected, just breaking apart into a dot cloud.
It's worth noting that while the package offers eye candy in spades, Nodes can also be genuinely informational. Need an interactive map which destroys itself? The provided map presets can call out nodes in a sequence you choose, before the dots fly apart. Without too much fuss, you can connect labeled images in a sequence you define, as they draw on, or fly together or apart. You can also call out your own text items in sequence, one after the other, from a complex swarm of data dots. Get really fancy, and you could harness the power of parameter behaviors to connect the volume of audio to the amplitude of a wave displacement. Why not?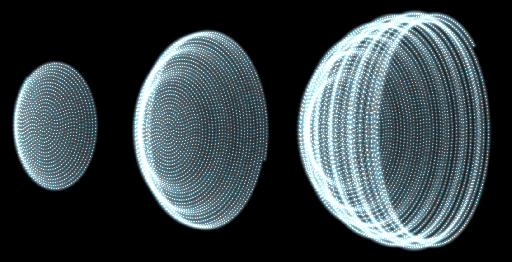 Using the Audio parameter behavior, this speaker pulses while the audio plays.
Wonder
One of the great joys of using this program is that if you want to know how one of the presets was made, just poke around. Something simple: Nodes Particle Universe is a randomly distributed spinning starfield: 2500 glowing shapes randomly distributed, and then a Rotation around Y added. Want to suddenly fly through those stars? Go ahead and animate Z on the object or the camera, or use Nodes Sky Trip instead.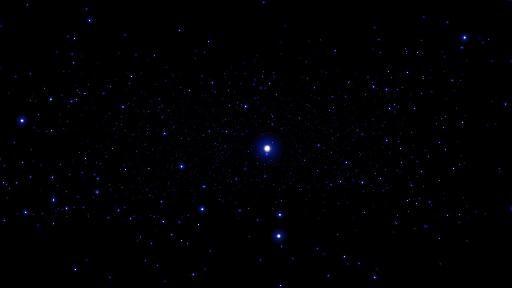 A frame from the Sky Trip preset.
So many complicated motion graphics concepts are made easy here that I worry that producers will suddenly think we can make anything in no time at all. Indeed, the presets are so good that the main danger is that they'll be used too often without further tweaking, and they'll become a very fashionable design cliché. Learning how to manipulate the parameters to produce unique work remains a useful skill you'll have to learn with time and experience.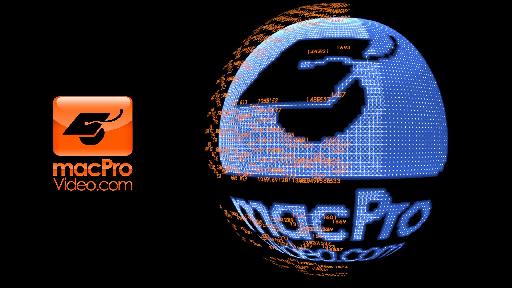 You have to take the company logo and wrap it around a globe, don't you?
Nodes is awesome: incredible to look at and powerful under the hood. Even though the presets are great, the real power is in the potential that customization can bring. Harness that, and it'll make you look like a genius.