Novation's LaunchPad & Launchpad Mini are not mere stocking fillers, they're extremely capable MIDI controllers! Will the Launch Control prove as useful and popular? Hollin Jones finds out.
Novations وتستخدم على نطاق واسع عبر وحدات تحكم عالم التكنولوجيا والموسيقى والشركة لديها تشكيلة قوية وخاصة من الأجهزة التي تستهدف السيطرة على ابلتون الحياة. أصغر من إطلاق تشكيلة جديدة هي تحكم في اطلاق ، مربع MIDI مدمجة للغاية أن يكون أكثر قدرة التي تبدو قد توحي. في 80/125 $ للن كسر البنك، وهذه هي أسعار التجزئة، لذلك قد يكون جيدا الشارع أسعار أقل.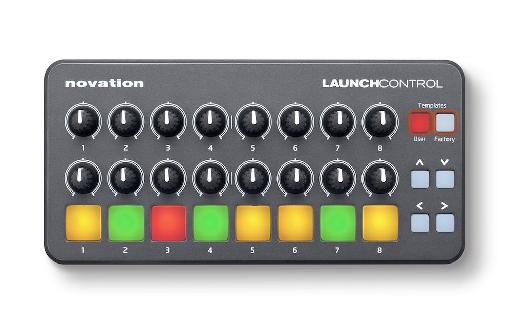 خفيفة الوزن وصغيرة الحجم، وتحكم في اطلاق ما زال شيدت بشكل جيد للغاية.
كل صغير جميل
إطلاق تحكم صغيرة وخفيفة الوزن ولكن لا يزال قوي، مع منفذ قفل كنسينغتون في لندن لتأمين منطقة الجزاء، وكبل USB للاتصال جهاز Mac أو PC. مثل أعضاء آخرين من الأسرة، وهو متوافق مع انطلاق التطبيق باد وعند الاتصال، خرائط لمعلمات ذات الصلة داخله. لتمكين هذا، وسوف تحتاج إلى أن يكون لمجموعة اتصال الكاميرا لتمكنك من ربط كابل USB إلى جهاز iPad. إذا قمت بذلك، فسوف تجد القوى تحكم في اطلاق من باد، أو في الواقع من جهاز الكمبيوتر الخاص بك عند الاتصال بهذه الطريقة.
هناك 16 المقابض احالة وثمانية منصات، الخلفية ومرمزة. والفكرة هي أنه عندما يتم استخدام انطلاق للاثار، وهذا يمكن أن تستخدم أيضا للمعلمة التغيير والتبديل وذلك بفضل المقابض لها. تم تصميم اثنين ليتم استخدامها معا، رغم أن هذا هو أسهل مع الكمبيوتر من على باد، حيث كنت عرضة للنفاد مدخلات USB المتاحة وليس بسرعة. الضوابط وقوي واستجابة ومنصات اللمس مطمئن عند الضغط عليها، والنقر فوق لأسفل يكفي ان اقول لكم ان كنت قد ضغطت واحد بنجاح. للتنقل مشروع يمكنك استخدام مفاتيح الأسهم الأربعة إلى يمين السطح الأمامي وتقديم اثنين من الأزرار المتبقية الوصول إلى المستخدم أو مصنع القوالب: ثمانية من كل. لذلك من الممكن استخدام الجهاز مع غربان الزرع أخرى مثل فلوريدا الاستوديو، ابوك والعقل والمنطق وغيرها، وإنشاء وحفظ قوالب لاستدعاء الفورية.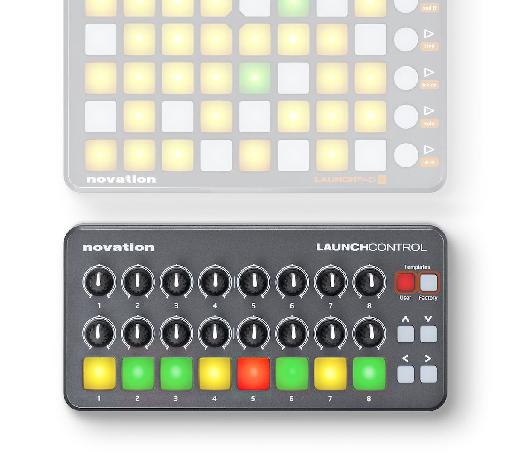 المصممة للدخول في شراكة مع انطلاق أو انطلاق البسيطة وإضافة المقابض إلى ترسانة الخاص بك من الضوابط.
التدريب العملي على
في الاستخدام، ومراقبة إطلاق كبيرة ويمكنك استخدام المقابض لتغيير الفلاتر والمستويات والآثار في حين أن منصات جيدة لكتم، وتفعيل تأثير أو إطلاق مقاطع أو مشاهد. أنه يعمل بشكل جيد مع التطبيق باد انطلاق، والذي هو حقا بارد ومتعة للاستخدام، ويستفيد من وجود بعض التدريب العملي على تأثير الضوابط ويطلق كليب عن طريق أزرار الأجهزة والمقابض. لون الترميز من الأزرار هي أيضا مفيدة لمساعدتك على تتبع ما يجري، وتحصل لايف لايت المجمعة مجانا فضلا عن جمع العينات من Loopmasters. حتى تحصل على قشطه V-محطة ومحطة باس لينة واحدة، وهي لمسة لطيفة.
إطلاق تحكم هو وحدة تحكم MIDI المدمجة بشكل لا يصدق أن تتجه نحو العمل بسلاسة مع لايف ولكن أيضا على التكيف بسهولة للعمل مع غربان الزرع أخرى. لها المحمولة بشكل كبير، مصممة بشكل جيد وسهلة للحصول على السيطرة مع. إذا كنت في حاجة للسيطرة على العيش على هذه الخطوة أو هي مجرد دفع قليلا للفضاء، في وسيلة رائعة للذهاب.
على شبكة الإنترنت: