Novation's LaunchPad & Launchpad Mini are not mere stocking fillers, they're extremely capable MIDI controllers! Will the Launch Control prove as useful and popular? Hollin Jones finds out.
Novations Controller sind weit verbreitet in der Musik-Technologie weltweit eingesetzt und das Unternehmen hat eine besonders starke Aufstellung der Geräte zu steuern Ableton Live richtet. Die kleinste der neuen Start-Formation ist die Launch Control , eine sehr kompakte MIDI-Box das ist mehr in der Lage, dass sieht vermuten lassen könnte. Bei 80 / $ 125 sein Gehen nicht die Bank sprengen, und diese sind die Einzelhandelspreise, so dass Straßenpreise können auch niedriger sein.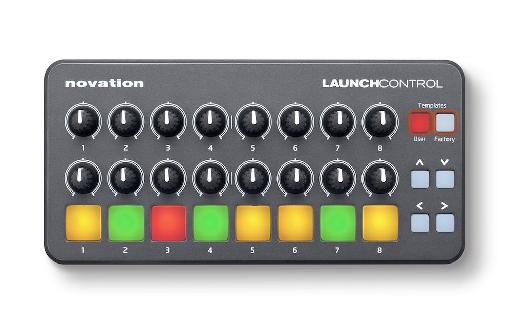 Leicht und kompakt, ist die Launch Control immer noch sehr gut aufgebaut.
Small is beautiful
Launch Control ist klein und leicht und trotzdem robust, mit einem Kensington-Lock-Anschluss zur Sicherung der Box und einem USB-Kabel an den Mac oder PC zu verbinden. Wie die anderen Mitglieder der Familie, ist es mit der iPad-App Launchpad kompatibel und wenn angeschlossen ist, Karten in die entsprechenden Parameter in seinem Inneren. Um dies zu ermöglichen, werden Sie brauchen, um eine Camera Connection Kit haben Sie den Anschluss des USB-Kabels auf Ihr iPad zu lassen. Wenn Sie das tun, werden Sie die Launch Control Kräfte aus dem iPad oder auch von Ihrem Computer zu finden, wenn auf diese Weise verbunden.
Es gibt 16 zuweisbare Drehregler und acht Pads, Hintergrundbeleuchtung und farblich gekennzeichnet. Die Idee ist, dass dort, wo die Launchpad zur Auslösung verwendet wird, kann dies auch für den Parameter verwendet werden, die Feinabstimmung dank der Knöpfe. Die beiden sind so aufeinander abgestimmt eingesetzt werden, wenn dies mit einem Computer einfacher als auf einem iPad, wo du wahrscheinlich ziemlich schnell aus verfügbaren USB-Eingänge laufen. Die Kontrollen sind robuste und reaktions und die Pads sind beruhigend taktile, wenn Sie sie drücken, klicken Sie unten genug, um Ihnen zu sagen, dass Sie erfolgreich gedrückt gewesen sein. Acht der einzelnen: Um ein Projekt können Sie die vier Pfeiltasten auf der rechten Seite der Frontfläche nutzen und die beiden übrigen Tasten ermöglichen den Zugriff auf Benutzer-oder Werks Vorlagen navigieren. So ist es möglich, das Gerät mit anderen DAWs wie FL Studio, Cubase, Reason, Logic und andere verwenden und erstellen und speichern Vorlagen zum sofortigen Abruf.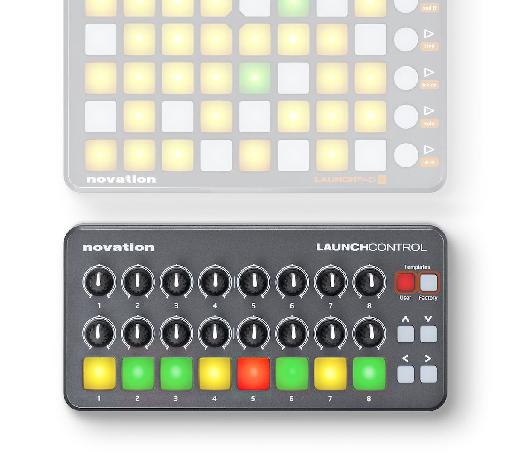 Die Partnerschaft mit dem Launchpad Launchpad oder Mini konzipiert und Knöpfe hinzufügen zu Ihrem Arsenal von Kontrollen.
Hands-on
Bei der Verwendung ist der Launch Control super und man kann die Knöpfe verwenden, um Filter, Ebenen und Effekte zu ändern, während die Pads sind gut für Muting, Wirkung Aktivierung oder Starten von Clips oder Szenen. Es funktioniert gut mit dem iPad Launchpad-App, die wirklich cool und macht Spaß zu benutzen ist, und profitiert davon, einige Hands-on-Effektregler und Clip löst über die Hardware-Tasten und Knöpfe. Die Farbcodierung der Tasten ist auch nützlich, um Ihnen zu verfolgen, was los ist, und Sie Live Lite kostenlos sowie eine Musterkollektion von Loopmasters gebündelt zu bekommen. Sie bekommen sogar die V-Station und Bass Station Soft-Synths gebündelt, was eine nette Geste ist.
Launch Control ist eine unglaublich kompakte MIDI-Controller, der sich nahtlos in Richtung der Arbeit mit Live-, sondern ist auch leicht anpassbar, mit anderen DAWs arbeiten ausgerichtet ist. Seine äußerst portabel, sehr schön gestaltet und einfach in den Griff zu bekommen. Wenn Sie Live-unterwegs kontrollieren oder sind nur ein wenig für die Raumfahrt geschoben, es ist ein guter Weg zu gehen.
Web: