Novation's LaunchPad & Launchpad Mini are not mere stocking fillers, they're extremely capable MIDI controllers! Will the Launch Control prove as useful and popular? Hollin Jones finds out.
Novaciones controladores son ampliamente utilizados en todo el mundo de la tecnología de la música y la compañía tiene una particularmente fuerte línea de dispositivos destinados a controlar Ableton Live. El más pequeño de la nueva línea de lanzamiento es el Launch Control , una caja MIDI muy compacto eso es más capaz que las apariencias puedan sugerir. En 80/125 dólares que no va a romper el banco, y estos son los precios de venta, lo que los precios de la calle, así puede ser más baja.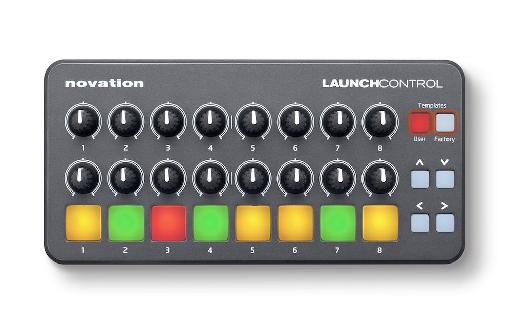 Ligero y compacto, el Launch Control es todavía muy bien construido.
Lo pequeño es hermoso
Launch Control es pequeño y ligero, pero aún robusto, con un puerto de bloqueo Kensington para asegurar la caja y un cable USB para conectar a su PC o Mac. Al igual que los otros miembros de la familia, que es compatible con la aplicación Launchpad iPad y cuando se conecta, se asigna a los parámetros relevantes en su interior. Para permitir esto, usted tendrá que tener un kit de conexión de la cámara para que pueda conectar el cable USB a su iPad. Si lo hace, usted encontrará las facultades de control de lanzamiento del iPad, o incluso de su computadora cuando se conecta de esa manera.
Hay 16 botones asignables y ocho almohadillas, retroiluminado y un código de colores. La idea es que, cuando se utiliza el Área de ejecución para la activación, esto puede también ser utilizado para el parámetro ajustar gracias a sus mandos. Ambos están diseñados para ser utilizados juntos, aunque esto es más fácil con un ordenador que en un iPad, donde youre probable que se quede sin entradas USB disponibles con bastante rapidez. Los controles son resistentes y sensibles y las almohadillas son tranquilizadoramente táctil cuando se presiona el clic lo suficiente como para decirte que ha presionado con éxito uno. Para navegar por un proyecto puede utilizar las cuatro teclas de flecha a la derecha de la superficie frontal y los dos botones restantes facilitar el acceso a las plantillas de usuario o de fábrica: ocho de cada uno. Así que es posible utilizar el dispositivo con otros DAWs como FL Studio, Cubase, Reason, Logic y otros, y crear y guardar plantillas para recordar al instante.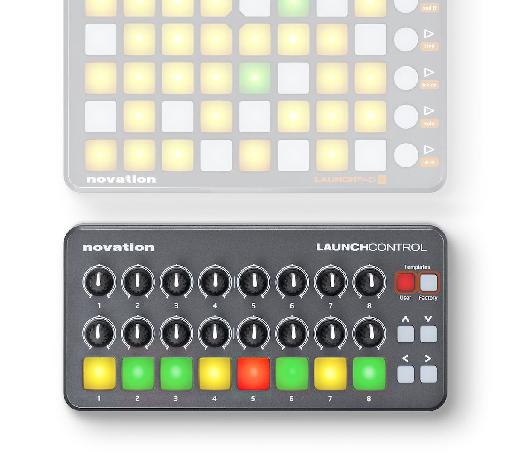 Está diseñado para asociarse con el Launchpad Launchpad o Mini y añadir perillas a su arsenal de controles.
Hands-on
En el uso, control de lanzamiento es genial y se puede utilizar los botones para cambiar los filtros, niveles y efectos, mientras que las pastillas son buenas para el silenciamiento, la activación de efecto o el lanzamiento de clips o escenas. Funciona bien con la aplicación para iPad Launchpad, que es realmente fresco y divertido de usar, y se beneficia de tener unas manos-en los controles del efecto y el clip desencadena a través de los botones de hardware y perillas. Código de colores de los botones también es útil para ayudar a mantener un registro de qué se está encendiendo, y se obtiene Live Lite incluido de forma gratuita, así como una colección de muestras de Loopmasters. Usted puede incluso obtener los sintetizadores software V-Station y Estación Bass paquetes, lo cual es un buen toque.
Launch Control es un controlador MIDI increíblemente compacto que está orientado hacia el trabajo a la perfección con vivo sino que también es fácilmente adaptable para trabajar con otras aplicaciones musicales. Su enorme portable, muy bien diseñado y fácil de conseguir a los apretones con. Si necesita controlar en vivo en movimiento o simplemente tienes un poco presionado por el espacio, es un gran camino por recorrer.
Web: