Novation's LaunchPad & Launchpad Mini are not mere stocking fillers, they're extremely capable MIDI controllers! Will the Launch Control prove as useful and popular? Hollin Jones finds out.
Innovations contrôleurs sont largement utilisés dans le monde de la technologie de la musique et de l'entreprise a une particulièrement forte gamme de périphériques ciblés à contrôler Ableton Live. Le plus petit de la nouvelle gamme de lancement est le Launch Control , une boîte de MIDI très compact des thats plus capable que les regards pourraient suggérer. A 80 / $ 125 sa ne va pas faire sauter la banque, et ce sont les prix de détail, si les prix de la rue pourrait bien être inférieure.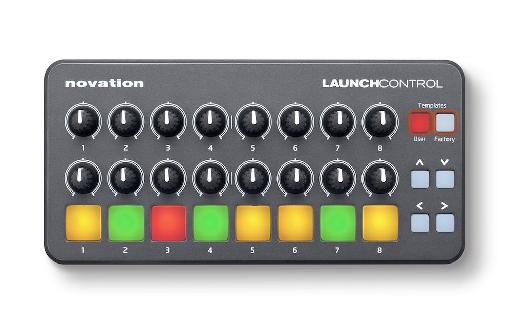 Léger et compact, le Launch Control est encore très bien construit.
Small is beautiful
Launch Control est petit et léger mais solide, avec un port de verrouillage Kensington pour sécuriser la zone et un câble USB pour se connecter à votre Mac ou PC. Comme les autres membres de la famille, il est compatible avec l'application iPad de bord et lors de la connexion, des cartes aux paramètres pertinents à l'intérieur. Pour ce faire, vous aurez besoin d'avoir un kit de connexion d'appareil photo pour vous permettre de brancher le câble USB à votre iPad. Si vous le faites, vous aurez trouver les pouvoirs de contrôle de lancement de l'iPad, ou même à partir de votre ordinateur lorsqu'il est connecté de cette façon.
Il ya 16 boutons programmables et huit pads, rétro-éclairé et un code couleur. L'idée est que, lorsque le Launchpad est utilisé pour déclencher, ce qui peut également être utilisé pour le paramètre peaufiner grâce à ses boutons. Les deux sont conçus pour être utilisés ensemble, si cela est plus facile avec un ordinateur que sur un iPad, où vous êtes susceptible de manquer d'entrées USB disponibles assez rapidement. Les contrôles sont robustes et sensibles et les plaquettes sont rassurante tactile lorsque vous appuyez dessus, en cliquant en bas assez pour vous dire que vous avez réussi un pressé. Pour naviguer dans un projet, vous pouvez utiliser les quatre touches fléchées vers la droite de la surface avant et les deux autres boutons donner accès à l'utilisateur ou d'usine modèles: huit de chacun. Ainsi son possible pour utiliser l'appareil avec d'autres DAW comme FL Studio, Cubase, Reason, Logic et d'autres et créer et sauvegarder des modèles pour un rappel instantané.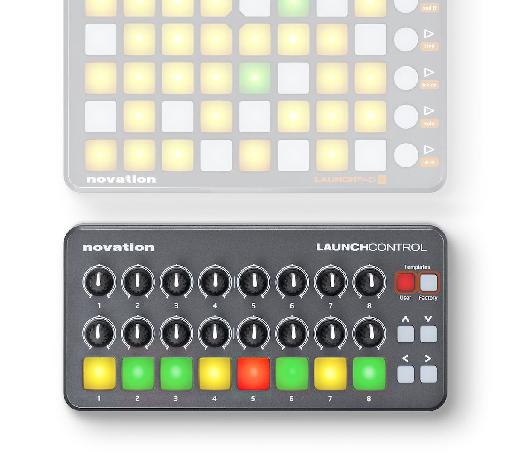 Son conçu en partenariat avec le Launchpad Launchpad ou Mini et ajouter des boutons à votre arsenal de contrôles.
Hands-on
Lors de l'utilisation, Launch Control est grand et vous pouvez utiliser les boutons pour changer les filtres, les niveaux et les effets tandis que les coussinets sont bien pour couper, l'activation de l'effet ou du lancement des clips ou des scènes. Il fonctionne bien avec l'application iPad de bord, ce qui est vraiment cool et amusant à utiliser, et les avantages d'avoir des mains sur les contrôles de l'effet et de clip déclenche via les touches et les boutons matériels. Le code couleur des boutons est également utile pour vous aider à garder une trace de ce qui se passe, et vous obtenez Live Lite fourni gratuitement ainsi qu'une collection d'échantillon de Loopmasters. Vous pouvez même obtenir les synthés virtuels V-station et Basse groupés, ce qui est une belle touche.
Launch Control est un contrôleur MIDI incroyablement compact qui est orientée vers fonctionnant de manière transparente avec Live, mais est aussi facilement adaptable à travailler avec d'autres DAW. C'est extrêmement portable, bien conçu et facile à prendre en main avec. Si vous avez besoin de contrôler en direct sur le déménagement ou êtes juste un peu à l'étroit, c'est un excellent moyen d'aller.
Web: