Novation's LaunchPad & Launchpad Mini are not mere stocking fillers, they're extremely capable MIDI controllers! Will the Launch Control prove as useful and popular? Hollin Jones finds out.
Innovazioni controllori sono ampiamente utilizzato in tutto il mondo tecnologia musicale e la società ha una particolarmente forte lineup di dispositivi mirati a controllare Ableton Live. Il più piccolo della nuova lineup di lancio è il Launch Control , un box MIDI molto compatto questo è più capace che l'apparenza potrebbe suggerire. A 80/125 dollari la sua non intenzione di rompere la banca, e questi sono prezzi al dettaglio, quindi i prezzi di strada potrebbe essere inferiore.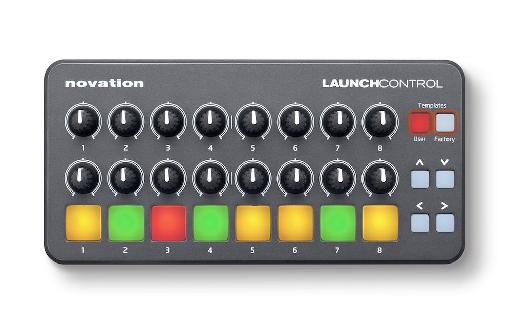 Leggero e compatto, il Launch Control è ancora molto ben costruito.
Piccolo è bello
Launch Control è piccolo e leggero ma comunque robusto, con una porta lucchetto Kensington per fissare la scatola e un cavo USB per la connessione al vostro Mac o PC. Come gli altri membri della famiglia, è compatibile con l'applicazione Launchpad iPad e quando è collegato, Mappe ai parametri relativi al suo interno. A tal fine, è necessario disporre di un Camera Connection Kit per far si collega il cavo USB al vostro iPad. Se lo fai, youll trovare i poteri di controllo di lancio del iPad, o addirittura dal computer quando è connesso in quel modo.
Ci sono 16 manopole assegnabili e otto pad, retroilluminato e color-coded. L'idea è che, quando il Launchpad è utilizzato per innescare, questo può essere usato anche per il parametro modificando grazie alle manopole. I due sono progettati per essere utilizzati insieme, anche se questo è più facile con un computer che su un iPad, dove youre probabilmente a corto di ingressi USB disponibili piuttosto rapidamente. I controlli sono robusti e reattivo e le pastiglie sono rassicurante tattile quando li si preme, cliccando giù abbastanza per dirvi che è stato premuto correttamente uno. Per navigare un progetto è possibile utilizzare i quattro tasti freccia a destra della superficie frontale e le due pulsanti rimanenti fornire l'accesso ai modelli di utente o di fabbrica: otto di ciascuno. Così la sua possibile utilizzare il dispositivo con altri DAW come FL Studio, Cubase, Reason, Logic e gli altri e creare e salvare modelli per un richiamo immediato.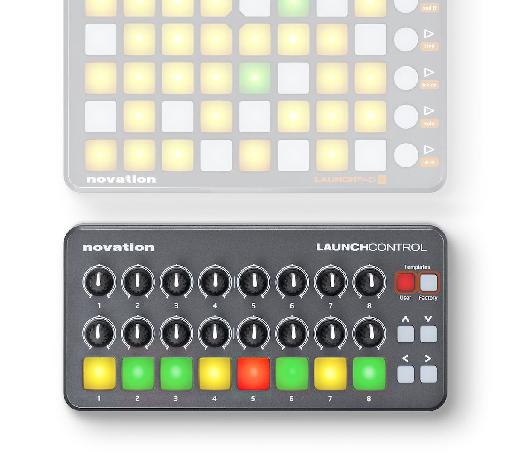 La sua creazione di collaborare con il Launchpad o Launchpad Mini e aggiungere le manopole al vostro arsenale di controlli.
Hands-on
In uso, Launch Control è grande e si può usare le manopole per cambiare filtri, livelli ed effetti, mentre le pastiglie sono buone per muting, l'attivazione o il lancio effetto clips o scene. Funziona bene con l'applicazione iPad Launchpad, che è davvero cool e divertente da usare, e beneficia di avere alcuni hands-on controlli per gli effetti e clip attiva tramite i pulsanti hardware e le manopole. La codifica cromatica dei tasti è utile anche per aiutare a tenere traccia di cosa sta succedendo, e si ottiene Live Lite in bundle gratuitamente così come una collezione di campioni da Loopmasters. Puoi anche prendere i soft synth V-Station e Bass Station bundle, che è un bel tocco.
Launch Control è un controller MIDI incredibilmente compatto che è orientata verso lavorando senza soluzione di continuità con il Live, ma è anche facilmente adattabile a lavorare con altri DAW. La sua enorme portatile, ben progettato e facile da fare i conti con. Se avete bisogno di controllare dal vivo in movimento o sono solo un po 'di spinta per lo spazio, è un ottimo modo per andare.
Web: