Novation's LaunchPad & Launchpad Mini are not mere stocking fillers, they're extremely capable MIDI controllers! Will the Launch Control prove as useful and popular? Hollin Jones finds out.
Inovações controladores são amplamente utilizados em todo o mundo da tecnologia e da música, a empresa tem um particularmente forte linha de dispositivos orientados para controlar o Ableton Live. O menor da nova linha de lançamento é o Launch Control , uma caixa de MIDI muito compacto isso é mais capaz que a aparência pode sugerir. Em 80/125 dólares a sua não vai quebrar o banco, e estes são os preços de varejo, e os preços de rua pode ser bem menor.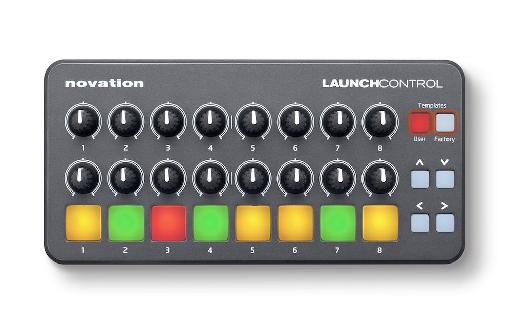 Leve e compacto, o Launch Control ainda é muito bem construído.
O pequeno é bonito
Launch Control é pequeno e leve, mas ainda robusto, com uma porta de bloqueio Kensington para proteger a caixa e um cabo USB para se conectar ao seu PC ou Mac. Como os outros membros da família, ele é compatível com o aplicativo iPad Launchpad e quando conectado, mapeia para os parâmetros relevantes dentro dela. Para permitir isso, você precisa ter um Kit de conexão de câmera para que você ligar o cabo USB ao seu iPad. Se você fizer isso, você vai encontrar os poderes de controle de lançamento do iPad, ou mesmo a partir do seu computador quando conectado dessa forma.
Há 16 botões programáveis ​​e oito almofadas, iluminado e com código de cores. A idéia é que, quando o Launchpad é usado para disparar, este também pode ser usado para o parâmetro de ajustes, graças aos seus botões. Os dois são projetados para ser usados ​​em conjunto, embora isso seja mais fácil com um computador do que em um iPad, onde você é provável que ficar sem entradas USB disponíveis rapidamente. Os controles são resistentes e ágeis e as almofadas são tranqüilizador tátil quando você pressioná-los, clicando para baixo o suficiente para dizer-lhe que você pressionou com sucesso um. Para navegar em um projeto, você pode usar as quatro teclas de seta para a direita da superfície frontal e os dois botões restantes fornecem acesso a modelos de usuário ou fábrica: oito de cada um. Assim, é possível usar o dispositivo com outros DAWs como FL Studio, Cubase, Reason, Logic e outros, e criar e salvar modelos para recuperação instantânea.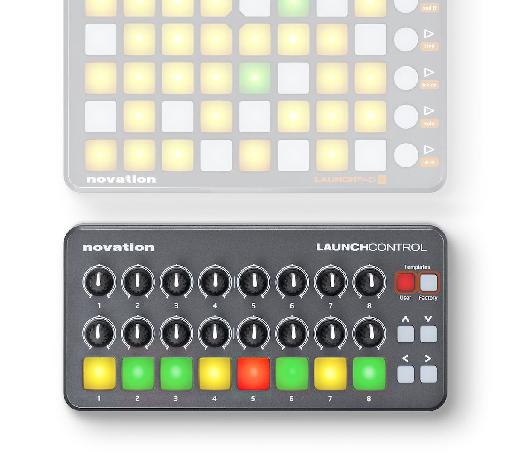 Sua concebido com a parceria com o Launchpad ou Launchpad Mini e adicionar botões ao seu arsenal de controles.
Hands-on
Em uso, Launch Control é grande e você pode usar os botões para mudar filtros, níveis e os efeitos, enquanto as almofadas são boas para o silenciamento, a ativação efeito ou o lançamento de clipes ou cenas. Ele funciona bem com o aplicativo para iPad Launchpad, que é muito legal e divertido de usar, e os benefícios de ter alguns hands-on controles de efeitos e clip desencadeia através dos botões de hardware e botões. Codificação de cores dos botões também é útil para ajudar você a manter o controle do que está acontecendo, e você começa Live Lite fornecido gratuitamente, assim como a coleta de amostras de Loopmasters. Você ainda obter os synths macios V-Station e Estação Baixo agrupados, o que é um toque agradável.
Launch Control é um controlador MIDI extremamente compacto, que é voltada para trabalhar perfeitamente com o Live, mas também é facilmente adaptável a trabalhar com outras DAWs. Sua extremamente portátil, muito bem concebido e fácil de se familiarizar com. Se você precisa controlar ao vivo em movimento ou são apenas um pouco empurrado para o espaço, é um grande caminho a percorrer.
Web: