The OWC Thunderbolt 2 Dock promises to multiply your I/O options featuring 5 USB 3, Firewire 800, 2 Thunderbolt 2, HDMI, Audio in/out and Gigabit Ethernet ports! Matt Vanacoro plugs it in.
Now that Thunderbolt is becoming more widely adopted by audio interface designers, we're beginning to see quite a few more devices out there that utilize Thunderbolt in a convenient and efficient way. When I first purchased my Mac Pro, all I was thinking was '6 Thunderbolt 2 ports and 4 USB ports, wow! I'll never fill that up!'
Fast forward a year later, and I've got a worried look on my face as I plug in my last device that doesn't have a daisy chain port. Thunderbolt 2 cables also carry quite the premium price at their longest lengths, so sometimes it can even be difficult to get a device close enough to be plugged into my computer! If you're like me, you can stop worrying now—the OWC Thunderbolt 2 Dock is here to fix your problems and multiply your I/O options.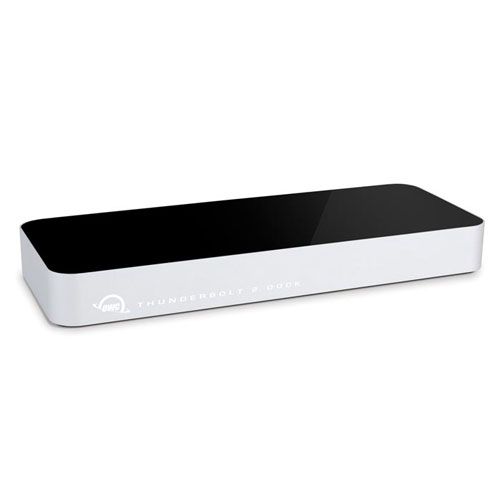 Docking Station Alpha
The OWC dock has 12 ports in total. There are 5 USB 3.0 ports which are conveniently located both on the back and side of the device. There is a FireWire 800 port for legacy support (something I truly appreciate as I have quite a few archive hard drives that can't connect to any of the macs in my studio otherwise!). There is a Gigabit Ethernet port which is incredibly handy for newer Mac laptops that don't include one. Audio both in and out over a 3.5mm jack is provided, in addition to HDMI at the 1.4b spec which does support 4k video (albeit at 30 fps max). Finally, there are 2 Thunderbolt ports which enable you to daisy chain devices. With Thunderbolt ports at a premium on computers nowadays, I was incredibly happy to know that I could plug the OWC dock in, connect a ton of devices and/or displays, and I wouldn't 'lose' a Thunderbolt port in the process!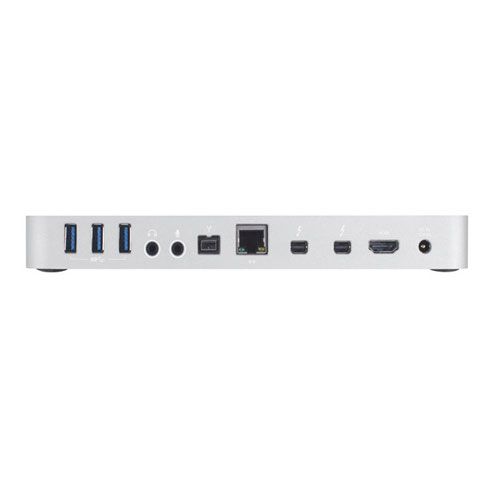 Will It Blend?
So the dock itself looked great, and on paper had all the specs I needed to make me happy. However, I was, of course, anxious to know how daisy-chaining devices would affect my Thunderbolt port speed. Would I take a performance hit by plugging in a power-hungry hard drive to the OWC dock as opposed to directly into the computer?
I'm happy to report that after extensive testing, I was not able to find any appreciable difference in speed! You get the full bandwidth of whatever Thunderbolt 2 port you happen to be plugged into, plus the added convenience of a ton of connectivity to boot! Now, of course the more devices you plug into the dock itself, the more likely you are to bog down the bus a bit. In the real world, however, I was able to smartly use the Thunderbolt 2 dock and not affect the performance of my system at all.
Utilizing the same Thunderbolt port as a test, I was able to get 335 Mbps write and 378 Mbps read from an external SSD drive plugged directly into the computer. I achieved the same results plugging the hard drive into the dock within a 2 Mbps threshold above or below. Next, I decided to 'bog down' the OWC dock with some typical devices. I plugged in my iPhone, a USB hard drive, my mouse, an ethernet cable, a USB microphone, and even an HDMI television and ran the disk speed test again. The results? 325 Mbps write and 378 Mbps read. I was amazed that loading this thing up only cost me 10 Mbps on the write side, and that definitely falls into the category of 'not noticeable at all'!
Snap Judgement
This is definitely one case where my snap judgment of the device matched up with my long-term testing. At first glance, it looked like a device which could help me get my Mac Pro a little further away from my desk while still making the ports accessible. In practice, that's exactly what it turned out to be. The OWC Thunderbolt 2 Dock is an extremely convenient device that you can use to really enhance your productivity without taking a performance hit.
Price: $229
Pros: Tons of expansion with no performance hit, sturdy, ports are conveniently placed, HDMI and Ethernet are a nice touch!
Cons: The dock is AC powered in order to deliver bus power to all of those devices you plug in. Not really a con, I guess, I don't know how you can get around that while obeying the laws of physics and electricity!