What do you do when you need to transfer photos from your iOS device without connecting to iTunes or iCloud? With many options available Mike Watkinson reviews one such offering.
Photo WiFi Transfer is an app that let's you transfer photos over WiFi. But I guess you might have been able to work that out. What's less clear is how this app differs from other apps that do the same thing, such as WiFi Photo Transfer (I kid you not!)

Device to Device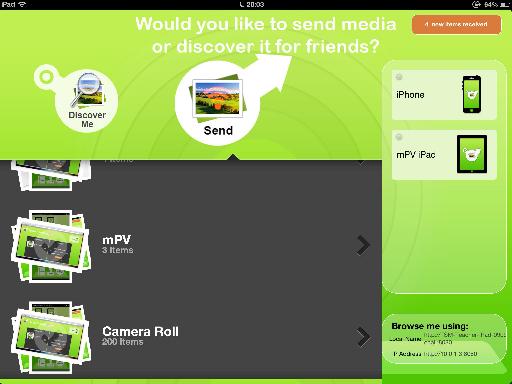 Tapping 'Send' will show you all the albums you have created in the Photos app. Tap on the arrow to the right of an album and you will see the photos (and videos) in that album, and from here you can tap-to-select one or more photos (or videos) and drag them onto any device that appears in the device browser on the right hand side. Any device on the same WiFi network with Photo WiFi Transfer open will appear here. You will then be prompted to enter an access code that is automatically generated by the receiving device, which prevents unwanted file transfers taking place. Once the access code is entered the app remembers it unless you instruct it to '˜forget' the device, after which a new passcode will be required.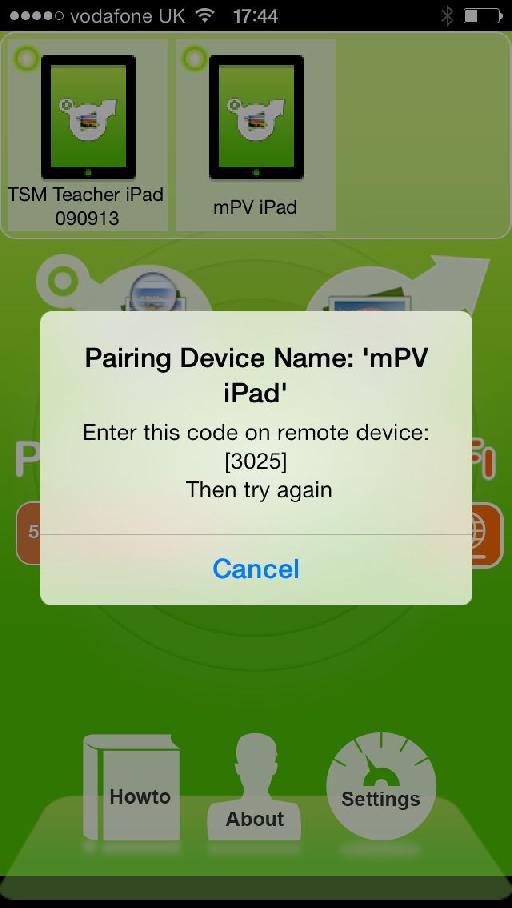 Browsing Other Devices
Tap on any device you can see in the device browser (any device on the same WiFi network with Photo WiFi Transfer running) and you will be able to browser the albums that they have allowed by tapping 'Discover me' in Photo WiFi Transfer on their device. You can then drag files from their albums to your device - super simple!
Device to Mac (and Back)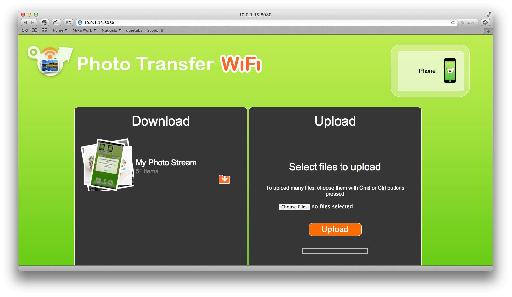 At the bottom of the device browser is the URL you can enter into the browser on your Mac (or PC) in order to access Photo WiFi Transfer. In the app on your device, tap 'Discover me' and select albums that you want to be visible in the browser on your Mac. From your Mac you can then download any album, or navigate and download the files inside the album. You can also upload from your Mac back to the device.
In Operation
I did have a few teething problems with the app on a device still using iOS 6, but these were resolved by reinstalling the app. After that, all was plain sailing but it's just these kind of bugs that have me reaching for the Delete...
There are many apps that carry out similar jobs to Photo WiFi Transfer, so why buy this one? Ease of use has to the number one reason for parting with cash, as you can do all that this app achieves for free with other solutions. Instashare, for example, allows peer to peer sharing of photos and videos (and any other file) and works over WiFi without an Internet connection (like Photo WiFi Transfer), but does not save images directly to the Camera Roll or other photo albums, choosing instead to save them to the app from where another step is required to get them into Photos.
AirDrop works great of course but is iOS 7 only and doesn't work on the iPad 1,2 or 3, and f course you can't use AirDrop with your Mac and an iOS device until OS X Mavericks is released. You could use DropBox, but the image quality may degrade as you move files back and forth due to file compression, plus you need the internet for this one of course! Neither of these is the case with Photo WiFi Transfer works over a WiFi network that is not connected to the internet, and does not compress files. And you can't get the files back to your Mac. I also took a look at several free Photo transfer apps but none quite matched Photo WiFi Transfer for simplicity and speed. My rule of thumb with apps is usually this: 'If there is any head scratching involved, I'm not going to use it!'
So in conclusion, if simplicity and speed are your aim, when transferring items residing in Photos, and your WiFi network is robust, then this app could be money well spent.
Web: http://www.phototransferwifi.com
AppStore: https://itunes.apple.com/us/app/photo-transfer-wifi-quickly/id674978018