Recent digital technology has given photography and filmmaking countless benefits. But one side effect can be digital noise in your images. Could Photo Pro for FCP X, be the perfect noise reducer?
Noise reduction is something which, in an ideal world, we'd never use. But of course, that ideal world will remain forever out of reach, and our images will, from time to time, have a little too much grain. While some people actively search out film-style grain (see here for an example) the electronic noise which a camera produces when pushed too far is rarely pleasant. Photon Pro is a new plug-in for Final Cut Pro X that promises to take away that unpleasantness'"so let's see how it works.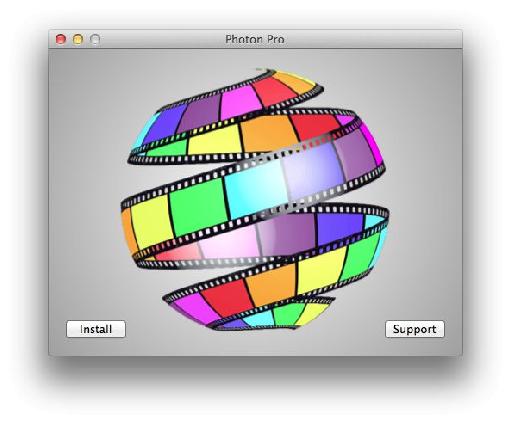 When you run the installer app.
Simple
You purchase Photon Pro from the Mac App Store, and it downloads to your Applications folder as you'd expect. When you launch it, however, you'll discover that it's simply an installer for the FCP X plug-in, and the app doesn't do anything itself.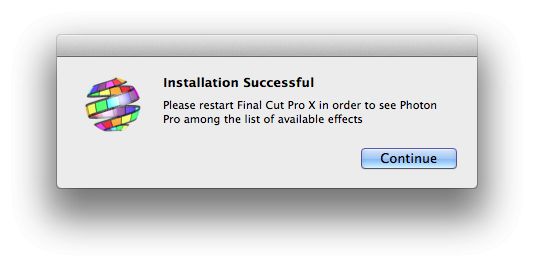 A basic 'success' notice.
When you next launch FCP X, you'll see a new effects category called FPGArts.com, and in there, you'll see the effect. So far, so good. As updates are released to the plug-in, you'll see an update in Software Update, and then you'll need to run the installer again.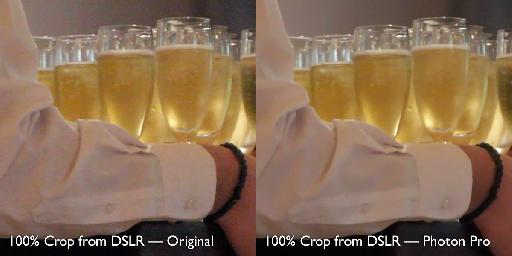 DSLR footage (at a wedding, after dark) before and after Photon Pro.
Basics
The principle of a noise reduction filter is fairly straightforward: find areas which are noisy but not detailed, and then smooth those areas out by blurring them. Of course, if the algorithm is too heavy-handed, then actual details can be blurred out, and loss of detail is often worse than the noise itself. Conversely, if the algorithm doesn't detect enough noise, then it won't remove enough noise.
Photon Pro's Approach
There are only four sliders and one checkbox in the Photon Pro interface, but they offer just enough control. You'll probably need to tweak them as the initial settings are quite conservative. First, push the Luma NR up to remove the bulk of the bright noise, and if there's any color noise left over, push up Chroma NR as well. Increasing Spatial Radius can reduce noise that's larger than a single pixel, but don't go crazy with that one just yet.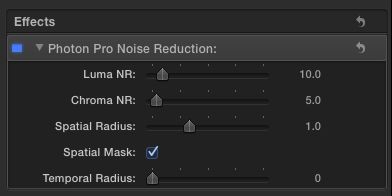 Default settings'"increasing Temporal Radius can produce great results.
Instead, increase Temporal Radius for a noticeable effect on the end results. Essentially, frames before and after the current frame are now taken into consideration: the higher the slider, the further it looks around. Because sensor noise changes on every frame, noise can be easily isolated by pushing this slider up a little.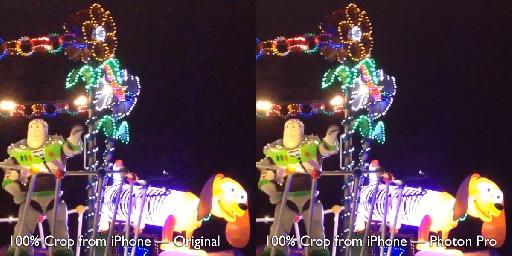 iPhone footage (from the Tokyo Disney Sea night parade) before and after Photon Pro.
Results
In each case, sharp edges in the image are retained, while noisy ones are blurred out. Sometimes, subtle details can be lost if you push things too far, so be ready to adjust the sliders. You'll need different settings for each image, and tastes will differ as to how much noise to leave in. Some shots will, of course, be very hard to recover, but I've been pleasantly surprised at what I've been able to pull back, and how much of the original detail has been preserved. I've tested it on footage from Blackmagic Cinema Camera, iPhone, and Canon DSLRs, and all have been improved. Render speeds are not instant'"at least a few times real-time'"but all noise reduction is an intensive process and this is to be expected.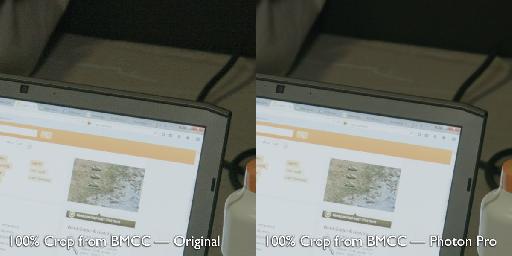 Blackmagic Cinema Camera footage showing great detail retention, before and after Photon Pro.
Conclusion
While you might not always need noise reduction, sometimes you just need to rescue a shoot that didn't go quite to plan'"a darker environment than anticipated, a camera left on the wrong settings, or that one shot that's just too far gone. For noise reduction, there are competing solutions out there, but nothing in the same price range, and few others that work natively in Final Cut Pro X. Photon Pro does a commendable job for a bargain price, and is worth a look.