Recent digital technology has given photography and filmmaking countless benefits. But one side effect can be digital noise in your images. Could Photo Pro for FCP X, be the perfect noise reducer?
La réduction du bruit est quelque chose qui, dans un monde idéal, wed jamais utiliser. Mais bien sûr, ce monde idéal restera toujours hors de portée, et nos images, de temps en temps, avoir un peu trop de grain. Alors que certaines personnes recherchent activement le grain pellicule de style (voir ici pour un exemple) le bruit électronique qui produit un appareil photo quand on le pousse trop loin est rarement agréable. Photon Pro est un nouveau plug-in pour Final Cut Pro X qui promet de faire disparaître ce unpleasantnessso permet de voir comment cela fonctionne.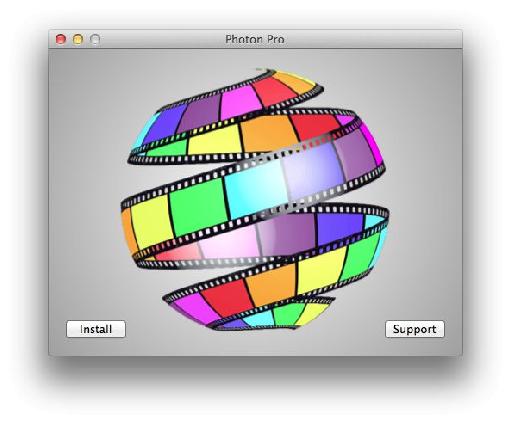 Lorsque vous exécutez l'application du programme d'installation.
Simple
Vous achetez Photon Pro sur le Mac App Store, et il télécharge à votre dossier Applications comme youd attendre. Lorsque vous le lancez, cependant, vous aurez découvrir que son simplement un installateur pour le FCP X plug-in, et l'application ne marche pas faire quoi que ce soit lui-même.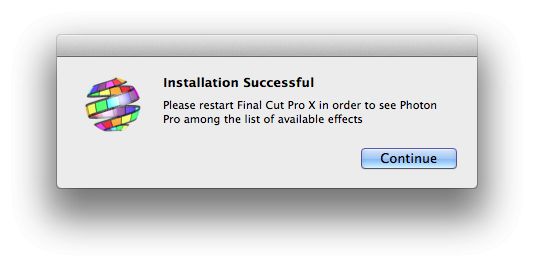 Un avis de réussite de base.
Lors de votre prochain lancement FCP X, vous pouvez apercevoir une nouvelle catégorie appelée FPGArts.com effets, et là , vous pouvez apercevoir l'effet. Jusqu'ici, tout va bien. Comme les mises à jour sont libérés pour le plug-in, vous pouvez apercevoir une mise à jour à jour de logiciels, et puis vous aurez besoin d'exécuter à nouveau le programme d'installation.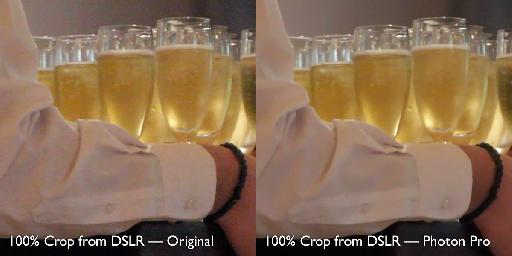 images DSLR (lors d'un mariage, à la nuit tombée) avant et après Photon Pro.
Notions de base
Le principe d'un filtre de réduction de bruit est assez simple: trouver des zones qui sont bruyants mais pas détaillée, et puis lisser ces zones par les brouiller. Bien sûr, si l'algorithme est trop pénalisantes, puis les détails réels peuvent être floutées, et la perte de détail est souvent pire que le bruit lui-même. Inversement, si l'algorithme ne marche pas détecter assez de bruit, puis il supprimer coutume assez de bruit.
Photon Plus Approche
Il ya seulement quatre curseurs et une case à cocher dans l'interface Photon Pro, mais ils offrent juste assez de contrôle. Vous aurez probablement besoin de les modifier que les réglages initiaux sont assez conservateurs. Tout d'abord, pousser le Luma NR à éliminer la majeure partie du bruit lumineux, et si il ya un bruit de couleur reste, pousser jusqu'à Chroma NR ainsi. L'augmentation de l'espace Radius peut réduire le bruit des thats plus grand qu'un seul pixel, mais ne deviennent fous avec celui-là pour l'instant.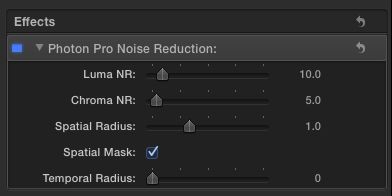 Temporal Rayon de défaut peut produire d'excellents résultats.
Au lieu de cela, augmentation temporelle Radius pour un effet notable sur les résultats finaux. Essentiellement, les cadres avant et après l'image courante sont maintenant pris en compte: plus le curseur, plus il regarde autour de lui. Parce que le bruit du capteur change sur chaque image, le bruit peut être facilement isolé en poussant le curseur un peu.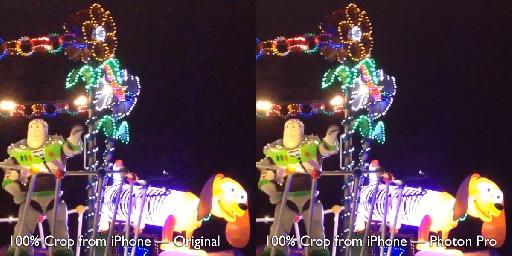 images iPhone (à partir de la nuit défilé Tokyo Disney Sea) avant et après Photon Pro.
Résultats
Dans chaque cas, les arêtes vives de l'image sont conservés, tandis que les bruyants sont floutées. Parfois, des détails subtils peuvent être perdues si vous poussez trop loin, alors soyez prêt à ajuster les curseurs. Vous aurez besoin des paramètres différents pour chaque image, et les goûts seront différentes de la façon dont beaucoup de bruit à laisser. Certains coups seront, bien sûr, très difficile à récupérer, mais Ive été agréablement surpris de ce que Ive été en mesure de se retirer, et comment la plupart des détails d'origine a été conservé. Ive testé sur des images de Blackmagic caméra de cinéma, iPhone, et les reflex numériques Canon, et tous ont été améliorées. Rendu vitesses ne sont pas instantat moins quelques fois réel tempsMais tout la réduction de bruit est un processus intensif et cela doit être prévu.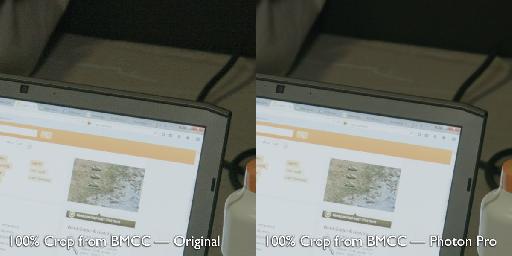 Blackmagic Cinema Camera images d'montrant une grande rétention de détail, avant et après Photon Pro.
Conclusion
Alors que vous pourriez ne pas toujours besoin de réduction du bruit, parfois vous avez juste besoin de sauver un tournage qui na pas aller bien au plana environnement plus sombre que prévu, une caméra vers la gauche sur les mauvais réglages, ou que des thats one shot juste allé trop loin. Pour la réduction du bruit, il existe des solutions concurrentes là -bas, mais rien dans la même gamme de prix, et quelques autres qui fonctionnent en mode natif dans Final Cut Pro X. Photon Pro fait un travail louable pour un prix d'aubaine, et vaut le détour.