What makes a piano software instrument stand out from the crowd? Pro user endorsees like Guy Sigsworth? An authentic sound? A realistic and natural response? Toby Pitman discovers all three apply.
Modartt describe Pianoteq 4 as '˜the future of virtual pianos'. Now that's a pretty bold statement... until you hear it in action. You see Pianoteq 4 is a bit different to your average piano sample library - mainly because it's not a sample library, it's a physical model. It essentially describes in a mathematical sense how a piano behaves. This means it has several advantages over a sample-based library which we'll get to in a bit.
Pianoteq 4 can work standalone or as a plug-in and comes in three flavors: Pro ($519), Standard ($319) and Stage ($129). It has two models, the first is the flagship '˜D4' modelled on a Steinway D. The second is the K1, a slightly smaller grand. The whole product weighs in at just 20 MB (yep, that's megabytes!!).
Features
The models (developed by Philippe Guillaume and Julien Pommier at the Toulouse Institute of Mathematics) have a lot of cool features that allow Pianoteq 4 to behave just like a real piano. The first is velocity. Whereas a sample library may only have 16 velocity layers of samples, Pianoteq 4 responds and changes timbre over all 127 velocities.
The other major advantage over samples is that it recreates how the piano interacts with itself in terms of the sympathetic resonance of strings. There's a lot of scope to fine-tune how the piano works, from the position of the hammers, to how much dampening is applied by the sustain pedal.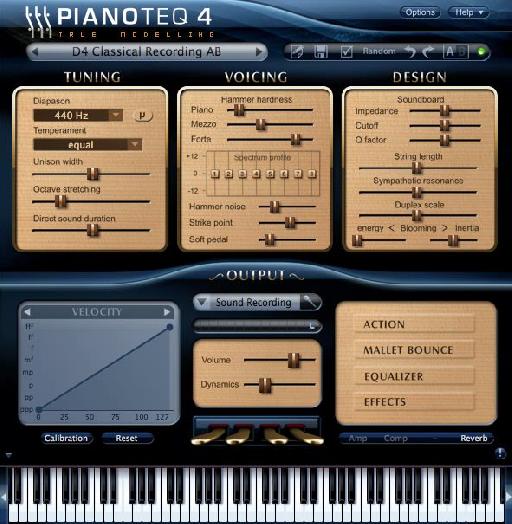 There are so many features in fact that it's impossible to discuss them all here. Needless to say the amount of variety you can get out of just one piano is pretty mind-boggling.
The various models can be further enhanced with the built-in effects and convolution reverb.
Presets And Add-Ons
Pianoteq 4 is also highly expandable with both free and paid models. There's a wide variety of instruments available from some fantastic electric pianos (Rhodes, Wurly and Clav) as well as an assortment of tuned percussion and Steel Drums.

There is also a generous number of free add-ons available that offer an interesting collection of historical instruments.
Microphones
Another very nice feature is the ability to place your mics (you can have up to five, ideal for surround) wherever you like. This adds a further level of character and control over the piano sounds.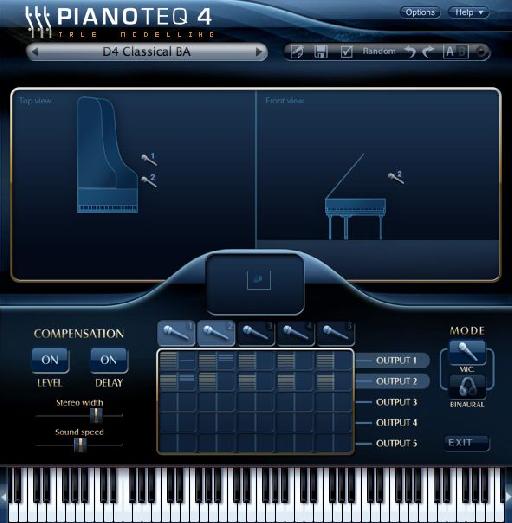 Conclusion
I've got to say that I was pretty darn impressed with Pianoteq 4. The realism and feel is head and shoulders above its sample-based cousins. If you're looking for a great virtual piano, look no further.
For more info and demos check out http://www.pianoteq.com.
Editor's Note: Since this review was written, Modartt have released U4 Upright Piano add-on for Pianoteq. You can download a demo of this add-on, and it's definitely worth considering if you're looking for an upright piano!