Live electronica duo Skinnerbox's collection of Max for Live devices encourage experimentation with drum sound-design and pattern creation. The Sound Tutor gets his groove on to explore it in depth.
For those who don't already own Ableton Live Suite, this fully featured edition of Live includes a built-in platform called Max for Live. M4L is a graphically led programming framework which allows a user to either create their own plug-in devices or use devices created by other people. These can be shared for free using websites like www.maxforlive.com or in this case, commercially sold via Ableton's own website. As you can imagine, this level of integration offers a vast range of possibilities within the Live environment. It's a modular construction system that's mostly limited by the user's imagination.

The TIME & TIMBRE pack consists of seven Max devices, one being a main pattern sequencer (TIME), five which are drum modules (TIMBRE), and a '˜magic' device called MasterBlaster which to my ears adds ambience, a lift in presence and some compression to glue your drum sound together at group level. The devices scream experimentation and luckily (for me) they are almost completely controllable from Ableton's Push hardware for that fun, tactile experience while you jam out ideas.
Controlling TIME
TIME is a 6-part polyrhythmic sequencer which offers a good level of control per part, i.e., playback speed, pattern length, play direction, left/right pattern nudging and randomization. Each can be edited per part which offers an interesting way to interact with your drum ideas and often create happy accidents. The interface is easy to understand both from the TIME device directly within Live and on Push. 64 complete patterns can be stored across four banks and you can duplicate patterns as you work. I do this when I've created a core idea, I then copy and explore various new directions to go while keeping my options open.
Along with the obligatory step-sequencer feature of accenting, TIME's roll and swing function are also worth noting. TIME's drum roll options have five global styles to select, from normal '˜fills' with fixed or fading velocity runs, to crescendo styles where the velocity ramps up and random which adds chaos with a purpose to your work.
Alteration of pattern length and playback speed per part is really creative, especially with the ability to nudge content forwards and backwards to simply see what happens. TIME's swing function also deserves some limelight here as it helped me create some really cool ideas I'd never normally compose or discover through conventional sequencing. I'm sure it'll do the same for you! Swing can be applied in either a positive or negative direction and swing division creates many options that can be used practically or creatively. At extreme settings swing can be set to sound like your patterns are being sped up and down in tempo which is a really cool effect. Two TIME devices can be sync'd to the 1st's swing settings as well which gives this feature even more creative potential!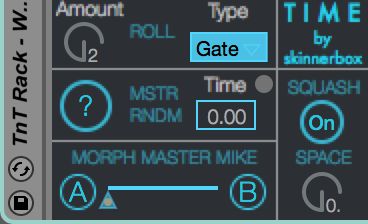 The Master Random function has a time value so you can smoothly fade from the current setup to a new, unknown outcome. It'd be great to see this option for an undo function too so you can smoothly revert if unhappy with the outcome. Sync values rather than seconds would also be a welcome update in the future!
Drumsound
The five included drum synthesizing devices cover kick, snare and tom drums. Individual hi-hat and cymbal devices provide your cymbal department needs for a full drum-kit picture. There are quite a few kit presets with TIME and standalone Drum Racks which provide some good starting points, but I think the real strength with these devices is to work from scratch or by triggering randomization to go with your experimental drum patterns. Individual randomization can be activated per drum sound so the whole kit isn't messed with and I really like the scope each drum device has. For instance the noise sections have various interesting controls for unique tones rather than a simple white noise and volume shaper.
TIME features four LFOs which are useful for drum sound manipulation or the modulation of almost any other parameter in Live's environment. This rhythmic variation from the LFOs, the variety of controls per drum sound and the solidity of the kick, snare and toms makes these great for both dancefloor and more experimental styles of sound design.

A Beastie Boys-influenced Morph Master Mike section allows the user to save the current sonic setup as a scene. Then scenes A and B can be crossfaded between on TIME or via Push's touchstrip control. I like using this to move between heavy and lighter drum sounds or something that's well defined and powerful to a completely broken up, mess of sound.
Future Sounds
To sum it all up, I'd say the main selling point here is TIME which is worth the asking price alone if you're after something unique to interact and will benefit from its great control from Push. I do like the TIMBRE drum devices and MasterBlaster does beef your drum sounds up a bit, but there's decent drum synthesizers already included with Max for Live. So in my eyes TIMBRE's of use if you want to broaden the existing drum synth tones available with Live Suite.
As newer updates are released I imagine more and more great ideas will come into play as TIME evolves from user feedback. Skinnerbox have already mentioned some pretty cool features to me off-the-record, so it's worth keeping an eye this pack over time if the present feature-set isn't enough for you. But for those who want to experiment with drums and crave good Push integration, this is a worthwhile purchase here and now.
It's hard to communicate certain creative functions with TIME and TIMBRE's devices so in this video I show you how randomization, part pattern length and swing can be utilised for experimental ideas:
Pros:
- Separate pattern length, playback speed and randomize options per part in TIME.
- TIMBRE devices offer a unique tone of drum synthesis over drum synth devices included with Max for Live.
- TIMBRE devices can be used as instruments when loaded onto a MIDI track.
- Morph Master Mike lets you jam between two drum-sound scenes.
- Multi-level randomization options.
Cons:
- Live triggering of sounds is a little laggy through TIME so a workaround needs to be applied if you want TIME's sequencing strengths and pad triggering with low latency.
- Master Randomize morphing function is controlled in seconds, not sync'd values.
- No drag and drop function to quickly get MIDI out of TIME into Live's editing capabilities.