One developer known as Audanika thinks that they've developed a new instrument interface that alleviates the need for any prior training in music. Have they succeeded? G. W. Childs finds out.
Non vedete molte persone virando in a modi di reinventare il modo in cui strumenti sono suonati in questi giorni. Davvero, ci sono solo pochi modi quando si scende ad esso. C'è una tastiera, e c'è una chitarra.
Naturalmente, ci sono anche i pionieri come Brian Eno che verranno costantemente venire con nuovi progetti di interfaccia come Bloom. Ma, queste applicazioni tendono a cadere di più per l'arte / musica visiva, e sono pensati più per la sperimentazione, come i loro risultati possono essere un po 'irregolare, a volte.
Uno sviluppatore noto come Audanika pensa che theyve sviluppato una nuova interfaccia umana che riduce la necessità di alcuna formazione precedente in musica. Hanno avuto successo? Consente di scoprire.
Che cosa è SoundPrism Pro?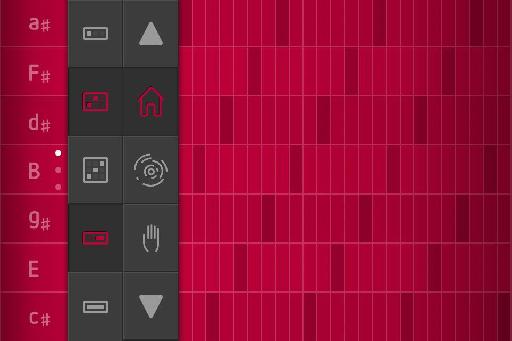 Ok, quindi non sono la più grande tastierista nel mondo. Ma, youd come di essere in grado di riprodurre alcuni tasti medi per questa canzone che tu sei a lavorare su senza dover bug tua sorellina, whos un po 'una diva. Inserisci SoundPrism Pro.
SoundPrism Pro espone diverse piccole tastiere MIDI in una griglia come modello in un modo molto intelligente. Il risultato è che non importa dove si mettono le dita, che sia su un iPad o iPhone, youll hanno sempre qualcosa di bello che esce. Ma, a prendere questo come la descrizione principale, e solo di SoundPrism Pro come strumento verrebbe cortocircuitarla immensamente, perché può andare più lontano di questo e di essere piuttosto espressiva allo stesso tempo.
Nella griglia dei tasti del piano di sopra, siete alla ricerca di che cosa è destinati alla mano destra per suonare. Tutte le melodie frizzanti, parti di ritmo, e quello che hai. Però, sul lato sinistro, in una piccola colonna, youll notare scatole aggiuntive. Queste scatole sono destinate per la mano sinistra. Le note basse, o chiave di basso. In sostanza, con due dita, si può giocare a quello che normalmente richiederebbe diverse dita a lavorare fuori. Ma, il calciatore è che suona ancora come youre utilizzando più dita!
Ecco fatto?
Beh, se SoundPrism Pro dovesse fermarsi al solo essere un piccolo strumento piacevole per chiunque di giocare sul proprio iPhone o iPad. Beh, io non hanno avuto il tempo di scrivere la recensione. Ma, in realtà può, se lo lasciate, prendere la musica sul vostro DAW in un luogo diverso. Si può anche alzare la posta.
SoundPrism Pro offre anche diversi modi per ottenere che cosa è in riproduzione sul vostro iPhone o iPad al computer. Per prima cosa, è possibile utilizzarlo come controller MIDI tramite una connessione USB (kit di collegamento della fotocamera) o tramite WIFI. Ma, per rendere le cose ancora più interessanti, è possibile utilizzarlo anche con Audiobus come dispositivo sorgente. Questo significa SoundPrism può essere utilizzato come un dispositivo di input melodico molto espressivo per la registrazione musicale in applicazioni come Loopy, che sono supportati anche da Audiobus. Ci sono diverse altre caratteristiche da scoprire con SoundPrism Pro, ma Ill lasciano quelli da scoprire.
Bottom Line
Im estremamente lieti di utilizzo SoundPrism Pro. E, anche se Im un tastierista esperto, Im molto impaziente di usarlo per aprire le possibilità melodiche ed espressione havent pensato prima. Se non fossi stato un tastierista, questo potrebbe effettivamente diventare la mia ascia, in generale, come un musicista elettronico. Perché? Perché attraverso semplici periodi di noodling intorno, Ive venire con alcune progressioni e melodie che Ive mai pensato prima.
Una cosa Ill dire è che la tavolozza sonora è un po 'limitato, anche se Audanika offre suoni aggiuntivi per l'acquisto. Ma, se youre usarlo come controller MIDI, che Id consiglia ... Chi se ne frega? Youve ha ottenuto un sacco di suoni sul vostro computer, giusto?
Web:
iTunes (gratis):